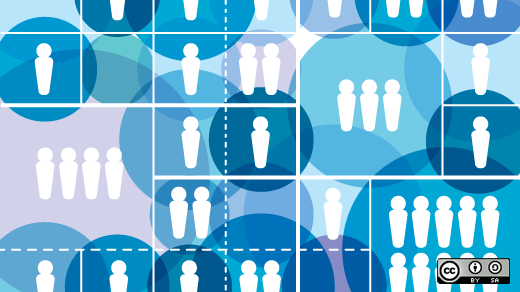 Diversity has a new full-time ally. Marina Zhurakhinskaya (zhoo-ra-HEEN-ska-ya) recently won an O'Reilly award for her work in diversity for free and open source software (FOSS), and she just successfully created a new position for diversity at Red Hat. Oh, and, she's a new mom.
Marina is always happy to share details about her work, so you can be sure to get a lot out of her responses to the questions I asked her about her new award, her role at Red Hat, and her work with Outreachy, a program to help underrepresented groups get involved in FOSS. For instance, she explains how she and her husband managed a new baby at OSCON this year, where she received her award.
Congratulations on winning a 2015 O'Reilly Open Source Award. What achievements were you recognized for? What was it like to win?
Thank you! I was recognized for co-organizing Outreachy, formerly the Outreach Program for Women. It offers mentored, remote internships to people from groups underrepresented in free and open source software (FOSS) within a variety of communities, such as OpenStack, the Linux kernel, GNOME, Wikimedia, Mozilla, and the Humanitarian OpenStreetMap Team (HOT). Currently, it's open to women (cis and trans), trans men, and genderqueer people, and we are planning to expand it to other underrepresented groups in future rounds.
Photo from O'Reilly Conferences. CC BY-NC 2.0.
Two hundred and forty-four people have participated in the program's internships since 2010. Many of them went on to have related technology jobs, speak at conferences, and mentor for the program.
I was of course very excited to win the award, and I appreciated the show of support that it gave to me and Outreachy. When I later found out about the other recipients, I was giddy to be in the company of two Outreachy mentors, Christopher Webber and Stefano Zacchiroli. I was also honored to also be in the company of Sarah Mei and Doug Cutting.
Photo from O'Reilly Conferences. CC BY-NC 2.0.
Plus, winning the award motivated me to attend the conference with my new, 3-month-old baby! Luckily, my husband was able to come as well, and we got short-term nannies through an agency in Portland during work hours. It made a huge difference in my conference experience that Oregon Convention Center had a dedicated room for nursing mothers. Because a lot of work happens at conferences nowadays, these accommodations are necessary not only in offices, but at conferences too.
The AdaCamp Toolkit was recently released by the Ada Initiative and has a lot of information on how to make conferences accessible and inclusive.
Congrats on your new position as Senior Outreach Specialist of Community Diversity and Inclusion at Red Hat. Tell us about this newly created position and how you helped create it.
Thank you again! I've been involved in diversity work in open source since 2009. I developed expertise in the area by participating in the Free Software Foundation's Women's Caucus, following the resources created by the Ada Initiative and others who wrote about diversity issues, attending AdaCamps, and later joining the board of advisors and board of directors for the Ada Initiative. As the Outreach Program for Women grew to include many open source communities and more people sought my input on diversity issues, diversity work took up more and more of my time. The vast potential for change and the need for this work motivated me to seek a full-time position.

I talked to a lot of people at Red Hat to share my ideas for the position and learned how to advocate for it based on the questions I received. I created a document that explained Red Hat's involvement in Outreachy with project examples, pictures of participants from conferences, and supporting quotes from Red Hat managers. I then wrote a proposal that outlined the activities I would undertake as part of the position, their strategic relevance, buy-in from others in the company, and metrics goals. Based on this proposal, senior leaders at Red Hat—DeLisa Alexander, Denise Dumas, and Tim Burke—created the role.

My activities include co-organizing Outreachy, diversity advising to open source communities, developing women speakers, getting girls involved in open source, and providing feedback on Red Hat's other diversity and inclusion efforts. At the core of this role is a recognition that while we need participation from all engineers as mentors and allies for diversity efforts, we should not primarily rely on minority engineers to take on the work of organizing these efforts or developing expertise on the issue, as this is an excessive burden. A major component of the role is organizing structured and meaningful opportunities to be mentors for all engineers, that draw on people's specialized skills, help them grow professionally, and only require a manageable time commitment from them.
What projects are you focusing on right now?
This month I will be setting up the resources for a new round of Outreachy internships, and helping new communities join the program.
I have started receiving more emails from people asking for feedback on different diversity-related issues. The inquiries that come in will help me organize and prioritize my diversity advising work. I'm planning to become more familiar with the community code of conduct resources on the Geek Feminism wiki and from the TODO Group so that I can advise communities on adopting codes of conduct.
I applied for the role of Fedora Diversity Advisor, while also stating that I'd be glad to see the search attract someone with additional experiences and diversity perspective, for whom I can be a contact when they need help.
In the last few weeks, I've had conversations with Red Hatters on the topics of speaker mentoring, school outreach, and organizing information about ways to share job opportunities with people from underrepresented groups. I plan to work on these efforts too.
What's in the cards for Outreachy? How can others get involved?
We are working toward expanding the program to people of color underrepresented in technology in the U.S. in the near future. I talked to people from several very exciting communities at OSCON, who might get their communities to join the program. We'll have the information available about who is eligible to participate and the participating communities when we open the application process for the next round in a few weeks. The application deadline for that round will be October 26, and the internship dates will be from December 7 to March 7.

Now is a great time to get your community to offer Outreachy internships in the next round, or for your company to sponsor them. The sponsorship per internship is $6,500. If you have a project idea and your community is participating, you can be a mentor for the program. You can follow Outreachy on Twitter to learn when the applications open for the next round and then help spread the word about it or encourage someone you know to apply. We would particularly like more people in the Southern Hemisphere to hear about the next round, as its dates line up with the summer break for university students there.

You can also make an individual donation to Outreachy to help us grow the program at Software Freedom Conservancy and fund internships with nonprofit and volunteer-led communities.
Jen leads a team of community managers for the Digital Communities team at Red Hat. She lives in Raleigh with her husband and daughters, June and Jewel.

This work is licensed under a Creative Commons Attribution-Share Alike 4.0 International License.