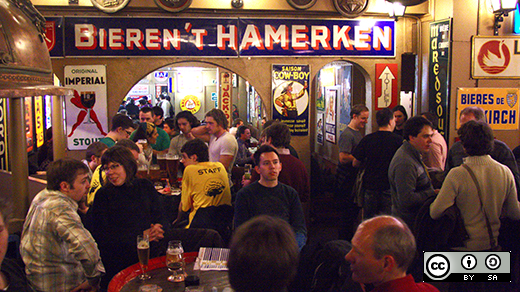 Every January, more than 5,000 free and open source enthusiasts from around the world flock to a humble university campus in Brussels, Belgium, for a weekend of talks, discussions, and open source projects. FOSDEM stands for Free and Open Source Developers' European Meeting, and it's one of the largest community-organized events in Europe.
If you're new to the world of open collaboration, this conference is a great place to learn and meet people from the community who will be more than happy to help you get involved. Plus, you get a chance to taste the famous Belgian beer!
Free as in beer
FOSDEM is free of charge and open to everyone without registration.
The event originated back in the early 2000s when Raphael Bauduin organized a small meeting for developers in Brussels. Called OSDEM at the time, it caught the eye of many well-known figures in the community who liked the idea and came along. The following year, Richard Stallman asked the organizers to change the name to FOSDEM, and the conference was set on its course.
Since then, FOSDEM has hosted thousands of sessions by amateur contributors and renowned names in the free and open source movement alike, including Stallman himself, Jon "Maddog" Hall, and Jimmy Wales.
Off to a good start
Disproving all the geek stereotypes, the meeting starts on Friday with a massive party. The crowd gathers at an enormous pub in the heart of Brussels with the largest selection of beers that I've ever seen (and I come from a country that takes beer very seriously).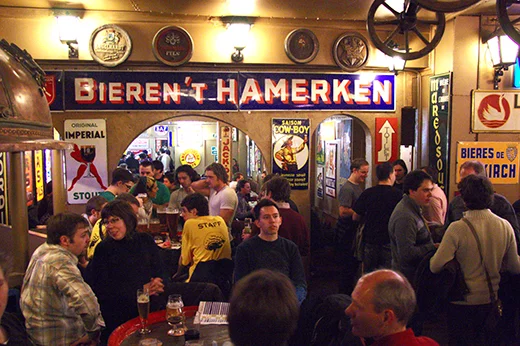 The 2010 FOSDEM kickoff party at Delirium cafe in Brussels, Belgium. Photo by Mario Sánchez Prada. Modified by Opensource.com. CC BY-SA 2.0.
The organizers book the entire place for the attendees, so anyone you'll meet there that evening will know what a kernel is and very likely also know how to compile one. Suddenly, the phrase "What's your favorite Linux distro?" becomes the perfect conversation starter.
It's inspiring to hear what others are working on and discuss your favorite projects with people that actually care. I've been three times so far and had a blast every year.
Interestingly, the bartenders don't accept cash for the most part of the evening. Instead, a token-based system is in place to optimize the throughput of the bar and make sure nobody's sitting dry. Don't forget to buy a few beer tokens before trying to get yourself a pint.
The main event
The main event at Campus Solbosch kicks off with a welcome talk bright and early at 9:30 a.m. Saturday. If you stayed out a bit late or had a pint too many the night before, you'll appreciate the breakfast of fresh pastries and coffee being served on site in a makeshift café behind one of the lecturing rooms.
Also be sure to pick up a free booklet with the program at one of the info desks on your way in or download the official smartphone app so that you're set to enjoy all the tracks and dev rooms that strike your fancy.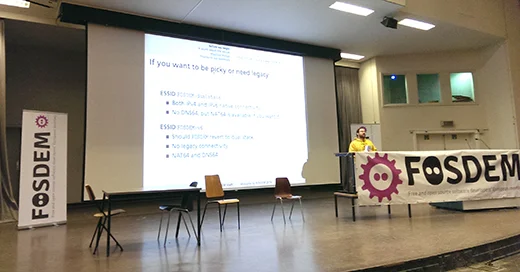 A FOSDEM 2014 talk. Photo by Ludovic Hirlimann. Modified by Opensource.com. CC BY-SA 2.0.
This year FOSDEM will host more than 500 sessions in a two-day span. The broad range of topics includes open hardware and software, development, testing, community management, networking, security, kernels, user interfaces, licenses, games, and much more for both professionals and hobbyists alike. The schedule couldn't be tighter, with more than 20 talks running in parallel at any given time.
It's a constant struggle to decide where to go next. Don't be surprised to see groups of people hurrying from one room to another, schedule in hand, determined to make the most of the day. Many of the sessions are recorded and will be published online in the following weeks. Keep an eye on the video archives if you miss something due to overlap.
When hunger calls, you can nip outside to one of the prepared street food stands for a handful of chips, noodles, burgers, pizzas, hot dogs, and hot waffles covered in creamy Belgian chocolate. The makeshift café is also open throughout the day, serving hot drinks and, of course, more beer.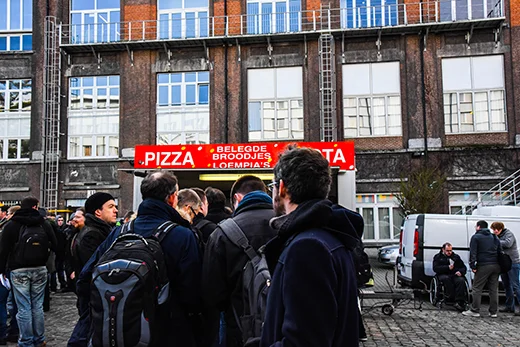 A food stand in Brussels, Belgium. Photo by Deborah Bryant. CC BY 2.0.
The convention hosts a plethora of booths where you can talk to people involved with various projects and Linux distributions. Debian, Python, OpenSUSE, FSF, Perl, GNOME, Fedora, KDE and many others make an appearance and give out free stickers, live DVDs, badges, pens, and other swag. You can also buy branded mugs, T-shirts, books, and hoodies to support your favorite project.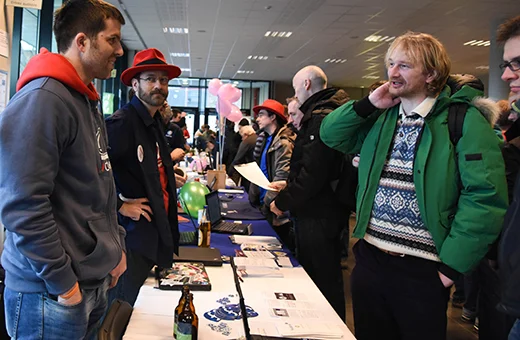 Red Hat's booth at FOSDEM 2015. Photo by Deborah Bryant. CC BY 2.0.
Sunday continues with more talks, more dev rooms, and more conversations with friendly people until 6 p.m., when everyone gathers in the largest room to thank the organizers, sponsors, and many volunteers for their hard work to make this gargantuan event possible.
The closing remarks include a detailed listing of the bandwidth used on the Wi-Fi and other interesting stats about the event. Finally, there may or may not be a coordinated dance routine afterward, but for that you'll need to come and see for yourself.
FOSDEM 2016 is January 30-31 in Brussels. Check out the schedule and come join the fun!
Radek is a software engineer, writer and the founder of Writing Analytics, an editor and writing tracker designed to help writers create a sustainable writing routine. He enjoys programming, reading books and writing.

This work is licensed under a Creative Commons Attribution-Share Alike 4.0 International License.