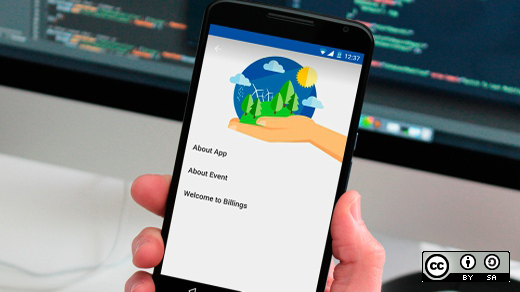 Connfa is an open source app for conferences and events aimed to make paper brochures a thing of the past. Yes, those large, clumsy brochures.
Imagine you're at a conference. A nice person at the reception desk checks your ticket and hands you one of these bright and shiny paper program guides. You walk off and start circling the events you want to attend. Everything goes fine until you miss the session you wanted to go to because you confused the date, or maybe you spent ages looking for the venue. To top it all off, you forget the brochure the next day and you're pretty lost. Sound familiar?
Well, we've got a new, open source solution to this problem. It started with my team at Lemberg Solutions who were inspired by the Drupal Give initiative to develop Connfa for use at DrupalCon.
App launch
We released iOS and Android Connfa apps for DrupalCon Amsterdam in fall of 2014, ridding them of paper brochures for a 2,000-person event and helping our friends in the Drupal community plan their time at the conference more efficiently.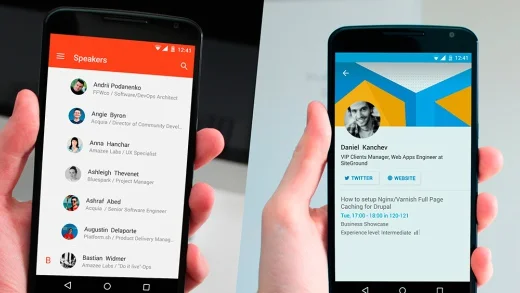 Feedback was positive. We received lots of valuable ideas and comments after that initial release. Following up with improvements, we released three app updates for DrupalCon Bogota 2015, DrupalCon Los Angeles 2015, and DrupalCon Barcelona 2015. The app was also used for the Harvesting Clean Energy Conference in 2015.
Thanks to user feedback and hundreds of brainstorming, design, and development hours, we open sourced Connfa in January to serve visitors and organizers of many other conferences and events around the globe.
User features
From event to event, the app was used by thousands of users from different time zones and was updated based on their feedback and ideas. As a result, the main functional advantages of the Connfa app are:
It works offline. When the event website isn't online due to poor Wi-Fi connection, the Connfa app continues to provide you with the schedule and more.
Easily create your own schedule by adding interesting talks, presentations, BoFs, and social events to their favorites list.
Reminders and notifications send you an alert five minutes before your favorited event starts.
Today's current events are highlighted with an auto-scroll feature.
Filter events by experience level to easily find presentations, talks, etc that fit your interests.
Search. Because sometimes you know best what you're looking for.
Event organizer features
Connfa works best for mid-sized and large conferences and events with more than 300 visitors.
Free and open source
The code is free to use, so all you will need is to add your branded UI and implement it. (We estimate the cost of development to be roughly 40 hours of work for a UI designer and software engineer. And, then it take up to two weeks for the app store to review the app.) If you don't make changes to the Connfa code or add new policies, your app will likely be accepted—Connfa apps have successfully launched at least eight times before.
Easy to promote
Unlike web apps, Connfa apps are available for download on Apple Store and Google Play, which makes it easy for your users to find, download, and use it.
Easy to use
Your event visitors will appreciate it. Connfa is easy to use, clean, and user friendly. See some of our sample applications.
It works offline and across time zones
Let's be honest, even when we plan for quality WiFi connection at our events, it often goes down anyway, or is very very slow.
For events that host international attentdees, time zone support is critical. Please note you will need to prepare the data feed with schedule and speaker information according to our specifications. (Learn more in our documentation.)
What's next?
Our team is constantly working on Connfa, with another app for Drupal Camp London 2016 on the way. We're also planning to update Connfa shortly with new features like session ratings, venue maps, and tablet support. Full documentation, wireframes, screenshots, API specs, how-to guides, and source code are all available at Connfa.com.
Software engineer. Currently focused on iOS and Android platforms. Tech lead at Lemberg Solutions, mobile & Drupal development company - http://lemberg.co.uk/ Open source contributor.

This work is licensed under a Creative Commons Attribution-Share Alike 4.0 International License.