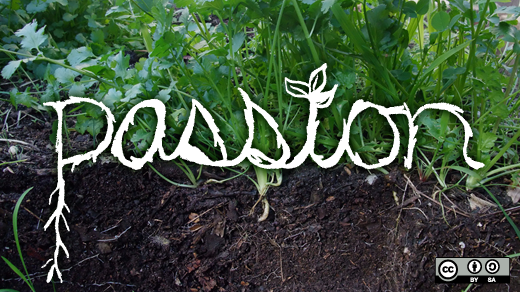 On Monday, September 7, I kicked off the second week of the Open Organization book club. This week, our topic was "Chapter 2: Igniting Passion," in which author Jim Whitehurst describes several strategies for igniting passion in your organization.
As I wrote, both purpose and passion change the way we work. While preparing for this week's book club, I noted the following excerpt from the book, which resonates with my many years of involvement in open source:
What sets open organizations apart, and what gives them a true competitive advantage, is that they also have embraced the idea that they need to activate the emotional passions and desires among their workers to actually reach that ultimate destination as defined by their purpose. (p. 31)
One highlight of the week was certainly the Twitter chat, with guests such as Lee Congdon, Bill George, Matt Thompson, and others. Under the guidance of the Opensource.com team, we had a great discussion on igniting passion in the workplace. It didn't take long for passion itself to surface in our chat.
Participants raised many questions. For example, Matt Thompson of Mozilla asked about some common blockers or "passion-killers" people encounter at work. Discussion around that question was especially lively. Here are a few more of my personal takeaways:
"Great leaders serve others, not the reverse. That's how they empower their teams." (Bill George)

"People get passionate about making something truly great. Not chasing abstract numerical targets." (Matt Thompson)
"Emotions should be allowed on the workspace: 'Excitement, fun, caring, honesty—all of these are needed for organizations to thrive.'" (Jason Hibbets)
We'll start discussing "Chapter 3: Building Engagement" on Monday, September 14 with Scott Nesbitt, and you can join us for another #OpenOrgChat on Twitter next Thursday, September 17, at 2:00 pm ET/11:00 am PT (18:00 UTC). New faces joining us next week will be Chris Aniszczyk, Thomas Cameron, Jason Hibbets, Guy Martin, Charlie Reisinger, and others.

This work is licensed under a Creative Commons Attribution-Share Alike 4.0 International License.