"What does DevOps mean to you?" Our question received colorful responses.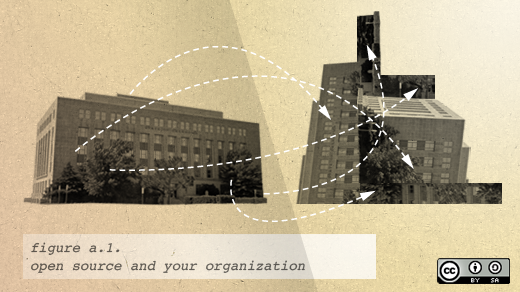 An open organization is one that embraces transparency, inclusivity, adaptability, collaboration, and community—eliminating barriers all across your business, including those between development and operations teams.
A culture of openness is an essential prerequisite for agile, boundary-breaking activities
Those barriers were a hot topic at DevOps Enterprise Summit a few weeks ago. This year, Red Hat Open Innovation Labs partnered with the open organization community to show event attendees how the same principles that power open organizations are increasingly defining DevOps.
In the spirit of both openness and community-powered innovation, we solicited the input and coloring prowess of conference attendees, asking them to decorate our booth with their artful responses to questions like "What does DevOps mean to you?" and "What do the principles of open mean to you?"
Results were impressive—and they confirmed that we're not the only ones who believe a culture of openness is an essential prerequisite for agile, boundary-breaking activities.
Here are just a few of the responses we received on our wall:
"Fail fast, fail often. Don't be afraid, you have a culture that will learn from that failure."
"Open collaboration = open innovation."
"DevOps means delivering value quickly, and of a high quality, through collaboration, innovation, and continuous delivery."
"DevOps and open organizations creates visibility, shared understanding, speed to market, process, efficiencies, and VALUE! Spending less time in meetings, and more time building customer value."
"An open organization means having empathy and shared accountability."
Learn about open organizations
All of the responses (not to mention the conference sessions, speakers, and interactions with attendees) made something else very clear to me: organizational culture is something people need to practice every day; like committing movement to muscle memory, DevOps is not something anyone achieves and then forgets. It's embedded, practiced, flexed, and stretched.
By the way: Take a look at our our wall full of colorful ideas. Zoom in, flip the picture, see what resonates with you. What do you have to contribute? As we told visitors to our booth: "Don't be shy. We're all open here."
Mike Walker is the Global Director of Red Hat's Open Innovation Labs, whose mission is to make it easier and quicker for customers to bring innovative ideas to life.

This work is licensed under a Creative Commons Attribution-Share Alike 4.0 International License.
Download the Open Organization Guide to IT Culture Change
Open principles and practices for delivering unparalleled business value.