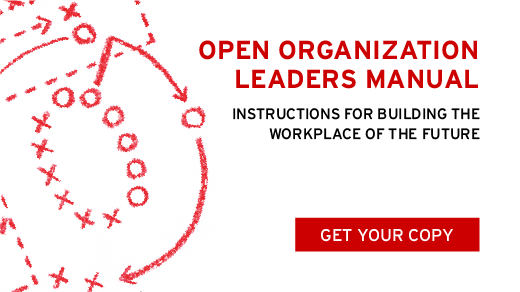 Let's face it: The nature of work is changing. So the way we lead must change with it.
In The Open Organization (Harvard Business Review Press), Red Hat president and CEO Jim Whitehurst explained how principles from open source software communities actually provide the tools for coping with—and thriving in—a context of rapid and unending change. Now, in this exciting new volume, the community forming around Whitehurst's insights shares advice for leaders wishing to alter their attitudes, change their habits, and build the workplace of the future.
The Open Organization Leaders Manual is a handbook for anyone attempting to harness the power of openness to lead teams that are more transparent, agile, collaborative, and mission-driven.
Download your Creative Commons-licensed copy today by entering your email below.
You can also purchase a paperback copy of the book from our publishing partner, Lulu. Please note that this book is sold entirely at cost.
The Open Organization Leaders Manual joins additional companions to The Open Organization, including:
The book's source code is also available.