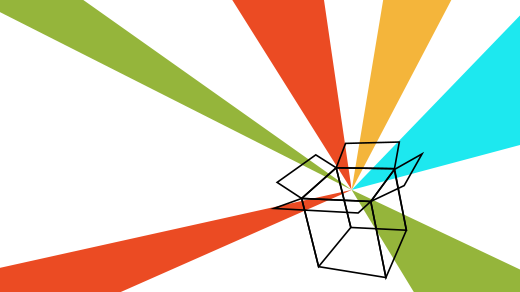 When we launched our first-ever caption contest last month, we gave readers the simple guideline (not mandate) that our judges would likely favor captions with an open source theme. We were surprised and pleased to see that every reader seemed to take that advice to heart.
Nearly all of the 232 captions submitted had some sort of open source hook, and that made our hearts sing. Our judges waded through all the captions and picked their 11 favorites during a live Google Hangout (you can replay it here if you missed it). We let readers cast the final votes, and the results are in!
Winners of the 2013 Opensource.com caption contest
Grand prize ($500 worth of eBooks from O'Reilly Media):
...and this pic, dear children, was taken outside the cathedral near the bazaar. (submitted by Varun)
Second and Third prizes (free registration to LinuxCon/CloudOpen conference):
Who wants to write the next line of code? (submitted by Sara Blackthorne)
Paint the world with open source. (submitted by I3o)
Fourth prize (Adafruit kit to make a solar MintyBoost):
Please Miss, if we use open source, will we get our colors back? (submitted by Cowboy Bob)
Fifth prize (one-year subscription to MAKE Magazine):
See, it's amazing when you open it... (submitted by bravestone)
Congratulations to the winners! And thank you to everyone who took a moment to come up with a creative caption for this image.
Image Credits" title="Image credits: Image Credits" class="mceItem" height="292" width="520">
We had so many funny and witty captions that it was really hard to pick finalists. Some of our favorites that didn't make the cut are:
One reader (tsquar3d) rewrote the theme to the '90s American TV Show "The Fresh Prince of Bel-Air." It was so funny that our community manager even sang it at the end of our live judging. Here's how it goes:
Kids, this is the story all about how My life got flipped, turned upside down And I'd like to take a minute just sit right there I'll tell you how I became the princess of free software. With B.S.D. born and raised In the command line where I spent most of my days Chilling out, hackin', crackin' all cool And all writing' some FORTRAN outside of the school When a couple of businessmen, they were up to no good Started closin' sources in my neighborhood but all those sources were supposed to be shared! So I said "I'm gonna be an activist for free software!" I started forums on the net and when the nerds came near 'Said my ideas were fresh and so we set up a mirror If anything I seeded thousands of files zipped .rar And we shared, and we seeded—it's free software! I got me some servers—about seven or eight And I yelled to Microsoft "Yo, homes smell you later!" Looked at my kingdom I was finally there To sit on my throne as the princess of free software.
We also couldn't help but smile at this caption by reader Travis Paul:
This is called forking, and should not be confused with the word that put Timmy in detention.
Joshua Holm's submission was also made our short list and deserves an honorable mention:
Photographer Toni Frissell shows children how she edits photographs with the GNU Image Manipulation Program (GIMP).
Read all the submissions in the comments of the contest post.
Finally, we want to end by sending a BIG THANK YOU to our sponsors for donating the fabulous prizes: O'Reilly Media, The Linux Foundation, Adafruit Industries and MAKE Magazine. Thank you, sponsors; we appreciate you and all that you do for the open source community.
Ginny Hamilton was a community manager for EnterprisersProject.com, an online publication and community focused on how CIOs and IT leaders create business value through information technology. A former journalist, Ginny is passionate about local politics, journalism, technology, and social media. Follow her on Twitter for coverage of all those topics along with a healthy mix of cat photos.

This work is licensed under a Creative Commons Attribution-Share Alike 3.0 Unported License.