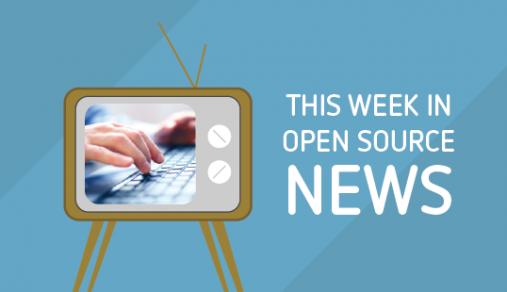 In this edition of our open source news roundup, we take a look at Kickstarter making the code for its iOS and Android apps open source, UNICEF and Malawi announcing the first humanitarian drone testing corridor in Africa, and more.

Open source news roundup for December 11-24, 2016

Kickstarter Android and iOS apps become open source
Kickstarter has made its Android and iOS apps open source. TechCrunch's article about the release states that release of the source code is "in keeping with the company's goal of giving startups a bit of a leg up" and that the move was inspired by Kickstarter becoming a Public Benefit corporation with this move "playing into that larger idea of giving something back to the larger development community." The source code for the apps can be found on GitHub.
Small Business Trends looks at Apache OpenOffice for use in small businesses

Small Business Trends, an online publication aimed at small business owners and entrepreneurs, published an article about why businesses should use Apache OpenOffice. The article explores many of the reasons why Apache OpenOffice is a good match for business users. LibreOffice does get a brief mention as a competing product, but all the points the article makes about Apache OpenOffice also applies to LibreOffice. While most of the points made in the article will be very familiar to regular users of Apache OpenOffice or LibreOffice, it is always nice to see a positive recommendation for open source software in a non-open source specific publication, and this article is an excellent thing to keep on hand to share with people unsure about using open source software in their business.
Fostering citizen participation in government with open source and open data
ZDNet's Anna Solana published an article looking at the use of the use of open digital platforms for fostering citizen participation in government in Spain. Solana's article is pragmatic, looking at successes and failures, but many of the key quotes come from CEOs of companies that think that open platforms for collaboration are the future, despite any hurdles. Overall, the article is a excellent overview of real efforts to implement open government digital platforms, making it a worthwhile read for anyone attempting to foster the growth of such platforms in their own region.
The first humanitarian drone testing corridor in Africa
UNICEF and the Government of Malawi announced the establishment of an air corridor for testing humanitarian uses for drones. Scheduled to be fully operational by April 2017, the air corridor will be used to explore how drones can be used to deliver beneficial services to communities. Testing will focus on three main areas: "generating and analyzing aerial images for development and during humanitarian crises," "exploring the possibility for [drones] to extend Wi-Fi or cellphone signals across difficult terrain," and "delivery of small low weight supplies such as emergency medical supplies, vaccines and samples for laboratory diagnosis." The projects will "abide by the UNICEF innovation principles—meaning open source, open data, sharable, designed for scale."
In other news
Thanks, as always, to Opensource.com staff members and moderators for their help this week. Make sure to check out our event calendar, to see what's happening next week in open source.

This work is licensed under a Creative Commons Attribution-Share Alike 4.0 International License.