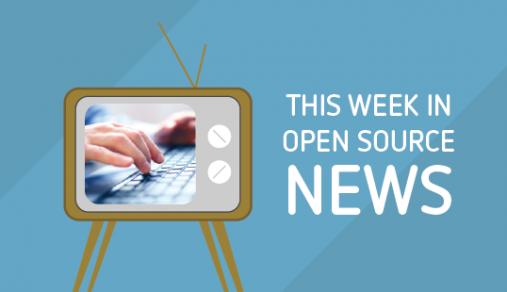 In this week's edition of our open source news roundup, we take a look at the new Raspberry Pi compute module, the FSF's 2017 priorities, a new open data portal, and more.
Open source news roundup for January 8-21, 2017
Raspberry Pi Compute Module 3
The Raspberry Pi Foundation launched Compute Module 3, an update to the Pi-on-a-board that can be used as a building platform for other products. Unlike the regular Raspberry Pi, the Compute Module doesn't contain peripheral ports—just the CPU, RAM, and (optional) onboard eMMC flash storage.
FSF updates high-priority projects list
The Free Software Foundation (FSF) updated their list of high-priority free software projects for 2017. This list catalogs the areas viewed as having "great strategic importance to the goal of freedom for all computer users." New focus areas include personal assistants, adoption of free software by governments, and accessibility. A few areas were removed as well. For example, the Gnash project is no longer a high priority due to the decreasing prevalence of Flash on web pages.
Long Beach open data portal
The city of Long Beach, California announced an open data portal called DataLB. DataLB provides a central location for over 100 city-published datasets. Data are viewable with simple tables and maps, along with the ability to open an ArcGIS session in the web browser. In a press release, Long Beach Chief Information Officer Bryan Sastokas said the city "wants to drive beyond presenting data online and our DataLB portal is an innovative approach that allows the public to operationalize data, making it more useful to the community and building on the city's commitment to transparency."
matplotlib 2.0 released
Version 2.0 of matplotlib, the venerable 2D and 3D plotting library for Python, is now available. Most of the changes involve new default settings for plots. These new defaults improve the look of plots and improve consistency between interactive and saved plots. The matplotlib 2.0 user's guide has a thorough rundown of the updates, along with examples. A full list of all changes is available on the matplotlib website.
New community app for Android
Fans of Jono Bacon's Six Degrees column on Opensource.com have a new way to get his community management knowledge. The Bacommunity app for Android features a picture of Jono. When you punch tap his face, it plays a clip of his previously recorded wisdom.
In other news
Thanks, as always, to Opensource.com staff members and moderators for their help this week. Make sure to check out our event calendar to see what's happening next week in open source.
Ben Cotton is a meteorologist by training, but weather makes a great hobby. Ben works as the Fedora Program Manager at Red Hat. He is the author of Program Management for Open Source Projects. Find him on Twitter (@FunnelFiasco) or at FunnelFiasco.com.

This work is licensed under a Creative Commons Attribution-Share Alike 4.0 International License.