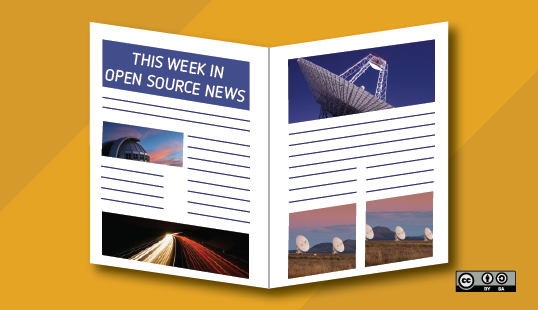 In this edition of our open source news roundup, we take a look at Cyanogen Inc. pulling the plug on CyanogenMod, Toyota and Ford forming the SmartDeviceLink Consortium, and more.
Open source news roundup for December 25, 2016-January 6, 2017
Cyanogen Inc. pulls the plug on CyanogenMod
Just after Christmas, Cyanogen Inc. pulled the plug on popular Android alternative CyanogenMod. The company shut down all of its services, including nightly builds of CyanogenMod. As Android Authority noted, the move wasn't a surprise as Cyanogen Inc. "recently laid off staff, and we heard the news of the exit of its CEO as well as another co-founder."
That doesn't mean CyanogenMod is dead. A group of developers and others have created a fork of CyanogenMod called LineageOS. The team behind LineageOS wants to distance itself from Cyanogen Inc.'s various missteps while maintaining the software's quality and reliability.
Toyota and Ford form SmartDeviceLink Consortium
It's no secret that Apple and Google offer the most widely used technologies for linking smartphones to a car's dashboard. In an effort to offer an open source alternative to CarPlay and Android Auto, Toyota and Ford have teamed up to form the SmartDeviceLink Consortium. Joining them are a group of companies that includes automakers Suzuki and Mazda, and technology firms Fuji, QNX, and Elektrobit.
The Consortium aims to "prevent Apple and Google from controlling how drivers connect smartphones to their vehicles," according to MacRumors. To do that, the Consortium is developing a standard that isn't restricted to a single smartphone platform. In doing that, the group hopes to "attract developers who can then integrate the universal linking technology into their software."
Raspberry Pi Foundation launches Pixel OS prototype
Want to get the Raspberry Pi experience on an older Windows PC or Mac that you have lying around? You can, now that the Raspberry Pi Foundation has released a prototype of its Pixel OS for computers powered by Windows or MacOS.
Pixel OS offers the same experience on a PC or Mac as it does on a Raspberry Pi. According to Eben Upton, founder of the Raspberry Pi Foundation, Pixel OS is aimed at schools and allows a student to "move back and forth between her computing class or after-school club and home, using exactly the same productivity software and programming tools, in exactly the same desktop environment."
You can download a Pixel OS ISO image and use it to create a bootable USB flash drive. However, Eben Upton stresses that Pixel OS is "experimental and he warned that some minor bugs might appear due to the vast range of configurations for computers."
In other news
Thanks, as always, to Opensource.com staff members and moderators for their help this week. Make sure to check out our event calendar to see what's happening next week in open source.
I'm a long-time user of free/open source software, and write various things for both fun and profit. I don't take myself all that seriously and I do all of my own stunts.

This work is licensed under a Creative Commons Attribution-Share Alike 4.0 International License.