We take a look back at the biggest open source news.
378 readers like this
378 readers like this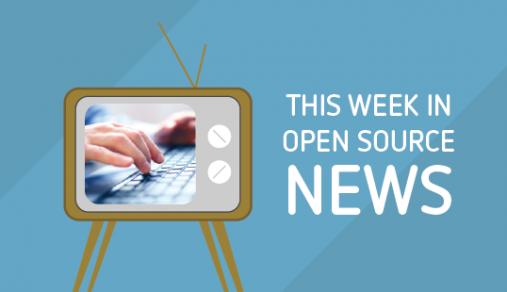 In this edition of our open source news roundup, we take a look at Mozilla funding open source projects, CBC Radio launching a streaming media project, Rome increasing its use of open source, and more.
Open source news roundup for October 1-14, 2017
Mozilla shells out over $500K to support open source projects
When it comes to open source and the open web, Mozilla is once again putting its money where its mouth is. The Mozilla Open Source Support program (MOSS for short) recently awarded $539,000 (USD) in grants to several open source projects.
Those projects are Ushahidi (a platform for collecting and sharing local information), RiseUp (developers of secure digital tools for activists), Phaser (an HTML5 gaming engine), and mod_md (an Apache module for deploying and securing websites). According to TechCrunch, the next phase of MOSS will focus less on specific projects and more "on individual regions—starting with India."
CBC Radio launching streaming open source streaming media project
The Canadian Broadcasting Corporation (CBC for short) is launching a project to "create an open source solution for the integration" of a set of standards for transmitting professional-quality multimedia over managed IP networks.
The goal of the CBC's project is to "lower the barriers to entry for smaller software developers and ultimately boost interoperability." The solution is based on popular multimedia software FFmpeg because, according to the CBC's François Legrand, "it's an open source media pipeline used in a large number of consumer and professional media products." According to Legrande, the project already supports basic audio and video and "runs on off-the-shelf hardware, using a standard Linux operating system" without the need for special hardware or drivers.
Rome increasing its use of free and open source software
The city of Rome, Italy is taking a huge step in its attempt to free itself from vendor lock-in by changing the terms of its IT contracts. By 2020, many of its current contracts come up for renewal and the city will "require IT service providers to help the city switch to alternatives to proprietary software.
City councilor Flavia Marzano notes that "one-third of our IT spending is distributed among just six IT vendors" and that the "choice to implement free software intends to end the oligarchy in this industry." Rome is already taking steps to move to free and open source software. The city is installing LibreOffice on its 14,000 workstations and will start "a pilot to test the use of workstations running Linux" in 2018.
Hertfordshire piloting Raspberry Pi-based telehealth system
A community health organization in Hertfordshire, England has started the first pilot of a Raspberry Pi-based system to monitor patients in their homes. The UK's National Health Service created the system, called MediPi, in 2016. The trial in Hertfordshire involves "giving patients basic medical devices, which connect to a touchscreen tablet running the MediPi system either via Bluetooth or USB."
At the moment, 50 patients are involved in the pilot. Clinicians are also taking measurements to "measure the accuracy of the devices' transmissions." If you're interested, you can check out the MediPi repository on GitHub.
In other news
Thanks, as always, to Opensource.com staff members and moderators for their help this week. Make sure to check out our event calendar to see what's happening next week in open source.
I'm a long-time user of free/open source software, and write various things for both fun and profit. I don't take myself all that seriously and I do all of my own stunts.

This work is licensed under a Creative Commons Attribution-Share Alike 4.0 International License.