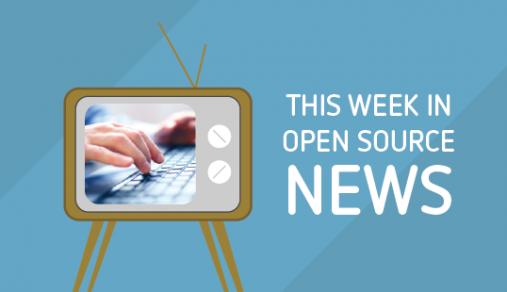 In this edition of our open source news roundup, we take a look at IKEA's spherical garden, the US Department of Defense's Code.mil site, and more.
Open source news roundup for February 19-March 4, 2017
Space10 releases open source plans for spherical garden
Growing your own food in an urban environment requires innovative solutions to make the best use of limited available space. One solution is the Growroom, a spherical DIY garden kit from Space10, "an external innovation hub for IKEA." When fully assembled, the Growroom occupies under 27 cubic meters.
Space10 has made the plans for the Growroom available to anyone interested in building their own spherical garden. The project requires 17 sheets of plywood and access to a CNC milling machine. After the pieces are cut, assembly requires only a few basic tools, and the assembly instructions read much like those for any of IKEA's flat-pack furniture kits.
United States Department of Defense launches Code.mil
Code.mil is a new open source initiative from the United States Department of Defense that will allow developers to review and contribute to non-classified Department of Defense projects. Right now only the only thing available is a licensing agreement published to solicit feedback and commentary from the public, but actual software projects should become available shortly.
One particularly interesting aspect of this initiative is the issue of licensing. Projects published by United States government agencies are public domain works, which complicates the issue of using copyright law to control ownership of a project and enforce license compliance. Instead, Code.mil plans to use a proposed Defense Open Source Agreement to use contract law to control the licensing of projects. The Register explores this issue in more detail in their write-up.
Open Agriculture initiative at MIT Media Lab says food production data should be open source
To manage the logistics of feeding a growing global population, MIT Media Lab's Open Agriculture initiative suggests that all agriculture production data should be made publicly available and that open source methods should be used to analyze the data. Techworld discusses this with Caleb Harper, leader of the Open Agriculture initiative. In the article, Harper explains that by levering big data and various open methods, it is possible to develop a greater understanding of the global agricultural system. Exploring and understanding the way our food is grown and distributed can help us gain a greater understanding of the system as a whole, develop more efficient practices, and put an end to problems that currently exist.
In other news
Thanks, as always, to Opensource.com staff members and moderators for their help this week. Make sure to check out our event calendar to see what's happening next week in open source.

This work is licensed under a Creative Commons Attribution-Share Alike 4.0 International License.