354 readers like this
354 readers like this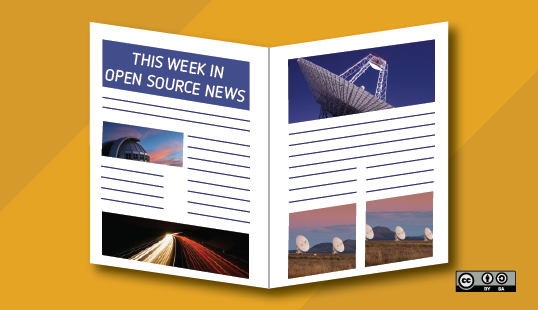 In this edition of our open source news roundup, we take a look at Ubuntu going back to GNOME, universities in Maryland getting open textbook grants, and more.
Open source news roundup for April 2-14, 2017
Ubuntu going back to GNOME in 2018
Ubuntu's six-year experiment with Unity, its graphical user interface, is officially over. Mark Shuttleworth, founder of Canonical (the company behind Ubuntu), announced that Canonical will no longer be developing Unity. Starting with release 18.04 in 2018, Ubuntu will go back to using GNOME as its default desktop environment. The shift away from Unity also spells the end for Ubuntu Touch, which was designed to bring the Ubuntu desktop experience to smartphones and tablets.
In a blog post, Shuttleworth admitted that the free and open source software community viewed Unity as "fragmentation not innovation" and that the market hadn't embraced Unity's possibilities. Instead, Canonical will continue to develop desktop versions of Ubuntu and will also continue supporting Ubuntu for servers, the cloud, and the Internet of Things.
That doesn't mean Unity or Ubuntu Touch are dead. The UBports community (which is dedicated to porting Ubuntu Touch to as many devices as possible) has promised to try to keep both projects alive for phone, tablets, and the desktop. UBports will even try to create its own app store.
Maryland universities receive grants to open textbooks
It's no secret that the price of textbooks is one factor driving up the cost of a university education. While the open textbook movement has been gaining ground, it received a boost in the U.S. state of Maryland. The University System of Maryland has awarded 21 "mini grants" to university faculty to "help them expand open education resources and mitigate student fees."
The grants, ranging from $500 to $2,500, will help 21 faculty members at 12 universities to "adopt, adapt, scale, or create open education resources," according to The Diamondback. MJ Bishop of the William E. Kirwan Center for Academic Innovation told The Diamondback that the "grants are expected to save students enrolled in these courses $1.3 million in textbook costs for the fall 2017 semester."
Wire open sources its server code
Like your messaging system with a side of encryption, but aren't sure you can trust it? Secure messaging service Wire agrees. That's why the service just has started releasing its server code as open source.
This move follows on the heels of Wire open sourcing its user interface code in 2016. The release of the source code will be done in stages. Eventually, there will be "a self-hosted version of Wire that optionally federates with the main Wire cloud," according to Network World.
The "source code of the server components is licensed under AGPL," according to Wire's CTO Alan Duric and will be available on GitHub.
In other news
Thanks, as always, to Opensource.com staff members and moderators for their help this week. Make sure to check out our event calendar to see what's happening next week in open source.
I'm a long-time user of free/open source software, and write various things for both fun and profit. I don't take myself all that seriously and I do all of my own stunts.

This work is licensed under a Creative Commons Attribution-Share Alike 4.0 International License.