378 readers like this
378 readers like this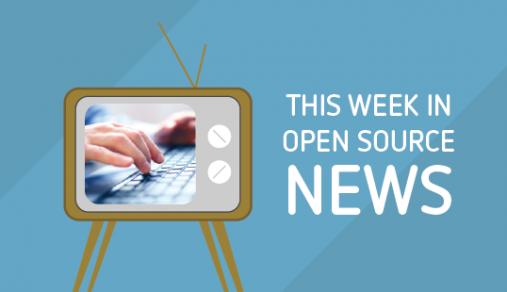 In this edition of our open source news roundup, we take a look at the first open source satellite, The Linux Foundation's new IoT-focused group, and more.
Open source news roundup for April 15-28, 2017
Launching the first open source satellite
Last week, the first open source satellite made its way into space. The Libre Space Foundation, the organization behind the satellite, is dedicated to developing libre space hardware.
The open source cube satellite, called UPSat, was sent to the International Space Station on the Orbital ATK launch. The satellite's chassis, firmware, and software are all open source and available on GitHub. The full article on Hackaday.com includes hints on how to track the satellite yourself with the open source SatNOGS ground station.
The Linux Foundation launches IoT-focused EdgeX Foundry
Security is the Achilles heel of the Internet of Things, according to Steven J. Vaughan-Nichols on ZDNet. The lack of common IoT development standards is part of this problem. This is why the Linux Foundation, along with 50 companies, has announced The EdgeX Foundry. The group will build a common open framework for IoT edge computing that will include an ecosystem of interoperable components.
"The initial work is already in place. Dell is seeding EdgeX Foundry with its early stage FUSE source code base under Apache 2.0. FUSE forms a layer that will sit between the many different messaging protocols used by today's sensor networks and the cloud and server layers."
The goal of the EdgeX Foundry is the "simplification and standardization of Industrial IoT edge computing, while still allowing room for vendors to add their own value-add features."
The Linux Foundation and FSFE introduces new OSS resources
In an effort to simplify free and open-source software license identification and compliance, The Linux Foundation and Free Software Foundation Europe (FSFE) released multiple new resources. FSFE president Matthias Kirschner says the resources "[make] it easier for companies to rely on and develop free and open source software." The release includes:
Practical GPL Compliance: A guide for startups, small businesses, and engineers.
Cregit: A Linux Foundation project designed to provide insight into source code file changes and history.
FOSSology: An open source license compliance solution and toolkit.
In other news
Thanks, as always, to Opensource.com staff members and moderators for their help this week. Make sure to check out our event calendar to see what's happening next week in open source.

This work is licensed under a Creative Commons Attribution-Share Alike 4.0 International License.