From A to Z, learn where the names for upstream code releases come from and what they mean.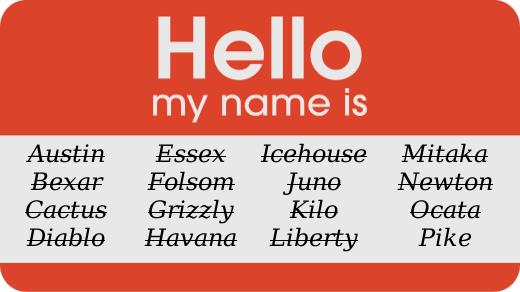 What's in a name?
Quite a bit, actually. Open source projects frequently struggle to find a name that's suitably memorable, descriptive, appropriate, and, above all else, does not find the project in accidental legal trouble.
While nailing down the name for an open source project can be a challenge, so too can be the naming of individual components or releases. Several projects within OpenStack are on their second name: Quantum became Neutron, Savanna became Sahara, and Marconi became Zaqar.
Deciding on a release naming scheme can be a challenge, too. Do you go with a numerical system, or give releases catchier written names? Some projects, like Fedora, started with unique, memorable names but then later decided to eschew them in favor of numbers.
Other projects try to make projects sequential but still maintain a memorable name. Ubuntu's use of "Adjective Animal" naming is now approaching the end of the alphabet with Zesty Zapus. OpenDaylight has opted to use elements in the periodic table to name their releases in order.
OpenStack's release naming takes the sequential-but-memorable approach. Releases of OpenStack come from a place name nearby the location of the Design Summit where each release was planned: for example, the Design Summit for the first release, Austin, took place in: you guessed it, Austin. The second release, Bexar, was named for Bexar County, home to San Antonio, where the second summit was held. Some releases took a looser interpretation of this trend, like Grizzly, named after the bear on the California flag, or Kilo, named after the official reference kilogram located near Paris, France.
As the OpenStack community expanded globally and locations were moved around the world to accommodate the growing international community, OpenStack releases have been named after locations in six countries now, with the seventh planned for the Queens release after the summit next fall in Sydney, Australia.
For a complete list of historical names, you can check out the release naming page on the OpenStack wiki, or the complete rules for how names are chosen on this page from the OpenStack Technical Committee.
So of the many potential place names for a release, who chooses? The community, that's who!
Every registered member of the OpenStack Foundation is entitled to a vote, and if you're a member, there's poll waiting for you in your inbox from last week to choose the name of the upcoming "R" release. The release name will be chosen from places near Vancouver, Canada, the site of the next summit after Sydney.
Curious what the future might hold? Here are the proposals brought forward from the community, as found in the official R Release Naming Proposals wiki page.
Have a favorite? Decide soon! Voting ends Thursday, April 13 at 23:59:59 UTC. OpenStack Foundation members should look for a personalized ballot in their inbox, and others should cheerlead from the sidelines.
Jason was an Opensource.com staff member and Red Hatter from 2013 to 2022. This profile contains his work-related articles from that time. Other contributions can be found on his personal account.

This work is licensed under a Creative Commons Attribution-Share Alike 4.0 International License.