Results of ninth user survey offer compelling evidence on the growth and diversity in OpenStack community.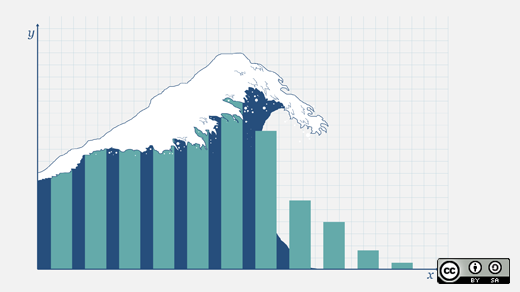 Last week, the OpenStack Foundation announced the results of its ninth user survey. OpenStack users responded in record-breaking numbers to participate, and their voices as revealed in the data tell the real story of OpenStack. The OpenStack community is growing, thriving with new users, deployments, code contributions, and collaborations, all on the rise. User diversity is expanding across geographies and organizational sizes. And OpenStack's ability to integrate with innovative technologies is paving the way for advancements not even dreamed of just five years ago.
OpenStack adoption is growing
The ninth user survey comprises input from 22% more organizations than one year ago and captures 44% more deployments. According to the information provided by the largest survey pool to date, the share of OpenStack deployments in production remains stable, with two-thirds of clouds in production. The large proportion of clouds in production demonstrates the maturity of OpenStack, while a substantial influx of clouds in proof-of-concept and test stages predicts healthy growth for the future.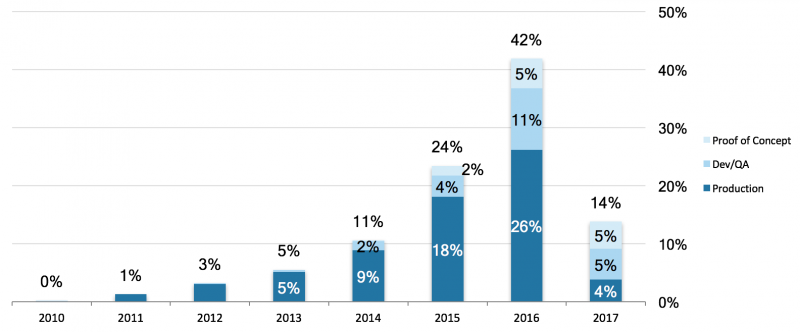 This growth in new deployments is demonstrated by the average age of a deployment—just 1.68 years. 56% of deployments surveyed were launched in 2016 or 2017. Interestingly, deployments launched in 2017 only represents the first two months of this year (the survey period), so if we stayed on pace with that, the number of new clouds created in 2017 would be double the number reported in 2016, which is pretty awesome.
Another indicator of the growing adoption of OpenStack is the amount of an organization's overall infrastructure running on OpenStack. The typical (median) OpenStack user runs 61-80% of their infrastructure on OpenStack; among larger clouds of 1,000 cores or more, the median user runs 81-100% of their overall infrastructure on OpenStack.
Users also report that the typical size of an OpenStack cloud size has increased. 37% of clouds have 1,000 or more cores, compared to 29% last year, and 3% of clouds have more than 100,000 cores. The number of users using Nova cells also increased 218%.
The OpenStack community: A picture of health
The OpenStack community is vibrant, growing in number and diversity, and comprised of members who are eager to share knowledge and help each other. More than 70,000 registered community members represent 700+ organizations in 180+ countries. In 2016 alone, we had 3,500 developers from hundreds of companies contribute code to OpenStack, and 1,631 of these were new contributors, which means we're continuing to see growth and new blood in the community. We're enjoying an influx of new sponsors as well. Seven new gold members have joined the Foundation in the past year, and we have welcomed 12 first-time corporate sponsors, and 15 new summit sponsors will be on hand May 8-11 in Boston.
A world of diversity
The user survey demonstrates OpenStack's broad appeal around the world for organizations of all sizes and a wide variety of industries. 32% of users have 10,000 employees or more, while 25% of organizations have fewer than 100 employees. Users span a total of 78 countries, with 61% of these users and 74% of deployments physically located outside of the United States, making this our most internationally representative survey to date.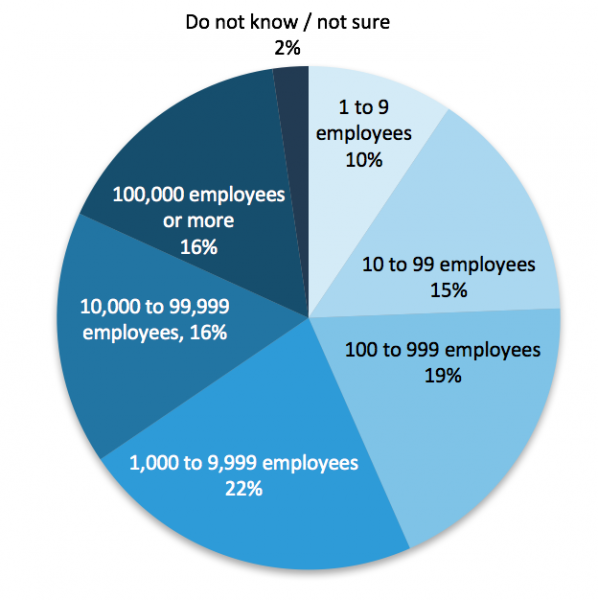 Integrations and innovations abound
The business drivers for OpenStack adoption continue to highlight its competitive advantages, including accelerating the organization's ability to innovate and avoiding vendor-lock in. This underscores OpenStack's distinct advantage and value: It is the only platform that brings together bare metal, VMs, and containers, and it integrates with a number of other technologies, including many popular open source projects, enabling users to combine them with OpenStack. (We'll hear more about cross-community collaboration at OpenStack Summit Boston during Open Source Days.)
Containers remain the top emerging technology of interest to users. 65% of those running OpenStack services inside containers use Docker runtime, while 47% of those using containers to orchestrate apps on OpenStack use Kubernetes. Although some once proffered that containers were a threat to OpenStack, the opposite has borne out: containers are complementary and rapidly being integrated into projects such as Kolla, Fuel CCP, Kuryr and Magnum. In fact, according to 451 Research, companies using OpenStack are adopting containers three times faster than those not using OpenStack.
Experience the momentum firsthand in Boston
It is a testament to the OpenStack community that so many users are willing to participate in the user survey and go "on the record" about their deployments, use cases, and more.
Soon an impressive slate of these OpenStack users will take the stage in Boston to share how OpenStack is driving innovation in their organizations. Pioneering vendors, too, will describe how they are breaking new ground with innovative business models, products, and services.
We hope you'll join us in celebrating our growing and resilient community and add your voice to those who are sharing the good news and making good things happen.
At the OpenStack Foundation, Heidi Joy focuses on brand, content, and community marketing. Heidi Joy Tretheway has spearheaded the User Survey on behalf of the OpenStack Foundation since August 2015.

This work is licensed under a Creative Commons Attribution-Share Alike 4.0 International License.