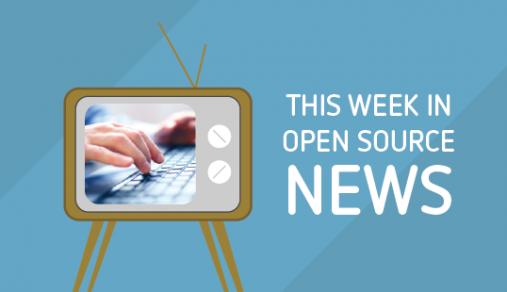 In this edition of our open source news roundup, we take a look at open source seeds, the release of Firefox Focus for Android, and more.
Open source news roundup for June 11-24, 2017
Mozilla releases Firefox Focus for Android
Firefox Focus, Mozilla's privacy-focused mobile web browser, is now available for Android. Firefox Focus uses the GPL-licensed Disconnect.me block list to provide ad-blocking and tracking protection by default. The Android version adds features not currently found in the iOS version, including an ad-block counter, the ability to disable the tracker blocker, and a notification reminder that lets the user erase their browsing history with one tap.
Linus Torvalds still motivated by working on Linux
Linux.com published a write-up of a recent "fireside chat" that took place between Linus Torvalds, the creator of Linux and Git, and Dirk Hohndel, VMware's Head of Open Source, at LinuxCon China. During the talk, Torvalds shares his thoughts about Linux development, the future of Linux, and Git. He also provides some advice for people looking to get started in open source. When asked about what motives him, Torvalds explained that the work he does on Linux is what motivates him. Whenever he takes a short break, he finds himself ready to get back to work. Pretty impressive for something that began many years ago as "just a hobby."
German breeders release open source seeds
German breeders have released tomato and wheat seeds under an open source license. To counteract intellectual properly laws that can interfere with research efforts, the open source license used for the plants makes it so that others can use the seeds but cannot patent any varieties derived from these plants. There have been other attempts to "open source" seeds, but this German effort is the first to apply legal protections to ensure the open source status of varieties derived from these seeds. Intellectual properties laws pertaining to plants vary by country, but this German effort is welcome by some, but others do point out that switching to a fully open source model for plants could harm the industry, since commercial breeders could not claim royalties from breeds derived from open source seeds. This line of reasoning is not far removed from criticisms leveled against opens source software, but the seed industry is not the software industry, so there are bound to be some differences as the concept of open source seeds matures.
In other news
Thanks, as always, to Opensource.com staff members and moderators for their help this week. Make sure to check out our event calendar to see what's happening next week in open source.

This work is licensed under a Creative Commons Attribution-Share Alike 4.0 International License.