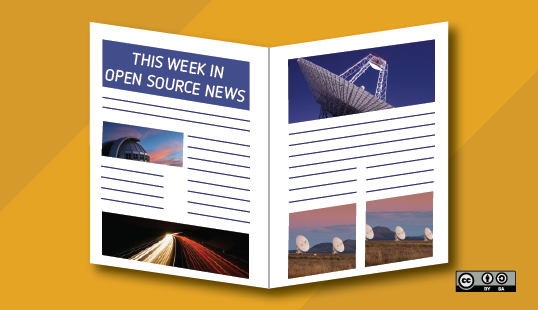 In this week's edition of our open source news roundup, we take a look at Lucasfilm's MaterialX Library, the CatBoost machine learning library, DIY laboratory equipment, and more.
Open source news roundup for July 9-21, 2017
Lucasfilm and ILM announce open source release of MaterialX library
ILM Visual Effects, Lucasfilm's VFX and animation studio, open sourced its MaterialX computer graphics library July 11. MaterialX was used in Star Wars: The Force Awakens and Rogue One: A Start Wars Story. The source code and examples are available on GitHub and through materialx.org.
Yandex open sources CatBoost machine learning library
Search engine creator Yandex released its machine learning library (appropriately named CatBoost). The library provides a way to classify and rank data using decision trees and supports Python and R. A command-line interface is also available. The source code is available on GitHub.
Bitfury launches enterprise Bitcoin-anchored blockchain software framework
Bitfury launched its new open source, enterprise-grade blockchain framework called Exonum. The framework offers a secure method of building blockchain solutions. Source code is available on GitHub. Developers are encouraged to incorporate and adapt Exonum source.
Crazy smart summer: Girls build robots to help people
Middle school girls spent the week learning how to program using Arduino boards at Michigan Technological University's Robotics Summer Youth Program. Students learn the engineering process and how to solve problems. The program hopes to show young students the value of robotics and its potential for the future.
Neuroscientists find new way to make lab equipment on the cheap
In true DIY style, scientists used 3D printing, microcomputers, and other readily available components to pioneer a open source, do-it-yourself lab equipment. They created low-cost imaging and a microscope system. The "FlyPi" microscope system costs less than $150 Cdn and is thought to be perfect for use in schools.
In other news
Thanks, as always, to Opensource.com staff members and moderators for their help this week. Make sure to check out our event calendar to see what's happening next week in open source.
Michelle is a freelance technology writer. She has created technical content for a range of brands and publications, including IBM Security, GE Digital, HP Enterprise, SAP, TechTarget, UBMTech, and more. She covers enterprise software, cybersecurity, big data analytics, digital marketing and website development.

This work is licensed under a Creative Commons Attribution-Share Alike 4.0 International License.