386 readers like this
386 readers like this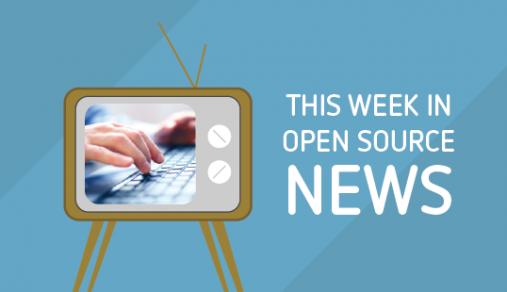 In this edition of our open source news roundup, we take a look at the petition to take Flash open source, GitHub's new community features, an inexpensive 3D printed microscope, and more!
Open source news roundup for July 23-August 5, 2017
Flash to die, but will it survive as open source?
When Adobe announced it would kill Flash by 2020, a large portion of the web breathed a sigh of relief. For many, it's goodbye and good riddance to a piece of buggy and insecure software that has permeated the web. But web developer Juha Lindstedt wants Adobe to make Flash open source to "keep Flash projects alive safely for archive reasons." Lindstedt's petition on GitHub has thousands of stars. Aside from convincing Adobe to make Flash open source, one of the the biggest problems facing an open source Flash is fixing the software's huge pile of bugs, which includes a number of nasty security vulnerabilities.
GitHub's new features focus on communities
Earlier this year, GitHub released the results of its open source survey. Some of those results weren't flattering. In fact, they pointed to several problems in open source communities. To help combat those problems, GitHub is introducing a number of new features that can help build and enhance those communities. The new features include badges for new contributors, the ability for contributors to hide their email addresses, improved licensing for projects, and better handling of blocked users. A blog post at GitHub explains these new features in detail.
3D printed microscope puts research tools within reach
Quality laboratory is a vital part of teaching and research, but the high cost of equipment like microscopes puts it out of the reach of underfunded institutions and ones in the developing world. That could change thanks to the FlyPi. It's an open source 3D printed microscope developed by researchers at Germany's University of Tubingen and the U.K.'s University of Sussex. The FlyPi incorporates "a Raspberry Pi micro-computer, and a number of low-cost electronic bits such as LEDs and webcams." Once assembled, teachers, students, and researchers can use the FlyPi for a variety of tasks. The cost? £100 (around $132 USD), putting powerful scientific equipment within reach of hands and minds that need it.
Open source bolsters global biodiversity research
The scope of biological diversity on our planet is mind-boggling. The problem scientists have is keeping track of all that life and which species are under threat. That's becoming a lot easier thanks to the Global Biodiversity Information Facility (GBIF for short), a collection of "biodiversity datasets in a standardized format that is accessible to everyone." The goal of the GBIF is a "world in which biodiversity information is freely and universally available for science, society and a sustainable future." The organization is doing that with a database of "hundreds of millions of occurrences of over 1.7 million species." If you're interested, you can view the data at GBIF.org.
In other news
Thanks, as always, to Opensource.com staff members and moderators for their help this week. Make sure to check out our event calendar to see what's happening next week in open source.
I'm a long-time user of free/open source software, and write various things for both fun and profit. I don't take myself all that seriously and I do all of my own stunts.

This work is licensed under a Creative Commons Attribution-Share Alike 4.0 International License.