Florence Devouard, leader of WikiFundi, uses Wikipedia as a platform to bring tech skills to people with low access to broadband.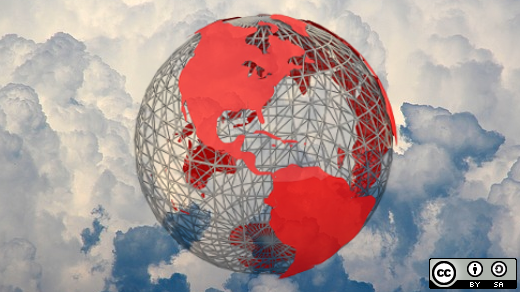 In developed countries, the ability to access and edit Wikipedia easily is taken for granted, but in many African countries, where access to reliable electricity and broadband are limited, that's not the case. I recently interviewed Florence Devouard, who is working on several open source projects to help close gaps caused by poor access to online information. She is co-leader of the WikiFundi project, as well as other projects related to Wikipedia and Africa, including Wiki Loves Women, a women's information initiative, and Wiki Loves Africa, a media contest that invites the public to contribute photographs, videos, and audio to Wikipedia. All projects are part of the WikiAfrica movement.
Florence brings to these projects her 15 years of experience in project management, online communities, and knowledge sharing, as well as a passion that is palpable and drives her vision to empower people (and particularly women) in Africa with information.
WikiFundi
The WikiFundi project is trying to create a way for people in areas of Africa with limited or no broadband connectivity to contribute to Wikipedia. Its name is a combination of "wiki" and "fundi," a Bantu word that means "a learned person."
WikiFundi is an offline editing environment that mimics Wikipedia, enabling editors to write collaboratively offline. It also helps wikipedians train newcomers, including students and teachers, to contribute, and supports Wikipedia volunteers in their outreach activities.
WikiFundi is not only about creating and sharing information. Florence says, "By and large, most of the uses of WikiFundi are oriented toward training future Wikipedians; those might be adults, students, or children. The goal is not only to get new Wikipedia articles, but to provide new skills to all those people (how to work together, how to write neutrally, how to deal with conflict, how to search and double check information and facts, critical thinking, etc.)."
The project operates several programs, including:
Providing Wikipacks, comprised of a Raspberry Pi 3 server, a 200GB miniSD card, the WikiFundi offline editing platform, and other digital content, to Wikimedia user groups in African countries
WikiChallenge African Schools, a writing contest held in collaboration with the Orange Foundation for children ages 9 to 11 in four French-speaking African countries
WikiAfrica Schools (a program led by WikiFundi co-leader Isla Haddow-Flood), in collaboration with Lettera27, in which students ages 15 to 18 write WikiFundi articles and learn new collaborative skills
WikiFundi collaborates with Wikimedia CH (the Swiss chapter of the Wikipedia movement) and Emmanuel Engelhart (co-developer of Kiwix, an integral part of the Internet in a Box environment), with funding support provided by the Orange Foundation (as a complement to its Digital Schools program, which reaches over 130,000 students in Africa).
Wiki Loves Women project
Florence is also involved with the Wiki Loves Women project, which publishes information about issues affecting women in Africa, such as forced marriages, breast cancer, and violence against women, on Wikipedia. It's based on the GLAM Wiki (galleries, libraries, archives, and museums) model, which "helps cultural institutions share their resources with the world through collaborative projects with experienced Wikipedia editors."
Wiki Loves Women teams located in Côte d'Ivoire, Cameroun, Nigeria, and Ghana set up partnerships with local nonprofits or public institutions to collect content and publish it on Wikipedia under a free license. The project also can use WikiFundi to train women and girls through programs including Girls in Tech, Tech Needs Girls, and Women Who Code.
Florence is confident that these types of projects can change the lives of women in Africa for the better. She says, "For many people around the world, the internet is where they come to play, to express themselves, to get information, to learn... When it comes to Africa, its people, histories and communities, the available information remains shockingly inaccurate, incomplete, or even missing. This reinforces the negative, single story about Africa.
"This is particularly true for women, who may not see online their realities, their interests, and their lives reflected. That leaves them disempowered, excluded, and feeling that what they have to say is neither valued nor valuable. Open-access information and material can help change the status quo in helping women get access to so much more information to support their needs in their daily lives, but also to join the conversation and share their own knowledge worldwide."
The power of community
"The ability to share our own knowledge with others is an incredibly powerful means to make us feel good, feel empowered, feel so much pride that ... new strengths emerge," Florence says. In community-based projects like WikiFundi, "the effort and the cost to collect, clarify, organize, and disseminate information is divided between millions of people who want to make the world a better place beyond frontiers, politicians, religions, colors, etc."
She describes these types of projects like a big river, slowly moving toward the sea. "The river sometimes is tumultuous, sometimes there is a flood, or it is only a trickle. Sometimes the river will get out of its bed and choose another path in the plain, disturbing the local fauna and flora. But always will it go to the sea," she says.
How to get involved
As with most open source projects, WikiFundi, Wiki Loves Women, and Wiki Loves Africa are continually seeking new contributors. "Nobody knows everything but everybody knows something. Aren't we all experts in a way?" Florence says.
Although experts in wikis and collaborative tools are always needed, Florence says that volunteers with structured data expertise are greatly needed. "I think structured data is going to be very important in the future. I'm not convinced that our current tools to manipulate structured data are collaborative enough," she says.
WikiFundi's image can be downloaded, and the README on GitHub provides detailed information on the install and dependencies. It works best on Linux and Windows computers, which fortunately are the dominant operating systems used in Africa.
Educator, entrepreneur, open source advocate, life long learner, Python teacher. M.A. in Educational Psychology, M.S. Ed. in Educational Leadership, Linux system administrator.

This work is licensed under a Creative Commons Attribution-Share Alike 4.0 International License.
Get the highlights in your inbox every week.