Take a look back at the biggest open source news of the past two weeks.
469 readers like this
469 readers like this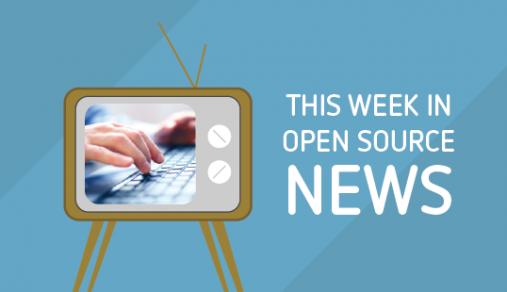 In this edition of our open source news roundup, we take a look at Barcelona booting Microsoft, open sourcing a classic OS, Nextcloud Chat, and more.
Open source news roundup for January 7-20, 2018
City of Barcelona ditching Windows for Linux and open source
Barcelona, Spain's second most populous city, is saying bye-bye to proprietary software and embracing Linux and open source. The move, which is expected to be completed in the spring of 2019, will see Open-Xchange replacing Microsoft Exchange, LibreOffice nudging Microsoft Office out the door, and Firefox becoming the city government's default browser. After that, "Barcelona's council will make Ubuntu Linux its operating system of choice."
The city's Commissioner of Technology and Digital Innovation Francesca Bria, a strong advocate of open source and open data, told the El País newspaper that "funds that come from the citizens have to be invested in systems that can be reused and be open to a local ecosystem." Bria added that any open source software developed for Barcelona could be used "in other municipalities in Catalonia or the world."
Apple's Lisa OS to be open sourced
While Apple has a reputation for creating digital hit after hit, the company has also been known to release some duds. One of the earliest of those flops was the Apple Lisa, which paved the way for the much more successful Macintosh.
While the Lisa is gone, it's operating system isn't dead. In fact, the Computer History Museum is resurrecting Lisa's operating system and will be releasing it as open source. Well, most of it. The museum's software curator Al Kossow said that the museum probably won't be able to include "the American Heritage dictionary for the spell checker in LisaWrite (word processing application)" with the source code bundle it plans to make public. That code is still being reviewed by Apple, but the Computer History Museum will "release it to the public with a blog post explaining its historic significance" once Apple clears the code.
Nextcloud adds support for audio and video chat
Nextcloud, the popular open source file syncing and sharing platform, has taken another step towards becoming a true collaboration platform by integrating audio and video chat. The chat system, called Nextcloud Chat, uses WebRTC for audio/video communication, including screen-sharing support. There are also mobile apps for Android and iOS, so you can communicate anywhere and on a range of devices.
Nextcloud's managing director Frank Karlitschek said that "Nextcloud Talk lowers the barrier to self-hosting a privacy-respecting audio/video communication service for home users and enterprises alike." Nextcloud users can install Nextcloud Talk from the platform's app store. The source code is available on GitHub.
Open source router projects merge
What happens when you have two competing open source projects with a history of acrimony? They can either keep competing and fighting, or they can work together. The OpenWRT and LEDE open source router firmware projects have chosen the latter. They've put aside their differences and joined forces "to become more than the sum of their constituent parts."
The goal of this combined project, which goes by the name OpenWRT, is to "come forward with a major software release at some future point in 2018." That means, according to the project's website, continuing to "work on improving stability and release maintenance while aiming for frequent minor releases to address critical bugs and security issues."
In other news
Thanks, as always, to Opensource.com staff members and moderators for their help this week. Make sure to check out our event calendar, to see what's happening next week in open source.
I'm a long-time user of free/open source software, and write various things for both fun and profit. I don't take myself all that seriously and I do all of my own stunts.

This work is licensed under a Creative Commons Attribution-Share Alike 4.0 International License.