Catch up on the biggest open source headlines from the past two weeks.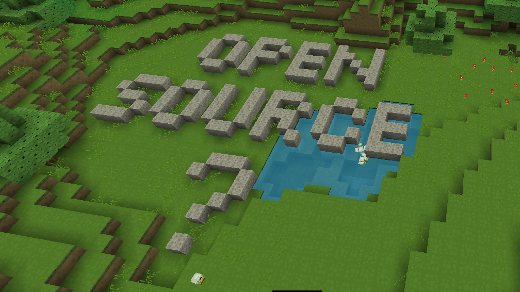 In this edition of our open source news roundup, we take a look a new privacy-first Internet in development by Tim Berners-Lee, Mojang open sourcing parts of Minecraft, and more.
Tim Berners-Lee building a decentralized internet
According to his announcement on Medium, creator of the World Wide Web, Tim Berners-Lee, is building a decentralized internet with MIT, under the projectname Solid.
Berners-Lee explains:
Solid changes the current model where users have to hand over personal data to digital giants in exchange for perceived value. As we've all discovered, this hasn't been in our best interests. Solid is how we evolve the web in order to restore balance — by giving every one of us complete control over data, personal or not, in a revolutionary way.
To push adoption of Solid, Berners-Lee says he has taken a sabbatical from MIT, reduced his involvement with the World Wide Web Consortium (W3C), and co-founded inrupt, where he will help guide the next stage of the web. Berners-Lee is joined at inrupt with co-founder and CEO John Bruce.
Mojang opening some of Minecraft's code
The Minecraft Java team at Mojang has open sourced some of the games code as libraries under the MIT license. This allows gamers and developers to improve their Minecraft mods, use the code in their own projects, or improve Minecraft Java engine pieces.
The first library is known as Brigadier. This is the command engine in Minecraft that you undoubtedly used when you played this game. The second library is called DataFixerUpper. DataFixerUpper basically updates data in chucks, in your world save. It will update data to reflect a recent version of the game.
There are plans to open up more libraries, with Blaze3D being under consideration as a next library. Brigadier and DataFixerUpper are available for you on GitHub.
Spinnaker, the next big open source project to watch?
As Frederic Lardinois writes for TechCrunch, Spinnaker could be the next big open source project. Built by Netflix and Google, Spinnaker is an open source continuous delivery platform. Although relatively new, Spinnaker is gaining momentum with support from Google, Microsoft, and Amazon. These tech giants support the project by running it on their clouds.
Spinnaker as a project is opening up as steering committees are put in place, along with a governance policy. The latter will allow developers to commit code to the project. In his article, Lardinois wonders whether the project will land at any of the major open source foundations, such as the Linux Foundation, the OpenStack Foundation, or the Apache Foundation.
With continuous delivery being a critical part in todays developer ecosystem, Spinnaker could become the de facto standard, especially with the backing it's getting by the open source industry.
NVIDIA announces RAPIDS open source GPU-acceleration platform
Jensen Huang, founder and CEO of NVIDIA, announced RAPIDS at the GPU Technology Conference. According to the announcement, RAPIDS is a GPU-acceleration platform for data science and machine learning that will give data scientists a performance boost (for example, as they address complex problems such as predicting credit card fraud and forecasting retail inventory).
RAPIDS is built in close collaboration with open source projects and communities, such as Apache Arrow, Pandas and Scikit-learn. NVIDIA is collaborating with open source contributors Anaconda, BlazingDB, and Databricks, among others. NVIDIA is also integrating RAPIDS into Apache Spark to facilitate broad adoption.
RAPIDS is open sourced under the Apache 2.0 open source license, and available for users, adopters, and contributors. Learn more at rapids.ai.
In other news
Thanks, as always, to Opensource.com staff members and moderators for their help this week. Make sure to check out our event calendar to see what's happening next week in open source.

This work is licensed under a Creative Commons Attribution-Share Alike 4.0 International License.