Catch up on big open source headlines from the past two weeks.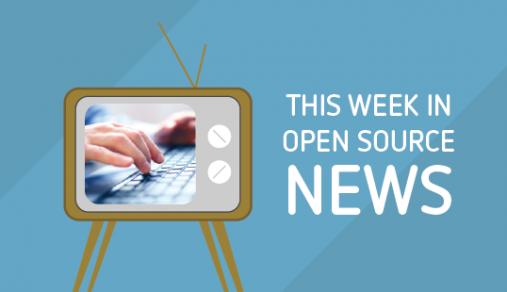 In this edition of our open source news roundup, we take a look at two open source companies getting funding, the FDA open sources app code, Barcelona upping its open source investment, and more.
Open source firms finish funding rounds
In the last two weeks, IBM's acquisition of Red Hat led the open source business headlines. But two other companies that develop open source software also made some bold financial moves that filled their coffers quite nicely.
Hashicorp announced it has raised $100 million from two venture capital firms. The maker of tools for managing cloud applications plans to use that funding "to boost its open-source and commercial product development roadmaps, accelerate hiring and step up customer-facing activities such as training." That funding also helped push the company's valuation to $1.9 billion (USD).
Neo4j, which develops open source graph databases, didn't do too badly, either. The company pulled in $80 million (USD) in investments, which doubles the amount of funding it's managed to attract. According to Neo4j's CEO Emil Eifrem, the company will use that money to "grow its developer tools and support popular use cases." Eifrem add that the infusion of cash also provides "Neo4j with the resources to serve our new and existing customers with the best graph platform to harness connected data for AI."
FDA releases open source code
The Food and Drug Administration (FDA) in the United States has open sourced the code for its MyStudies app. The app, which is available for Android and iOS, enables medical researchers to collect patient data for use in clinical trials and studies.
The source code and documentation for MyStudies is available on on GitHub and the FDA hopes that "developers or hospital and academic medical center researchers can customize and rebrand MyStudies for their own purposes."
Barcelona increases its investment in open source
The city of Barcelona has reach an important milestone. This year, almost 80% of the city's IT budget is devoted to open source. On top of that, Barcelona has made eight of its projects available on GitHub, with seven more to follow.
Xavier Roca, Barcelona's director of IT development, says the city intends to link almost all of its IT spending to open source by 2020. Until then, Roca says, Barcelona will "continue to work with proprietary software solutions, as we have systems in place that require maintenance."
Analyzing emotions with open source software
Machines are getting closer to better recognizing human emotions, thanks to open source software developed by a team of European researchers. Called the MixedEmotions Toolkit, the software can learn to recognize "emotions through text, audio and video processing."
Mixed Emotions is made up of several modules that analyze text and multimedia and relationships in social networks, and does machine translation between several European languages. The researchers also developed a Python package called Senpy, "for developing and publishing emotion analysis services and tools, mainly focused on text processing."
The source code for the toolkit is available on GitHub.
In other news
Thanks, as always, to Opensource.com staff members and moderators for their help this week. Make sure to check out our event calendar, to see what's happening next week in open source.
I'm a long-time user of free/open source software, and write various things for both fun and profit. I don't take myself all that seriously and I do all of my own stunts.

This work is licensed under a Creative Commons Attribution-Share Alike 4.0 International License.