Take a quick look back at recent open source headlines.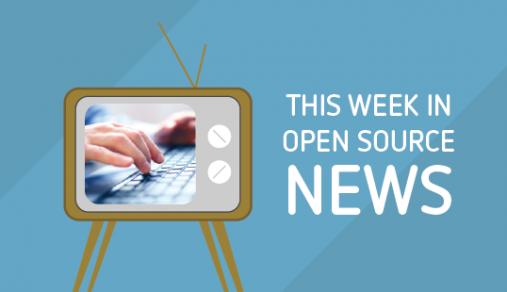 In this edition of our open source news roundup, we take a look LG making WebOS open source (again), Google's camera AI tools, a 3D printed stethoscope, and more.
Open source news roundup for March 18-31, 2018
LG makes WebOS open source... again
What was once open source is open source again. After Korean electronics giant LG bought WebOS from HP, it made the mobile operating system proprietary. The company has done an about-face and has released WebOS Open Source Edition. The goal: to convince developers to adopt WebOS for tablets, set-top boxes, and more.
WebOS, which was originally designed for Palm's failed line of smartphones, has been powering LG's televisions since 2013. Since then, "LG has refined the platform significantly, and hopes that the new release will help others exploit it." To try to get developers on the WebOS bandwagon, the company has made a software development kit and build instructions available.
Google open sources its camera AI tools
Ever wonder how Google's Pixel 2 smartphones take such impressive portrait-mode photos? Wonder no more. Google has open sourced the artificial intelligence technology behind it.
Called DeepLab 3+, the technology "uses a neural network to detect the outlines of objects in your camera's field of view." That enables a camera to gain a greater depth of field and to more accurately identify objects it sees. You can grab the code for DeepLab 3+ from GitHub and learn more about how the technology works.
Researchers create clinically-validated 3D printed stethoscope
Something as simple as a stethoscope can make a huge difference to medical professionals, especially ones in developing countries and in conflict zones. High-quality stethoscopes can be a difficult-to-obtain commodity in those situations, though. Thanks to the work of Dr. Tarek Loubani of the University of Western Ontario, anyone with access to a 3D printer and ABS plastic can 3D print a high-quality stethoscope for less than $3.
Loubani's stethoscope design, called the Gila, "was made using free open source software to keep costs low and allow others to easily access the code." Loubani said that the Gila "is the first open source medical device that has been clinically validated and is widely available," and that "the acoustic quality was the same in our stethoscope as in a premium brand stethoscope." You can learn more at the Gila Free Medical Hardware GitHub repository.
New open source file indexing software
The laboratory that gave the world the atomic bomb has made its search and retrieval software open source. Los Alamos National Laboratory boasts that its Grand Unified File Index (GUFI for short), released under a BSD license, can perform within seconds queries "that would previously have taken hours or days."
Gary Grider, who heads the High Performance Computing division at Los Alamos, said that GUFI "will have a big impact on the ability for many levels of users to search data and get a fast response." That includes making "calculations that support national security, as well as basic scientific research in fields such as engineered materials, biological processes, and earth systems modeling."
In other news
Thanks, as always, to Opensource.com staff members and moderators for their help this week. Make sure to check out our event calendar to see what's happening next week in open source.
I'm a long-time user of free/open source software, and write various things for both fun and profit. I don't take myself all that seriously and I do all of my own stunts.

This work is licensed under a Creative Commons Attribution-Share Alike 4.0 International License.