Here's how open source is helping advance network optimization to support emerging technologies.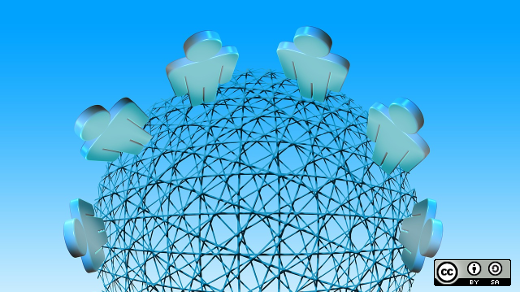 There is growing demand for efficient networks with low latency and high bandwidth to support innovations such as autonomous cars, connected devices, machine learning, augmented and virtual reality, and real-time analytics.
To satisfy this demand, communication service providers and telecom operators are adopting new telecom architectures enabled with software-defined networking (SDN) and network function virtualization (NFV). These systems provide faster networks, centralized control, and faster deployment of new services as network function devices turn into software packages called virtual network functions (VNFs) to reduce capital and operating expenditures. With NFV and SDN, many service providers are shifting toward multi-featured 5G networks, which are ideal for the latest technology demands.
NFV technology is the key for service providers, as it is crucial to providing reliable and efficient networks. NFV MANO (management and orchestration) is the major component of NFV architecture; it forms the backbone to control and dynamically orchestrate NFV infrastructure based on varying requirements.
Functions of the MANO layer depend on three components: the NFV orchestrator (NFVO), VNF manager (VNFM), and virtualized infrastructure (VIM). Each of these components is dedicated to specified tasks, but they work together to manage and control operations within the NFV environment.
VIM is dedicated to control and manage computing, storage, and network resources in the NFV infrastructure (NFVi). VIM provides operational insights such as alerts, logs, service assurance, policy enforcement, and metrics to monitor NFVi.
VNF manager (VNFM) is dedicated to complete VNF lifecycle management, controlled by the VNF orchestrator, which provides instructions for VIM. VNFM provides VNF-focused functions like instantiation, scaling, upgrading/updating, and termination. It also helps to add new services and transmission of instructions and states of other MANO components.
NFV orchestrator (NFVO) is a vital part of MANO, coordinating resources and VNFs. NFVO ensures that VNFs get sufficient NFVi resources (compute, storage, and network) for changing requirements. NFVO also provides capabilities like coordination, release, authorization, and engagement with NFVi resources. NFVO functions may vary with specific NFV architectures for certain use cases. NFVO also connects various VNFs to provide service orchestration.
Why is MANO important, and how it is useful?
Advancing MANO is a key focus for many NFV vendors and service providers. VNFs and NFVi are the static building blocks of NFV environment as VNFs are upgraded or replaced and infrastructure resources remain. But MANO is the key to optimize the NFV ecosystem.
Cloud-native application development is a new industry trend. It allows companies to utilize more resources by adopting containers, protect infrastructure resources during consumption spikes, reduce time to market, and stay organized. A cloud-native approach also enables companies to implement continuous integration (CI) and continuous deployment (CD) of applications or services. Service providers are adopting a cloud-native approach to NFV operations, using software as a core part of the infrastructure (VNFs replace network service devices). MANO manages the how VNFs are consumed and processed within the NFV infrastructure (containers, microservice-based, and virtual machines). MANO can be integrated with a container orchestration engine like Kubernetes to extend the dynamic orchestration and management of containers in an NFV infrastructure.
MANO helps with monitoring and service assurance of NFVi. Service providers can continuously analyze the performance of VNFs in NFVi based on logs generated at the VIM component. It also helps with fault management and performance monitoring of VNFs and assigned hardware resources.
In the future, machine learning capabilities will be implemented in MANO, enabling systems to learn historical logs and data generated at VIM and instantiate action based on the results. As an example, a service provider can get a forecast for extra resources or identify malfunctions, security threats, or errors, and suggest actions to address these conditions.
MANO options
Many vendors and service providers face challenges with VNFs that are developed by different vendors and that have different resource requirements. Service providers need a universal solution to manage the lifecycles of different VNFs. To address this issue, many communities and leading tech vendors are offering MANO-based projects and products.
Products/Solution Vendors
| | |
| --- | --- |
| Amdocs (Network Cloud Service Orchestrator) | Oracle (Communication Network Service Orchestration Solution) |
| Cisco (Network Services Orchestrator and Elastic Services Orchestrator) | ZTE (ElasticNet) |
| Ericsson (Cloud Manager) | Anuta Networks (ECX) |
| HPE (NFV Director) | Ciena (Blue Planet NFV Orchestrator) |
| Huawei (CloudOpera MANO) | Juniper Networks (Contrail Service Orchestration) |
| Netcracker (MANO Network Orchestration) | RIFT.io (RIFTware LifeCycle Management) |
| Nokia (CloudBand Network Director) |   |
Community Driven Projects
| | |
| --- | --- |
| OpenSource MANO (OSM) by ETSI | Open Network Automation Platform (ONAP) by Linux Foundation |
| OPEN-O (part of ONAP) | Gigaspace Cloudify |
| OPNFV by Linux Foundation |   |
Open source projects for NFV MANO implementations
Since ETSI's 2012 launch of NFV, many service providers and telecom operators have used open source solutions, with ETSI's OpenSource MANO and ONAP projects offering end-to-end MANO for NFV readiness. Both projects are actively supported by many top networking vendors.
Let's discuss some the MANO implementations driven by open source MANO and ONAP.
5GCity (ETSI OSM)
The 5GCity project is a distributed cloud and radio platform for 5G neutral hosts in smart cities, in which service providers deploy an infrastructure that enables other parties to implement 5G-based use cases. The main goal is to turn a city into a distributed third-party, multi-tenant, edge infrastructure, extending the cloud model to the edge while enabling dynamic, fast, and interoperable provisioning.
Orchestrator and control is the core management layer in the 5GCity architecture, which is implemented by the 5GCity orchestration platform. This platform efficiently operates a large number of devices in dynamic conditions (e.g., network, device overload, and multi-tenancy). The 5GCity orchestration platform is dedicated for the lifecycle management and orchestration of all 5G-based edge services and for the control and management of the available city edge infrastructure. 5GCity leverages the ETSI OSM project as its orchestration platform.
A VoLTE use case (ONAP)
China Mobile planned to deploy VoLTE (Voice over LTE) services that leverage SDN and NFV for virtualization of core network elements and centralized control. ONAP is used to enable SDN/NFV and implement VoLTE services for customers. At the ONAP end, companies like AT&T, Huawei, ZTE, Nokia, Jio, Wind River, and BOCO made contributions.
The challenge was to reduce the cost of procuring hardware resources and network devices to enable VoLTE services. Hardware-based implementation lacked flexibility and resource-sharing, which resulted in higher purchasing, upgrades, and scaling costs, and lower efficiency.
When network functions were virtualized and VNFs scheduled by the ONAP platform, VoLTE services were consistently delivered to subscribers. ONAP allowed a shared infrastructure, which in turn enabled resources to be utilized efficiently. A solution built using the ONAP platform resulted in automated operations and intelligence integrated with DCAE and policy framework.
Summary
To deliver low latency and high bandwidth to 5G subscribers, communication service providers should upgrade their telecom network infrastructure. Initially, this process is technically complex and requires a significant investment in hardware resources. But integrating SDN/NFV technologies in infrastructure can help service providers reduce costs and deliver faster services in the longer term.
Over the last two decades, open source technologies have contributed greatly to digital innovation. As leading companies continue contributing to open source projects like ETSI OSM and ONAP, telecom networks are seeing the benefits. 5G will introduce innovative new features like network slicing, Mobile Edge Computing (MEC), and Cloud Radio Access Network (cRAN) to provide real-time data transmission, based on SDN/NFV technologies, to subscribers. Open source communities like ETSI OSM and ONAP will play a crucial role.
Digital Strategist at Calsoft Inc. Sagar Nangare is technology blogger, focusing on data center technologies (Networking, Telecom, Cloud, Storage) and emerging domains like Edge Computing, IoT, Machine Learning, AI). He is currently serving Calsoft Inc. as Digital Strategist. He is based in Pune.

This work is licensed under a Creative Commons Attribution-Share Alike 4.0 International License.