Catch up on open source news highlights from the past two weeks.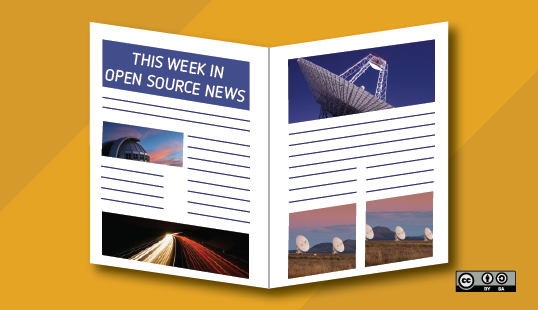 In this edition of our open source news roundup, we take a look at the Google and Sony Pictures Imageworks releasing OpenCue, The Linux Foundation launching LF Edge, six tips for jumpstarting open educational resources initiatives, and more.
Google and Sony Pictures Imageworks release OpenCue, an open source visual effects render manager
Google and Sony Pictures Imageworks have partnered to release OpenCue, an open source render manger for visual effects. OpenCue does not handle the rendering directly, but provides tools to schedule jobs in local and cloud-based rendering farms. VentureBeat's Kyle Wiggers's article provides an overview of OpenCue, its origins in Sony Pictures Imageworks's internally developed Cue 3 rendering manager, and Google's interest in leveraging its Google Cloud Platform to handle visual effects workloads.
Linux Foundation launches LF Edge to establish a unified opens source framework for edge computing
Wikipedia defines Edge computing as "a distributed computing paradigm in which computation is largely or completely performed on distributed device nodes known as smart devices or edge devices as opposed to primarily taking place in a centralized cloud environment." To support this field of computing, The Linux Foundation has formed a new organization, LF Edge, to "establish an open, interoperable framework for edge computing independent of hardware, silicon, cloud, or operating system." The press release provides details about the five projects that currently fall under the LF Edge banner: Akraino Edge Stack, EdgeX Foundry, Home Edge Project, Open Glossary of Edge Computing, and Project EVE (Edge Virtualization Engine). These five projects are things that will "support emerging edge applications in the area of non-traditional video and connected things that require lower latency, faster processing and mobility."
Six tips for jumpstarting open educational resource initiatives
Lauren Slingluff, writing for the OpenStax blog, shares six tips for jumpstarting open educational resource (OER) initiatives at a college or university. Slingluff begins by recounting dealing with feeling like an "OER imposter" because she works with OER, but does not have a formal certificate, the word "open" in her job title, or anything like that; working with OER is something she just "fell into." She continues by sharing how she got involved by joining listservs, chatting with colleagues, and attending workshops and conferences. However, she notes that the real turning point was realizing that the only person "stopping [her] from diving into this work was [herself]."
Because of Slingluff's effort's her college now has a successful OER initiative, and she provides six tips to others seeking to get involved with OER and build OER initiatives at their own institutions. Those six steps are: learn about OER, track what courses use OER and how much students save, get feedback from faculty and students, keep your eye on the big picture, speak up, and reach out. She provides plenty of details about how to accomplish those steps in her article, which also includes a handy infographic about the steps.
Slingluff concludes by providing some sage advice: "There is no special ingredient or password that makes someone an OER advocate or sanctions them to support OER." Like most things that fall under the banner of "open," the best way to get started is to just get involved and go from there.
In other news
Thanks, as always, to Opensource.com staff members and moderators for their help this week. Make sure to check out our event calendar to see what's happening next week in open source.

This work is licensed under a Creative Commons Attribution-Share Alike 4.0 International License.