Catch up on open source news highlights from the past two weeks.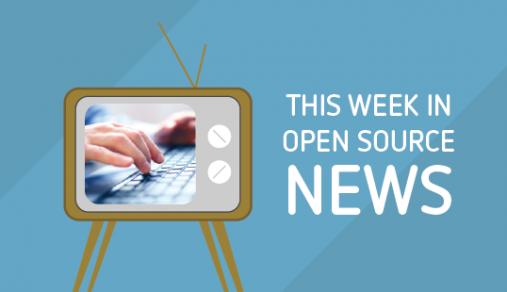 In this edition of our open source news roundup, we take a look at Mozilla's Iodide tool for data science publishing, Google's Season of Docs program, why your open source project needs marketing, and more.
Mozilla's new Iodide tool for data science publishing
Mozilla released Iodide, a new tool for publishing data science. Still in very early alpha, Iodide is a tool designed to help scientists write interactive documents. It is similar, but not exactly equivalent to Jupyter Notebooks or R Markdown in RStudio. Brendan Colloran shares all the technical details in a post on the Mozilla Hacks blog.If you want explore Iodide yourself, Mozilla has a demo site available.
Google's Season of Docs will connect technical writers with open source projects
Google announced their Season of Docs program, which seeks to pair technical writers with open source projects in need of documentation. Google will begin will a call of open source projects to apply. By April 30, Google will announce the selected mentoring organizations. After that, technical writer applicants that have been selected can decide what projects they want to work with. Accepted projects will announced in July. The work season will run from the beginning of September though the end of November. In December, Google will announce the successfully completed projects.
Why your open source project needs marketing
TechRepublic's Matt Asay explored the need for marketing in open source projects. Asay notes that developers think that good code is all that is needed, and that the code itself can attract contributors, but that is not the case. Marketing is need to make sure people know about your project. Asay argues that "if you want the benefits of a successful open source project, you're going to have to match great engineering with great marketing." However, this does not need to mean massive marketing budgets and flashy television ads, it can be as simple as having people show up at conferences and events to talk about the project. People need to hear about projects from other people, not from randomly stumbling across code in a repository. Good code is important, but the human connection providing information about what a project is and does is also important.
Play SuperTuxKart on a Mercedes-Benz CLA Sedan
SuperTuxKart, the open source clone of Mario Kart, is available for many different platforms, but did you know the list of platforms includes the Mercedes-Benz CLA Sedan? Motor1.com describes how Mercedes-Benz had a CLA Sedan on display during the 2019 Mobile World Congress in Barcelona. SuperTuxKart could be played on the car's central information display. The integration with the car went beyond just using the steering wheel and peddles. The car's interior lights would switch from red to green at the start of a race, the seatbelt would tighten when crashing into another kart, and the airflow coming out of the car's vents would change based on how fast the kart was going in the game.
In other news
Thanks, as always, to Opensource.com staff members and moderators for their help this week. Make sure to check out our event calendar to see what's happening next week in open source.

This work is licensed under a Creative Commons Attribution-Share Alike 4.0 International License.