Get to know the many features of the Joomla! open source content management system.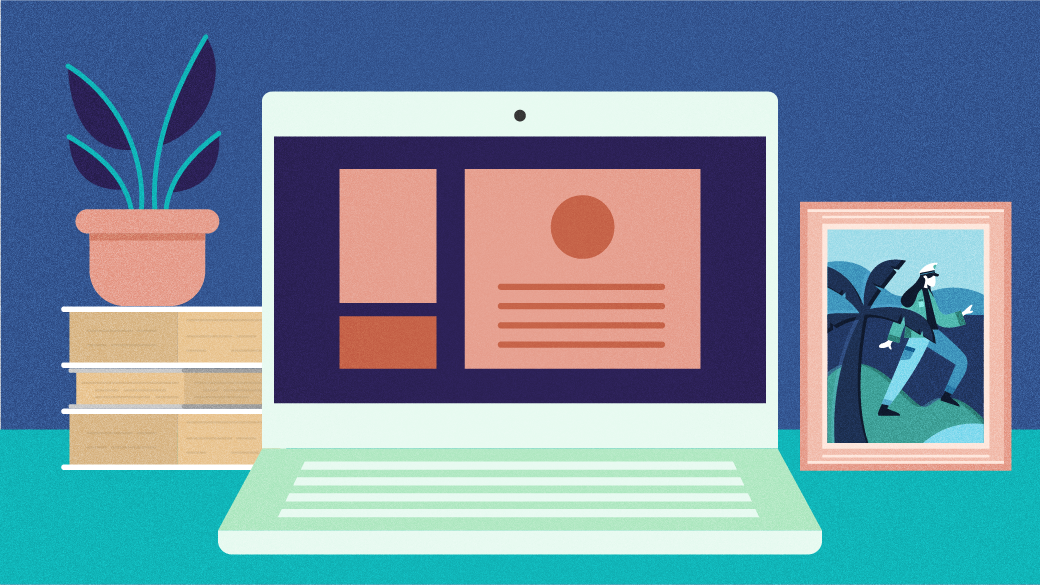 Joomla! is among the leading open source content management systems (CMS) for publishing web content. It's user friendly, accessible, extensible, responsive, and multilingual. What's more, it's also search engine optimized. No wonder Joomla! has a 3.5% share of the content management system market.
In this article, I'll introduce you to Joomla! and why I think it's an excellent choice for your website or online application.
Joomla! is open source
A CMS software application lets you build and manage a website without coding. In fact, you can use a CMS even if you don't know how to code at all. You can quickly create, modify, manage, and publish content with a good CMS. You can also customize the design and functionality of the website by using several pre-built templates and extensions. If you're looking to set up a site for e-commerce, for example, Joomla! is one of the easiest options available.
Here are a few features:
Content Management: Create and publish content through a simple web interface.
User Management: Create user accounts with varying levels of authority so that any number of people can contribute or help maintain your site.
Media Manager: Enables users to upload media to the site through the web interface.
Templates: Change the look of your site. Templates are available from many third-party sources and are easy to apply.
Banner Management: Use standardized banners to advertise special deals or upcoming events to site visitors.
RSS: Allows visitors to subscribe to your website and get updates when you publish new content.
Joomla! Extensions Directory (JED)
The Joomla! Extensions Directory (JED) is a neatly organized directory of Joomla! extensions. It's the official Joomla! website that lets you explore hundreds of extensions available as plug-ins, modules, and components.
All extensions on the website are organized by category and rating and include user reviews. This also makes it easy for you to compare different extensions before starting. Additionally, you can search the JED by keyword, category, tag, or simply browse to explore the various options.
Each category is notated with the number of available extensions in it. Hover your mouse over an individual category to see a list of subcategories to refine your search.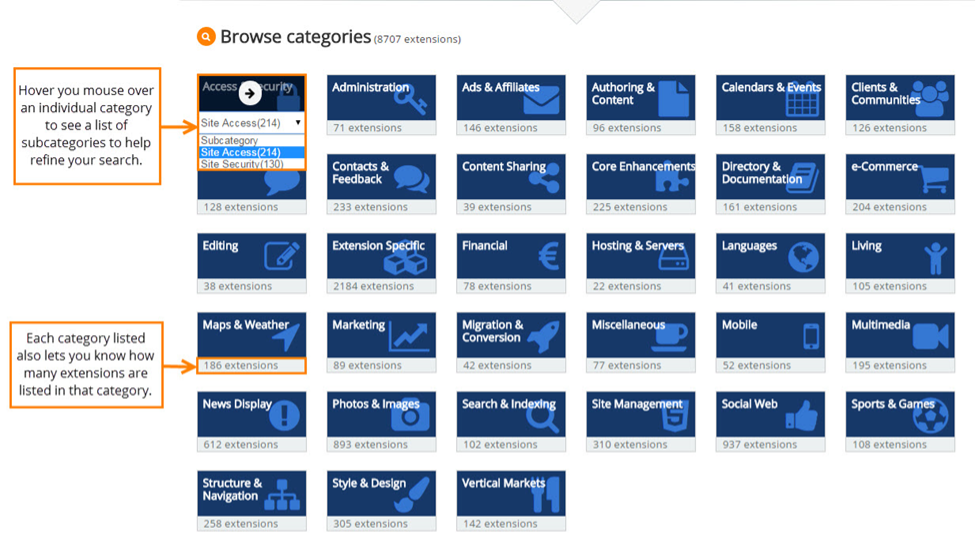 Install Joomla!
The first step is installing Joomla! There are several ways you can go about this.
If you want to launch your website within minutes, you can use Joomla! online. However, this process has certain limitations. You must renew your website every 30 days to keep it available. This feature is often used for demonstrations or to try Joomla! and is not preferred for a permanent website.
The second option is a manual installation. This choice encompasses downloading Joomla! for free and then using it on your web host's server. This process requires you to perform the following steps:
Create an SQL database for your website.
Upload all the Joomla! files to your website's root directory.
Run the Joomla! configuration wizard, available at your site's URL.
Once complete, configure the database.
Install the sample data and configure your email.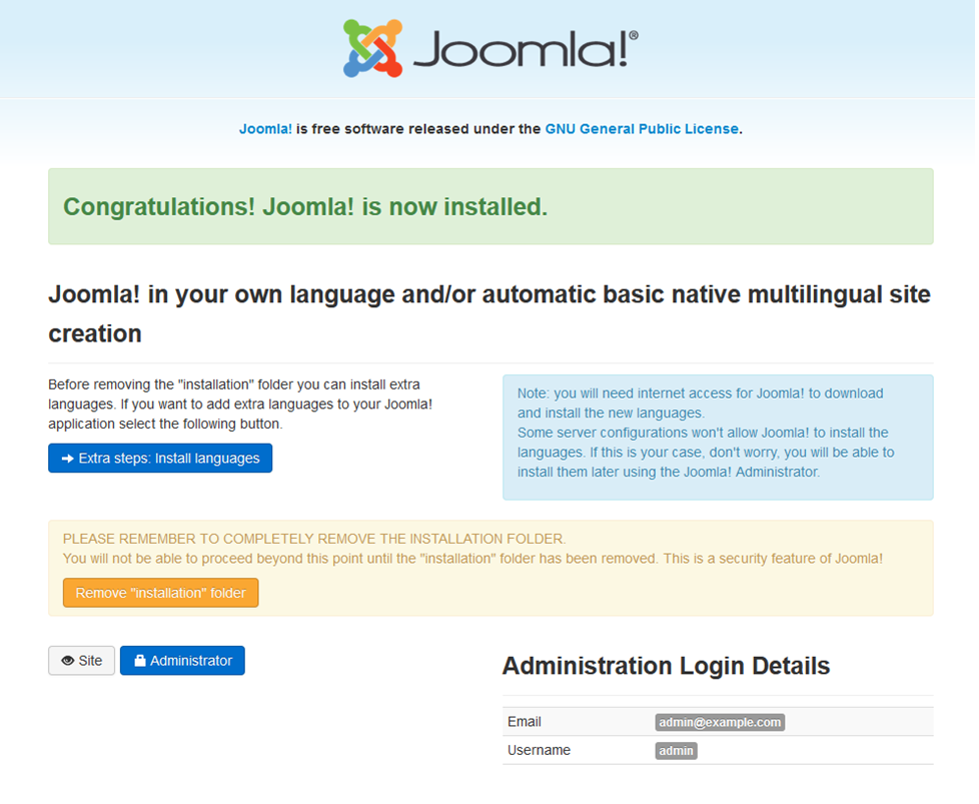 Create content on Joomla!
After the installation, access your Joomla! website by logging in with your admin credentials. Once you log in, you're directed to your website's control panel.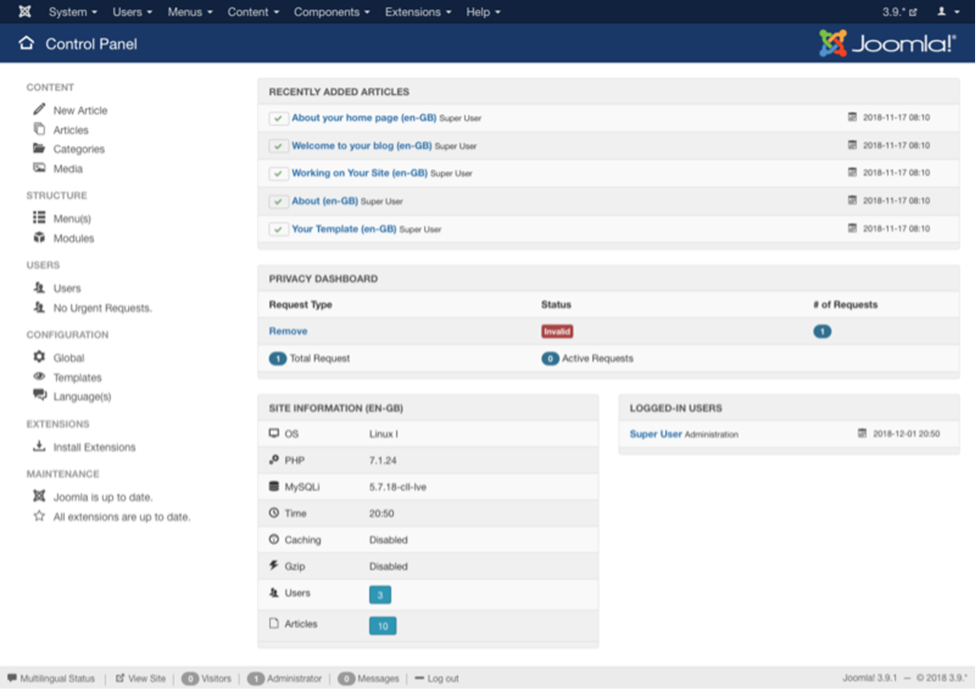 This process probably feels familiar if you've used WordPress, Drupal, or a similar CMS. Click the New Article link in the control panel to get started posting content. This opens an editor where you can compose an article.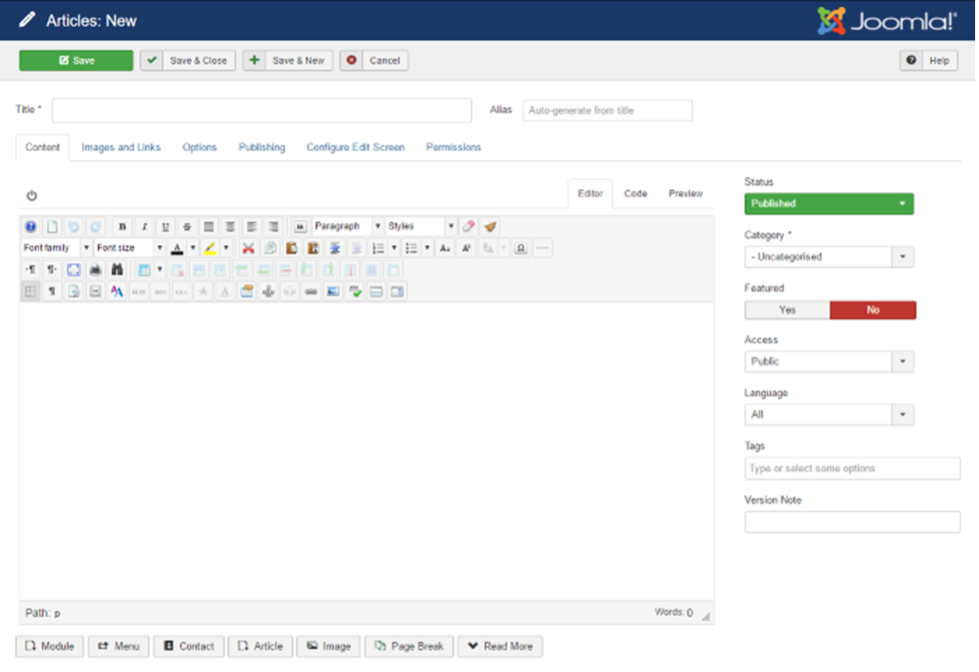 You can write the content in the main window and use the options available in the above rows to format and edit the text, add new elements, add links to the content, and so on.
Once you've written your article, you can save and publish it to the website. And to do that, you must return to the control panel and look at the options on the right-hand side. You can assign the article a category, add some tags, and determine its visibility levels. Finally, click the Save button, and view the article on your website.
Add extensions to your website
The next step entails expanding the site's functionality by adding Joomla! extensions. Extensions are collections of code you can install on your website to enjoy additional features. With these extensions, even new developers can launch a fully functional Joomla! website with ease.
The Joomla! Extensions Directory offers various categories, enabling you to choose from several extensions.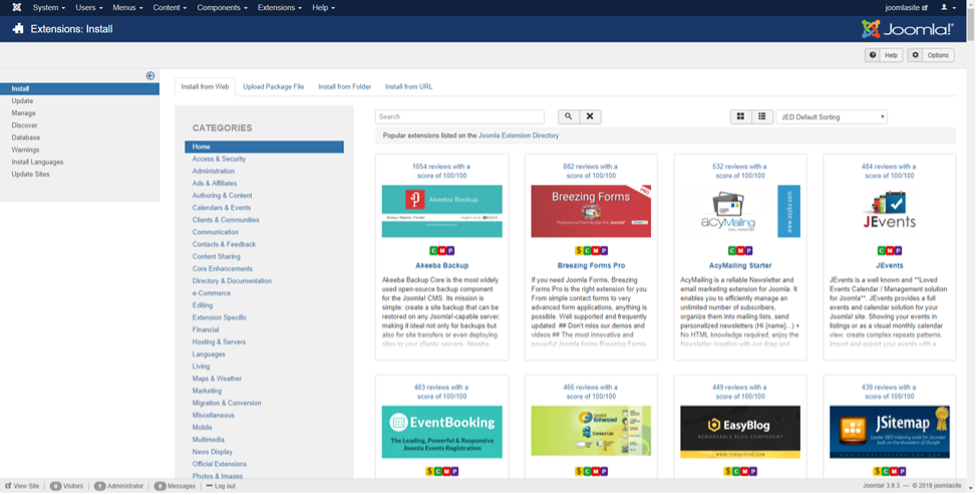 Once you've chosen a specific extension, click on it to open its main page. This main page offers additional information and provides a download link. You can click on the link and save the extension to your computer. To install it on your site, return to the control panel and click the Install Extensions link on the left.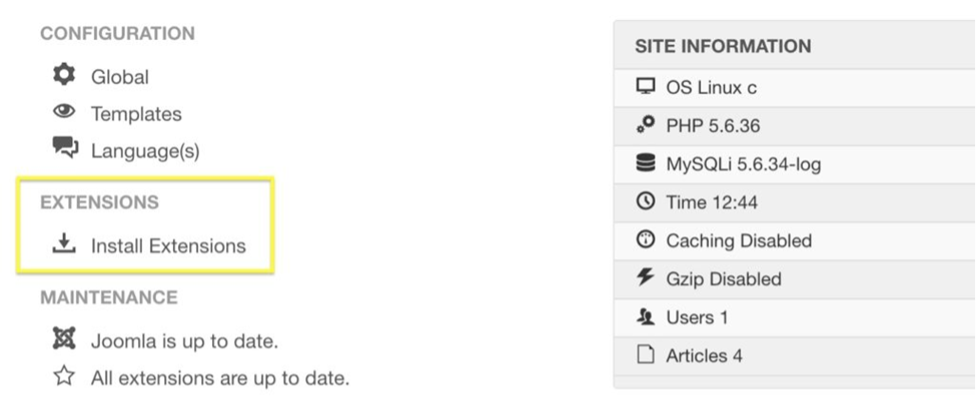 Clicking on this button takes you to the Extensions page.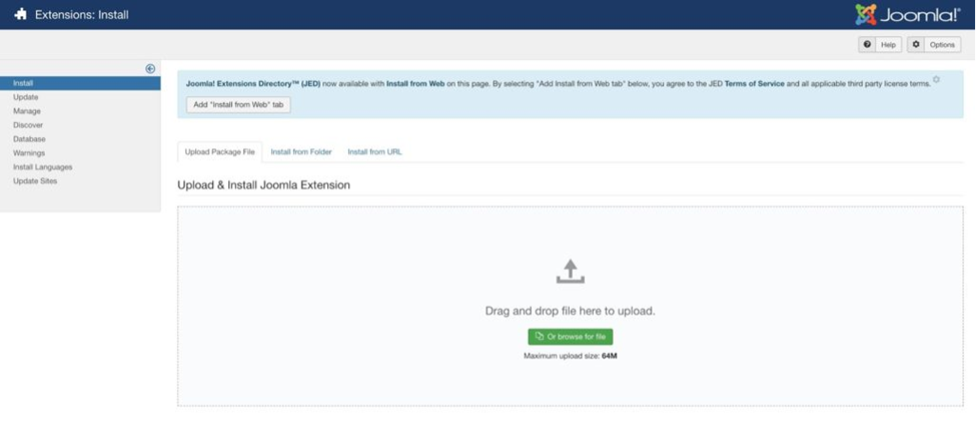 Drag and drop the ZIP file containing the extension onto the page. Alternatively, you can click on the Or browse for file button. Once you have downloaded and installed the extension, you can configure it and use it to enhance your site's functionality.
Use templates to change your website's appearance
Joomla! websites have a standardized look and feel. However, you can change this appearance by using smart Joomla! templates. These templates modify the appearance and layout of your site. Just like extensions, there are lots of templates to choose from. Joomla! lets you use more than one template on your site.
Once you have chosen a template for your site, download it as a ZIP file. To install it, return to your site's control panel and install the new template just like you installed an extension: Drag and drop the template's ZIP file or select it from a file chooser.
Clicking on the Templates button in the control panel takes you to the template manager. This screen displays all installed templates, and it's here that you can change between templates.
Wrap up
Joomla! is an excellent and user-friendly CMS platform that lets you easily build a powerful website. The platform is relatively straightforward to get started, and it has plenty of documentation. There's also an active Joomla! community that can help you along the way. If you're thinking of starting a website, try Joomla!
Shane Barker, is a digital marketing consultant for 15 years with an emphasis on Influencer Marketing in the last 3 years. He is specialized in sales funnels, targeted traffic and website conversions. He has consulted with Fortune 500 companies, Influencers with digital products, and a number of A-List celebrities.

This work is licensed under a Creative Commons Attribution-Share Alike 4.0 International License.