PatternFly is a design system with open code and an open community.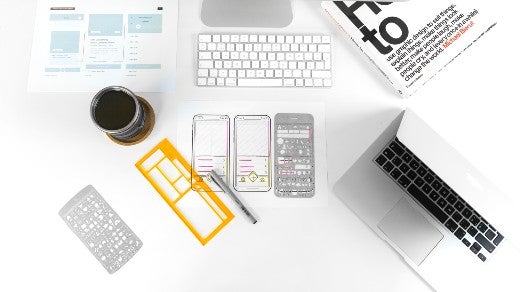 Have you ever admired the facets of a gemstone? The angles and slants are a thing of beauty. You can see that a multi-faceted gemstone shines brighter than a flat one. You may also see this kind of beauty when analyzing a multi-faceted design system. A design system is a collection of guidelines, standards, and resources for creating consistent and unified user interfaces (UI). Like the facets of a diamond, an open source design system rich with diverse contributions and community engagement ultimately leads to better product experiences.
The PatternFly project is an open source design system for Red Hat products. But open source doesn't end with PatternFly's code. Behind PatternFly is a team of people who create designs completely in the open. From designers and developers to researchers and writers, we work together to operate as an open source community.
Our secret? We don't have one — we work in the open, remember? However, we use these five best practices. I'll share them here so that you too can power your own design system with open source.
1. Contribute collectively
We have a core PatternFly design team to design, maintain, and evolve the design system. But we encourage and welcome contributions from everyone. If you have a passion for collaboration and a knack for user experience (UX), PatternFly wants to hear from you.
2. Build community
Nothing created in a silo makes its way to PatternFly. We believe design is better in the open. This is why we include the community in all updates, changes, and additions. We collect feedback on contributions from people across design and development so that everyone has a say in what gets implemented. We also seek input and collaboration from people across multiple design disciplines. This is done to break free from any bias or assumption. This kind of open design makes our design system stronger. It also strengthens our blossoming community of people who engage with or contribute to PatternFly (we lovingly refer to them as Flyers).
3. Loop in everyone
If you find that brainstorming ideas with others results in solutions better than any one person would have dreamed of, then you already think like a Flyer. We have regular design meetings where contributors present their ideas and discuss design approaches in a group setting. This enables us to keep our ideas collaborative and consider designs from all angles. Additionally, we host monthly community meetings so that we can connect with Flyers from across the globe and share the latest updates. You can catch all of our past meeting recordings on our PatternFly YouTube channel.
4. Listen to users
As a community, we aim to have all PatternFly contributions lead to functional and beautiful product experiences across different contexts. To make that a reality, we hold ourselves accountable to break out of our own bubbles and engage with users. We work with UX researchers to test updates, changes, and additions with users — such as visual themes and interactions — to ensure that we're creating designs, resources, and experiences that solve for everyone, not just people like us.
5. Create connections
PatternFly is the thread of consistency through products across Red Hat's portfolio. Everyone has the creative freedom to build what best serves their users. But we work as a team to connect product groups through the design system for a more unified user experience. PatternFly resources are easy to access and open to all. This helps us create connections and squash silos.
Come design in the open with us
Whether you're a team of 1 or 100, or whether your design system is open source or not — there's always room for a little collaboration and community in everything we do. Tell us how things turn out for you by connecting with the PatternFly community. We can't wait to hear from you.
Abigael Donahue strives to make software more human, approachable, and accessible. As a Manager of User Experience Design, she combines her creative side with her technical and analytical skills to create growth strategies, community, and seamless user experiences—while writing and editing along the way.

This work is licensed under a Creative Commons Attribution-Share Alike 4.0 International License.