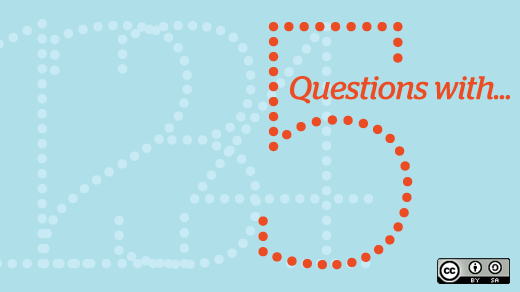 A few years back, a good friend recommended I pick up a copy of Designing Brand Identity: an essential guide for the whole branding team by Alina Wheeler. Now in its 3rd edition, it's a beautiful book, well designed and easy to read or to use as a reference. I recently caught up with Alina, who is finishing up work on a new book entitled Brand Atlas: Branding Intelligence Made Visible with designer Joel Katz. I asked her some questions about where branding and the open source way might be beginning to intersect.
CHRIS: I have heard that you often begin the continuum of branding with the 17,000 year old cave paintings in Lascaux, France. Now that's historic branding! What are one or two key concepts in designing branding identity that have stayed constant and endured from a world of cave paintings to a world of Twitter, Facebook, and open source?
ALINA: Since the beginning of time, the need to communicate emerges from a universal set of questions: Who am I? Who needs to know? How will they find out? Why should they care? Whether you are on Facebook or in Shanghai or Charlotte, these questions are the same.
Mankind has always used symbols and stories to express individuality, pride, loyalty, and ownership. Individuals, communities and organizations express their uniqueness through their identity. Brand is identity. Competition for recognition is as ancient as the heraldic banners on a medieval battlefield. The battle for physical territory has evolved into competition for share of mind. The competition is fierce.
The power of symbols remains elusive and mysterious--a simple form can trigger recall and arouse emotion--whether it is emblazoned on a flag or embedded in an email. There is significant research about the purpose of the images in the caves of Lascaux. For me they are a reflection of what we are all thinking about now: communication, community, culture, meaning, survival, and navigation.
CHRIS: Now the opposite question: as we begin 2011, are there core branding principles you think have shifted significantly since you wrote the first edition of the book in 2003?
ALINA: The tools have changed. The fundamentals have not. Whether you are the CEO of a global consumer brand or a social entrepreneur, I believe that there is a universal set of principles that are fundamental to increasing awareness, attracting prospects/opportunities, transcending the clutter, and building customer loyalty.
The brand conversation has changed. We all know that now. The challenges have increased exponentially. The tools have become so provocative that they reduce our attention to the fundamentals: being customer centric, staying aligned with your vision and values, and staying differentiated in a world that is overwhelming in sameness and clutter.
The pressure to constantly update and innovate has polarized the world of brand builders. For some, it is an exhilarating time and for others a treadmill where you are running faster to stay in place. There are those who embrace marketplace dynamics and ignore brand fundamentals, and those who are stuck in their legacy infrastructures and business models refusing to embrace change and speed. Success requires embracing both.
CHRIS: Here on the opensource.com business channel, we often talk about how core open source principles like community, collaboration, meritocracy, and rapid prototyping can help businesses of any type--not just those building software. I love the detailed case studies you did in Designing Brand Identity. In your studies of leading brands, have you seen examples of these principles being applied in the branding world?
ALINA: I am eager to learn about new brands that are co-created with the customer or end-user. I believe that open source is the most meaningful and relevant methodology that will help us prepare for a new world: i.e. build communities that matter, collaborate more effectively toward outcomes that matter, and innovate because for survival, that matters.
Although open source is a fairly new idea to most brand managers that I know, it embodies the branding process ideal from an organizational development perspective. The biggest challenge on revitalizing an existing brand is frequently busting through the silos. How do we get IT to work with customer support and marketing to work together on behalf of the customer? How do we get different departments with radically different agendas to be part of the campfire around the brand? It is so powerful when there is a cross-departmental, cross-disciplinary collaboration to build the brand, and to deliver on the brand promise.
B Corporations are a new class of certification and classification for companies that want to collectively redefine success and to leverage the influence of their businesses to solve social and environmental problems. B Corps connect their executive teams with peers from mission-aligned companies.
The Charleston Parks Conservancy has a unique network of community volunteers called the Park Angels, who literally help care for Charleston's 120 + parks. They have become the public face of the organization. The long-term benefits are for the entire city: building community and improving the quality of life, health and economic strength. Park Angel's brand is visible on numerous platforms that connect people to people, people to the parks and to the bigger ideal of making a difference. This movement has instilled a sense of ownership and pride.
I believe that IDEO uses open source methodology in their product development work, although I don't think they call it open source. They are renowned for letting customers/users be part of the product development process and routinely use rapid prototyping. Certainly their culture of creativity and innovation is a meritocracy. The Ripple Effect is a project done in partnership with the Acumen Fund and the Gates Foundation. IDEO collaborated with 22 organizations in India to develop new methods for safe transportation and storage of drinking water in India's villages.
CHRIS: I can tell design means more to you than just a pretty logo. What is the strategic role of design in building brands today?
ALINA: Lou Danziger said it best, "Design is intelligence made visible."  The best design is a result of strategic imagination, an ability to understand and align business goals with creative strategy and expression. While brands are about emotional connection, brand identity is any tangible expression of the brand. We can see it, hear it, watch it move. Designers play an essential role in building brands and creating unique and memorable experiences. Designers work to fuel recognition across platforms, amplify differentiation, and make big ideas accessible and understandable.
The best designers have an ability to imagine what others can't see and to show what it looks like and what it feels like. Design is often overlooked in brand strategy meetings where rapid prototyping could benefit and accelerate the decision making process. Having designers shoulder to shoulder with researchers examining user experiences could jumpstart new solutions.
CHRIS: One trend we discuss regularly here on opensource.com is the trend toward organizations giving up some control over the direction of their brands to the communities around them. I'd love to hear your thoughts. Is this a positive thing? Dangerous? Maybe both?
ALINA: Brands exist because there are customers. Although that might sound like a blinding flash of the obvious, it's important to remember that ultimately the customer always decides whether a brand will flourish or die.
Just like in any conversation worth having, there is a time to talk and a time to listen. Listening to the aspirations, desires, needs, and challenges of your core stakeholders is the most critical brand building competency.
I do believe that control is critical to brand success whether you are a start-up venture, a non-profit or a consumer brand.  Having values that don't waiver. Being certain about why your organization exists. Being consistent about who you are and what you stand for. Taking the time to engage your entire organization in the vision and values. Creating places where conversations can happen. Building trust. Anticipating and fulfilling needs. Being transparent. Making certain that the brand experience is coherent and relevant.  These maxims are intentional. As more brands in the future are co-created with end-users, perhaps this notion of control will evolve to a more collaborative model.
--
The third edition of Designing Brand Identity is available on Amazon now. Alina Wheeler's new book Brand Atlas: Branding Intelligence Made Visible will be available in April, 2011 and is available for pre-sale now on Amazon.
Chris Grams is the Head of Marketing at Tidelift and author of The Ad-Free Brand: Secrets to Building Successful Brands in a Digital World. Twitter LinkedIn Email: chris(at)tidelift.com

This work is licensed under a Creative Commons Attribution-Share Alike 3.0 Unported License.