Becoming an open leader | Opensource.com
Subscribe now
Get the highlights in your inbox every week.
Two years ago I posted a short post that picked up from an HBR article on leadership flaws. I posed the question if Enterprise 2.0 initiatives can thrive in environments where toxic leadership reigns. My first reaction was no, and then I thought about ways to get to yes.
One of the flaws of flawed leadership is the lack of
feedback — to gain self-awareness there is a problem in the first place. Perhaps the feedback loop E2.0 cultures provide could help? Or not. I don't know, but I'm glad people commented on the post and added their thoughts. Social revolutions challenge leaders, but effective leaders leverage revolutionary energy to achieve a shared good outcome. There is no greater tension than at the very fulcrum of change — at the top of the management chain. And thus, what is the nature of leadership in the open business? What is open leadership?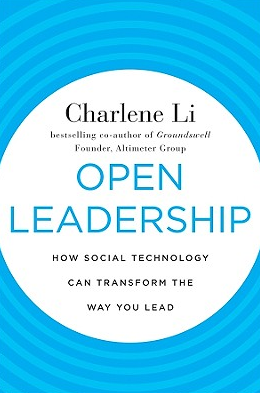 I turned to Charlene Li's book Open Leadership to learn more. Let me share with you some thoughts about this — and by doing so also provide something of a book review. Some historical context might help. In 2008 Charlene Li and Josh Bernoff published Groundswell — a spearheading book about the implications of web-based social interactivity onto many aspects of business. In the wake of the success of their book, they each published a follow-up book. Josh teamed up with Ted Schadler to write Empowered (which I reviewed here), and Charlene wrote Open Leadership — both published in 2010, both taking the concepts in Groundswell to the next level.
Whereas Empowered focuses on the nature of employees in the social business revolution, Open Leadership focuses on the impact to business leaders. All three books are highly relevant to understand the motivations, trends, and challenges facing businesses today. Let's talk about Open Leadership.
The premise: leadership remains a requirement. Open and Social business are not leaderless — quite the contrary, they are lead in a manner that leverages new behaviors. To leverage them, they must adopt and model them too — but from the perspective of a leader.
And thus, leaders still must manage, measure, correct, take control and hold responsibility for results. Open Leadership is not the abdication of leadership — it's the careful release of control in areas where that release is beneficial, and in some cases inevitable.
Charlene reminds us this is not a new call to action — it is an echo of Peter Drucker's Decentralized Authority model (1946), Robert Greenleaf's Servant Leader model (1970), and Tom Peters' Employee-led Teams model (1982). And yet, there is much new this time around. Social technologies on the Internet are now intrinsic to the primary activities of most consumers and workers. In fact, ignoring this new realityis abdication of leadership. You can no longer avoid the groundswell. It's time to understand it.
After a clear introduction to the topic, with some vivid stories and examples, the Part One of Open Leadership highlights 5 new rules that demonstrate how behaviors translate into business relationships.
It then provides 10 new elements of openness that guide the specific nature of information sharing and decision making processes. And it comes with an assessment worksheet to help you determine what you currently do and don't do along those elements. The stated goal is not to do it all, but to be aware of what you are doing and why. Thus, Open Leadership is also Thoughtful Leadership.
The highlight of Part Two is the discussion of controlled openness. This is where the enlightened mature reader finds comfort in this paradox. Charlene proposes what she calls Sandbox Covenants, sometimes called pacts, codes of conducts, or rules of the road which articulate the guideposts for success and failure. In these, we must anticipate and expect failure — so let's see can we do to best take advantage of the gifts of a good failure while also protecting us from the negative impacts too. Herein lies the new leadership model. It is humble and respectful, receptive to learning, and prepared to change. It's quite courageous too. It's an amazing contrast to the flaws listed the HBR article I referred to above.
Part Three rounds out this fantastic work with a study of how the art and science of leadership is changing, and how this changes the organizations being led. This is not a prescriptive one-size-fits all message. Charlene points to multiple styles and examples. There is aparticularly interesting take on leadership traits vis a vis motivation, and independence. You'll find her words remarkably on target.
Charlene Li is one of the top thought-leaders in the nature of business change and challenge, especially in the areas of that intersect social technologies. She "gets" it at a very deep level, and is articulate in conveying the implications of these changes. Her book is a great read, and I learned much from it. But I also had to shift my thinking in order to get the most value from it. Most directly, her targeted reader is the CEO of a company. But I'm not a CEO. So I had to translate the messages to my context — to the sphere of my leadership. Then it opened my eyes to opportunities that I have to improve my successes at work too.
In our last get-together, Charlene introduced me as "the guy who runs Open at Yahoo!" I instinctively corrected her and said, "I run Open Source at Yahoo!" — and she said — "I know, but Open Source is part of the Open story." Then I read her section that covers Open Source, and I realize how right she was.
Open Source, Open Standards, Open Data, Open Government, Open Innovation, ... are meaningful in contrast to the Closed form. In each, you make a trade-off between control and participation. Open is not always better, but it is increasingly more relevant everywhere. When you need (or wish) to expand participation, this will come at the expense of some control. Skilled Open Leaders maintain leadership in the face of looser controls. You don't have to be a CEO to be an open leader. But if you can only play in closed arenas, you'll find fewer places to play in the future. This is the case for developers of Open Source, companies involved in Open Standards, governments, business leaders, and community leaders of all sorts.
To conclude: You are a leader within your spheres of influence. Open Leadership skills are a necessary part of leadership skills. Read the book to understand how you can control openness and find a balanced path to success.
Originally posted on Gil Yehuda's Enterprise 2.0 Blog and reposted with the authors permission.