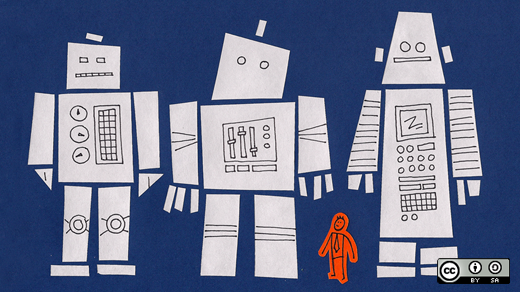 A popular chain of consumer electronics stores in the U.S. laid off thousands of workers in mid-July this year. Yes, I'm talking about Best Buy, and their future prospects are not looking so good. But this company could still save itself if it quickly implements open source thinking throughout its stores. Open source thinking means viewing your customers as information producers not just entertainment consumers. 
For instance, some customers are interested in making their own BluRay video disks using blank DVD media. When I recently walked into a Best Buy store to buy a BluRay player, the sales person had no clue at all that it's quite easy to create your own BluRay DVD disks using Macintosh software called Roxio Toast 11, with an additional $20 BluRay burning plug-in. You don't even need to own a BluRay burner. A plain DVD burner does the trick.
I first became interested in making my own BluRay disks when I saw that OpenShot, the popular video editor for Linux, can export high definition video in BluRay format. I wasn't able to find the right Linux software to burn my BluRay video on DVD disks, but I was able to get this done using Roxio Toast 11 on my Macbook Pro. These BluRay DVDs play beautifully in the auditorium at my place of work in Takoma Park, Maryland. 
What do you think would happen to Best Buy's sales volume if more people knew they could easily create their own BluRay disks using inexpensive DVD media? Best Buy would not only sell more BluRay players, they would also sell more high definition camcorders, more high definition televisions, more blank DVD media and more accessories for all of these devices. The barrier is that Best Buy makes no effort to educate its customers on how they can maximize the creative uses of the consumer electronics equipment they sell. Plus, when a customer such as myself tries to tell them about one such project, the explanation falls on deaf ears. 
Also, have you ever noticed the high ceilings in most Best Buy stores? Best Buy could build technology training rooms in some of that air space above the sales floor and even find volunteers like me to conduct some of the sessions. All I would ask for in return would be a modest discount on my Best Buy purchases. And it would be fine with me if they wanted to videotape my training sessions to share on YouTube or with managers (and customers!) at other Best Buy stores.
What our country needs is for every consumer electronics store to adopt new "maker supportive" policies. Then, each store that does this could have a short listing on a White House web page like: http://www.whitehouse.gov/makersupportive. This web page does not currently exist, but could be created in one weekend. These listings would explain the stores' new maker supportive policies, and just imagine how much free publicity this would provide many businesses.
Recently, the White House recognized MAKE magazine founder Dale Dougherty for his visionary work launching MAKE magazine and the maker movement. This recognition was a good first step, but by itself accomplishes little. It would make sense to follow up with a "maker supportive" page on the White House website. With minimal effort the White House could nudge our economy in the direction it needs to be heading in. Then we won't have to read about the next round of layoffs at Best Buy in the newspapers.
We have the skill and know how to turn around the economy if we'd just use more open source thinking.
Getting back to Best Buy, when they sell you a BluRay video player without sharing information about how you can produce your own BluRay disks, it's as if a car dealer just sold you a car with an air conditioning system but no instructions on how to turn it on on a hot summer day. What value is the equipment if consumers don't have knowledge of how to use it to its full potential? If consumers were given the skills and know-how by the store itself, I think they'd gladly plunk down their hard-earned money for the equipment at that store. After all, seeing is believing.
In an information economy we must value how-to-do-it knowledge far more than we do. We need to restructure our stores to reflect this important new shift in our culture. We don't have much time to implement such changes, either. We have wasted too much time already. Right now hasty action is needed by all parties mentioned above. So, do we need to require stores to implement maker supportive policies or can we rely on them to take the necessary steps on their own? What do you think? Leave your comments below. 
Phil Shapiro has been an educator, teaching students from pre-school to graduate school for the past 30 years. He currently works at a public library in the Washington, DC area, helping youth and adults use 27 Linux stations.

This work is licensed under a Creative Commons Attribution-Share Alike 3.0 Unported License.