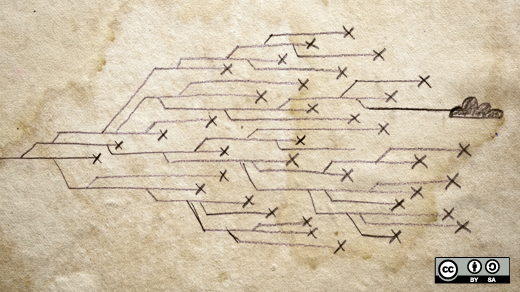 When it comes to making predictions, I'm cautious. But I have no reason to believe that the trends we saw emerging in 2014 are going anywhere. Here are three things we saw in 2014 that I fully expect we'll see more of in 2015.
Trust matters
As applications grow in complexity, there are ever more vectors for things to go wrong, whether in the form of software bugs, security holes, or other problems. But open source can help to minimize these risks.
As Gunnar Hellekson wrote in last month, this year showed how the open source community was able to step up to the plate in the past year to deal with major vulnerabilities. No software is immune to bugs. They happen. What matters is how they are responded to. "We can see how effective the open source community has been in responding to these vulnerabilities, without diminishing the seriousness of the flaws themselves. There are, of course, more vulnerabilities to come: no matter how well-trained, no matter how carefully scrutinized, we will have software with bugs. What matters is that gainfully employed open source developers, as well as volunteers, quickly developed patches and that millions of people were able to fix the problem in a matter of hours."
Infrastructure remains king
With all of the focus on cloud application development and deployment strategies in 2014, its easy to forget that all of those applications have to run somewhere. The Linux operating system and infrastructure projects like OpenStack are just as critical to making sure that applications run smoothly as they ever were.
I think Gordon Haff said it best in his article back in August about why operating systems still matter in a containerized world. "All the security hardening, performance tuning, reliability engineering, and certifications that apply to the virtualized world still apply in the containerized one. And, in fact, the operating system shoulders a greater responsibility for providing security and resource isolation than in the case where a hypervisor is handling some of those tasks. [...] In other words, Linux is evolving to support an environment in which the 'computer' is increasingly a complex of connected systems rather than a single discrete server."
Mobile continues to transform
Mobile isn't really just about the devices. It's about creating a datacenter that is thoroughly secure from many points of entry. And that takes a whole new way of thinking. In fact, according to Forrester Research, by 2017 companies will spend as much as $189 billion a year to shift their business processes to fit our newly mobile world.
To help CIOs address the shift to mobile, The Enterprisers Project hosted a roundtable to discuss how top IT leaders are building infrastructure for a mobile-first future. Curt Carver, Vice Chancellor and CIO fo the Board of Regents of the University System of Georgia, outlined how mobile is changing not just technology, but process. "One of the other things that was a seismic change is that change management and application longevity are on a markedly different scale. The old waterfall model is not going to work—it's got to be spiral, or it's got to be agile, or it's got to be a peer development, where you're sitting down with your business partner to make sure that the application is aligned with the real needs of the customer."
Regardless of what we see in 2015, the open source cloud will continue to grow, change, and adapt. What is your top prediction for this year?
Jason was an Opensource.com staff member and Red Hatter from 2013 to 2022. This profile contains his work-related articles from that time. Other contributions can be found on his personal account.

This work is licensed under a Creative Commons Attribution-Share Alike 4.0 International License.