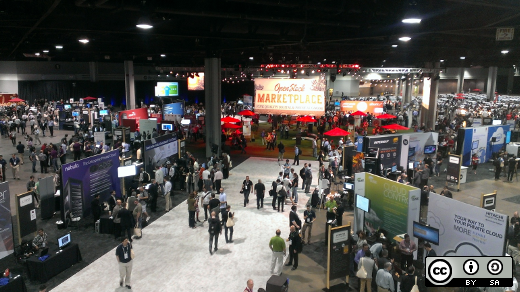 There's something different about OpenStack Summit Atlanta. Maybe it's the attendance, the new arrivals, the latest projects, the announcements, the talks, or the community coming together. Really, it's a combination of all these things. And, while I can't compare this summit to past OpenStack events, I can sum up my experience from the first three days in one word: excitement!
Beginning with the first keynote on Monday—Rise of the Superuser by Jonathan Bryce, Executive Director of the OpenStack Foundation—a tone and a theme that's risen up around the conference: embracing the user.
During other talks, attendees heard stories from the frontlines, directly from companies like Wells Fargo Bank and Walt Disney Company about their experience with OpenStack. So, what did other people at the conference find exciting about the OpenStack conference? I hit the showroom, pardon me, the OpenStack Marketplace, and asked developers, users, and CEOs what they were enjoying the most.
Get the inside scoop on how the Summit is growing, how the project is becoming more mainstream, and how the community is still at the core of everything.
What's exciting about OpenStack Summit 2014 Atlanta?
Ben Golub, CEO, dotCloud
The best part of the OpenStack Summit is how many use cases we're seeing now. This has gone from when I was at Cactus [Summit], being just about developers to being about vendor support, and of course, tons and of tons of user engagement. It's clearly becoming about mainstream adoption, and it's great to see this many people and components coming together in one place.
Dana Bauer, Developer and Community Advocate, Rackspace
It's my first Summit, and it's exciting to get to know a new technical community. It's a great learning environment—it's easy to engage with the OpenStack community. It's fun being part of a massive open source project that has developers from all over the world. That includes people from big companies to individuals from all different sides of the project: developers, users, operators, and application developers. OpenStack is a growing project that is really considering all of its audiences and users.
Joe Arnold, CEO, SwiftStack
The users. Users. Users. Users. That is what is hugely different for OpenStack Summit. Specifically for SwiftStack, we've been able to showcase five new customers as public reference customers. The momentum is growing for object storage. The people we're talking to here are more interested in doing deployments rather than experimenting and just taking a look. They're interested in real production workloads, and they're ready for it.
Jay Prassl, VP of Marketing, SolidFire
We've been attending the OpenStack Summit since the early days, and it's exciting to see it grow. The momentum behind the space is really powerful. The continued, well-struck balance between vendors and the community is extremely important. Seeing the community continue to be a core driver and the aspects and elements of the community itself is also key. A lot of people are here for a very specific reason: to find out what OpenStack is, how to use it, or if it's right for them. And, the topics have changed. We're talking about converged infrastructure and using OpenStack in the enterprise. The Summit could have easily turned into a vendor driven conference, but it's not.
Erica Brescia, Co-founder and COO, BitNami
The most exciting thing is to see OpenStack going into production. We're seeing the large scale, real production deployments. It's becoming more mainstream and it's really exciting to start seeing the use cases and real-world experiences.
Steven J. Vaughan-Nichols, Contributing Editor, CBS/ZDNet
The enormous hunger people have for OpenStack education and their desire to implement OpenStack solutions as fast as possible. OpenStack is Real! Amazon, MicroSoft Azure, and other clouds providers must take notice.
Matt Farina, Tech Lead of Developer Experience, HP Cloud
There are so many people of different technical disciplines all coming together to work on a project. The cross-collaboration of developers, operators, UX experts, and other technical people. We have people who are developing OpenStack and the folks developing applications on OpenStack. And, all this is cross-company. The Summit has evolved from building a project and being a very developer-focused conference to welcoming the users and operators.
Ross Turk, VP Marketing and Community, Inktank
OpenStack Summit is a collection of the most advanced minds in the cloud. And, every Summit it just keeps getting better. All the people we want to talk to are here, and it's a focal point for the Ceph community. It's the highlight of our calendar.
Mario Blandini, Senior Director of Marketing, HGST
The collaboration of different open source technologies to make things works. It helps us, because we're collaborating on different open architectures to optimize data centers and solve new problems. It's great to see people working together on OpenStack.
David Meyer, CTO and Chief Scientist, Brocade / Chair, OpenDayLight Project Technical Steering Committee
The unbelievable acceleration around OpenStack, both the technology and entrepreneurship. The integration of OpenStack with everything. It's caused and created this environment for entrepreneurs. The vibrancy and energy level of the community is something that you don't see that often. But it's here. It's real for OpenStack.
---
Now, it's your turn! If you are attended the OpenStack Summit this year in Atlanta, or if you were watching from afar, tell us what excited you about the Summit.
Jason Hibbets is a Community Director at Red Hat with the Digital Communities team. He works with the Enable Architect, Enable Sysadmin, Enterprisers Project, and Opensource.com community publications.

This work is licensed under a Creative Commons Attribution-Share Alike 4.0 International License.