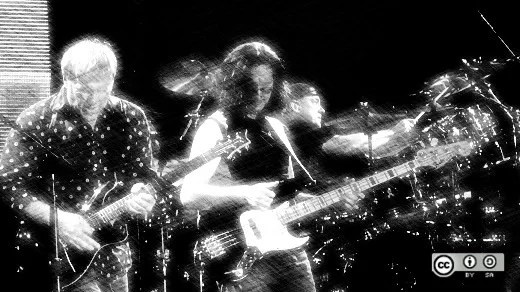 Toronto's Colan Schwartz is a self-employed enterprise web architect with a career that exemplifies the open source ethic. Aside from some MS-DOS, Windows 95, and NT use in his early days—all on the same box, no less—adding GNU/Linux to the mix sealed the FOSS deal.
For Schwartz, staying 100% Linux has followed the same progression as many others: Slackware, Red Hat, Debian, and now Ubuntu. Open source on mobile was also a phase, with Openmoko's Neo FreeRunner and Maemo on the Nokia N900. Now Colan looks forward to seeing which hardware will run Canonical's Ubuntu Touch mobile OS.
It is no shock that Colan specializes in Drupal-based solutions, handling technical design/planning, DevOps, configuration management, and backend development. He contributes back to the Drupal community with patches and by maintaining and putting out releases for various modules.
I caught up with him after DrupalCon Los Angeles to get his impressions of the event, the state of Drupal, and more.
Is Drupal still a Content Management System (CMS)?
I don't think it ever was. In my mind, it was always a framework. A finished product that I build for a client using Drupal is a CMS.
Give us your take on attending DrupalCon, as opposed to Drupal Camps or meetups.
It's a good way to stay on top of major events in the community and network with international members, though it's much easier to give a presentation at local meetups or camps. There's far less competition.
For developers, what would you say is a game changer in Drupal 8?
As I do a lot of configuration management work for clients, I'd say the native configuration management. The not-so-complete solutions in D7 caused a lot of friction. But I've mostly worked with Features. I haven't had a chance to try the Configuration Management module yet.
Talk a little about the open source software tools you use.
On my laptop (pre-installed with Ubuntu from System76), I generally stick to the Chromium web browser, Thunderbird for mail with Lightning for calendars/scheduling, and NetBeans as an IDE. Traditionally I've used Vim with a Drupal plug-in for coding, but sometimes stepping through a running Drupal instance with a debugger is extremely useful for figuring out where things happen (to add new features) and where they go wrong (to fix bugs). It's a fairly big framework, so this makes it easier.
On the server side, besides MySQL and PHP for Drupal, I've been using Solr as the search engine, NGINX for web serving (and related services). For serious issue tracking, I use Redmine. And for revision control, it's always Git with GitLab.
What is the most complex aspect of your day-to-day operations?
Getting my clients' developers and sysadmins to stick to all of the documented processes I've set up for them.
I have years of experience implementing Drupal-based solutions, so I have a rather solid understanding of what works and what doesn't. But some folks without any experience with Drupal try to shoehorn it into incompatible environments. I do my best to explain all of this and why to ensure that, when I'm gone, folks can take all of my wiki documentation and run with it (use it and update it as necessary).
I like to think of my consulting services as successful if my clients can continue working on their projects without me. Basically, I'm doing a good job if I put myself out of one.
If Drupal were a musician or a band, which would it be?
One of those niche cult bands that outsiders just don't understand. Let's go with Rush. I think their music's not too bad, but I just don't get the hype. Friends of mine that like them just can't get enough of those guys.
Read more interviews and articles from DrupalCon Los Angeles 2015.
John P. Weiksnar, Ed.M. | Drupal™ futurist. Currently preparing an online startup based on this modern definition of Drupal—to paraphrase Jeffrey A. "jam" McGuire, "A user interface for building digital businesses."

This work is licensed under a Creative Commons Attribution-Share Alike 4.0 International License.