4 readers like this
4 readers like this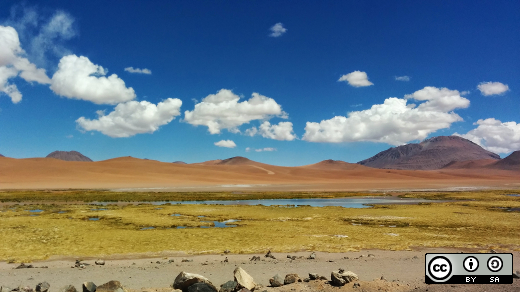 TravelSpirit is a new enterprise that is fusing together disparate open source community projects linked to New Mobility Services (NMS), Intelligent Transport Systems (ITS), Personal Data Stores (PDS), and public transit into a global architecture and commons of OSI-approved licensed code. By deploying the code, TravelSpirit's goal is to create a new cooperative platform that will provide the public a "lifestyle enabler" called Mobility as a Service. Any new code projects incubated through the TravelSpirit community will be licensed under the Mozilla Public License 2.0 (MPLv2).
New Mobility Services
New Mobility Services is the term coined by the Center for Automotive Research (CAR) to describe the range of venture capital disruptions to the transport sector that have been the trend over the past couple of years—think Uber, Lyft, and Didi (ride-hailing); Blablacar and Waze (ride-sharing); ZipCar and Drivenow (car-sharing); Motivate, Nextbike, and Donkey Republic (bike-sharing), and Bridj, Chariot, and Via (micro-transit). 
In their recent publication, CAR concluded that "the rise of 'new mobility services' is part of a mobility evolution, a bigger and long-term gradual evolution of transportation preferences, toward on-demand shared mobility and a multimodal system that is less car-centric." The huge market these companies are after is a £10-trillion global personal transportation market "reshaped," as demonstrated by recent major investments from car manufacturers and tech companies alike, which includes £300-million investment by Volkswagen Group in Lyft, and £1-billion investment by Apple into Didi. In fact, Didi-Uber's £70+ billion market evaluation is now bigger than GM, Ford, and Honda.
Mobility as a Service
Mobility as a Service (MaaS) is what you get when you find a way to bring all the disparate NMS services together, in combination with public transit, to enable people to have either totally "car-ownership-free" lifestyles, or at least the opportunity to ditch one of their cars, because getting access to a shared resource of vehicles and transport services has become a compelling and attractive alternative. MaaS is a new market opportunity companies like Apple want to break into. However, we believe MaaS represents more than just the next big market opportunity—it represents a major frontier in defining how our future society will be organized. For example, do we want to wade into a future where one company takes it all (£10 trillion)? Or can it be shared? (And if so, how?)
TravelSpirit project and partners
The TravelSpirit project was first conceived in late 2015, through a collaboration between Transport for Greater Manchester (UK) and the Open Source Initiative. They discussed the need for a greater level of organization within the open source community around delivering a mobility revolution across the globe. In stark contrast to platforms that seek to dominate the world, they contemplated the need to empower communities and put "true" user-centric design at the heart of the matter. That is to say, the organizations agreed something was needed to enable the development and adoption of solutions that provide a seamless mobility experience for a customer and enables community-wide participation through equitable transport access to civic and economic opportunities. Such solutions, due to their open architecture and ethical underpinnings, would have a good chance of out-gunning solutions based around more of a commercial model, a proprietary code-base, or isolated transport concept with some wrap-around IP.
Compared to a grassroots-evolved open source project, TravelSpirit has focused on engaging cities, transport companies (including the emerging New Mobility Service companies), and the digital sector to educate them about the MaaS opportunity, and why we believe this will only be realized through open collaboration and open source code developments.
The idea is to provide the open source development community a clear steer on the problem we want help solving—and the "big picture"—to galvanise and motivate the community for what we expect to be a two- to three-year build, linked to a roadmap that will enable the eco-system to make money on the journey to full MaaS-enablement.
What does being a partner or member of TravelSpirit—or being a TravelSpirit project—mean? A member of the community is an individual who is contributing open source code developments to a TravelSpirit project or TravelSpirit Partner project. A TravelSpirit project is one that has been incubated onto the TravelSpirit Platform, meaning a new or existing open source project that wants to leverage the community assets, governance, strategic guidance, and access to customers that TravelSpirit can provide.
For example, we are currently in the process of incubating an existing open source project, called RidePilot, which provides simple, lightweight, and affordable open source software to community transport operators for scheduling and despatching their vehicles. RidePilot was first created by Ride Connection, a non-profit community transport provider based in Portland, Oregon.
All TravelSpirit projects naturally work at a global level, with Public Software CIC (a new social enterprise dedicated to supporting European-born communities, like Software Freedom Conservancy and Linux Foundation in the United States) providing TravelSpirit the necessary support services.
Although code works at a global level, at a transport level things work regionally, as different countries and regions have different transport companies operating in them. For TravelSpirit to encourage a B2B model that empowers collaborative alliances at a regional level makes sense, so TravelSpirit also developed a partner program for such companies. The program includes partners who work with proprietary software, but are able to collaborate into the TravelSpirit ecosystem by making their APIs available to others.
Meet the community
If you are able to make it to France or the UK in September, you can attend a TravelSpirit event and get involved. For the coding community, we are launching our call to action at Wuthering Bytes in Hebden Bridge (Yorkshire, UK) on September 6th, and a technical solutions event in Paris on September 27th, which is then leading onto a hackout in London on the weekend of October 28th.
To learn more or to enquire how to incubate your project onto the TravelSpirit platform, visit TravelSpirit.io.

This work is licensed under a Creative Commons Attribution-Share Alike 4.0 International License.