This powerful operating system's efficient performance, intuitive interface, and exceptional collection of apps make it a top choice for all users.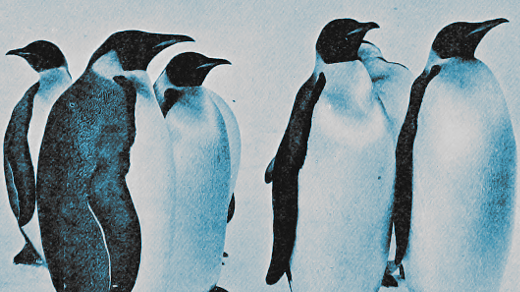 There are tons of operating systems coming out all the time, from free laptop systems like EasyPeasy to Manjaro, Mandriva, and Kubuntu. But all of them have their share of kinks.
Naturally, many of us are scared of change, and not everyone is an early adopter when it comes to these kinds of things. While operating systems like MacOS and Chrome OS still claim larger market shares in 2018, it bears mentioning that newer operating systems have a lot to offer.
Systems like Windows go straight out the, er, window once you've used MX Linux 17.
MX-17 changes the base to Debian 9 (Stretch) and provides upgraded artwork, fresh MX tools, and better live operation courtesy of antiX. Users get persistence (a whopping 20GB) and remaster along with a full suite of updated MX-apps including mx-tweak, mx-conky, and NVidia.
Here's why MX-17 is a worthy distro, and what you stand to gain from this midweight Linux operating system and its antiX components.
By us, for us
The first thing that should be acknowledged about MX Linux 17 is the people behind it. MX Linux is a cooperative venture between the former MEPIS Linux and antiX communities. That's where the MX of the name comes from.
For this reason, it's been called the "best of both worlds" by tech reviewers. And that's about as accurate as you can get because the system is based on Debian 9.3 with an upgraded version 4.13.0-1 Linux kernel and Firefox.
The developers clearly care about the preferences of the community and are committed to giving noobs a new distro that won't leave them scratching their heads.
Smaller and faster than the competition
Although it's far from the lightest distro in terms of hard drive space and memory consumed, it is one of the lighter models to come along. Compared with mainstream distributions like openSUSE and Fedora, MX Linux 17 is much smaller and much faster, without sacrificing user experience.
The startup speed is four seconds, which is pretty remarkable when compared to, say, Windows 10, which takes at least 11 seconds.
Features
Platform—AMD64, i386 (available in 32-bit or 64-bit ISOs)
Kernel version—4.13.0-1
Beginner-friendly interface theme and performance
Xfce version 4.12.3 default desktop
Approx. 1.2 GB size
Simple installation via DVD or USB drive
Setup
You can burn MX Linux 17 ISO image onto a USB drive without any glitches. You'll find the taskbar to the left of your screen. The Xfce theme is easily customizable and the software app is loaded with preinstalled treats for game fanatics.
Utilizing a graphical system installer with multiple steps, installation takes longer than Ubuntu, but it's still easy. It starts by asking the user to choose which disk the distro will be installed on.
Anything the average user would want to do can be done with MX 17. It's about as ergonomic as an operating system can get.
There is the option of launching the GParted disk utility for setting up partitions, but beginners will likely opt out of that one.
When you boot it up, a welcome window will be automatically loaded. As you can see, several links appear for you to choose from: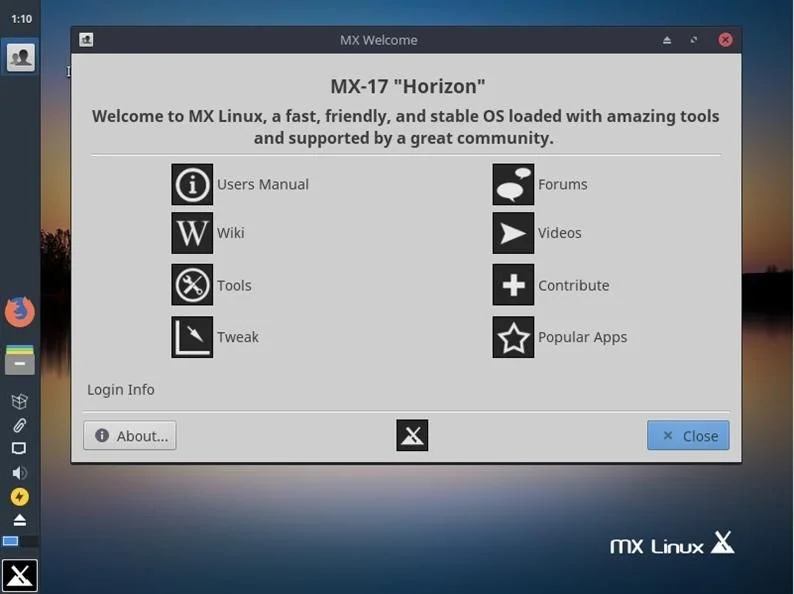 Everything is fairly easy to locate, no matter what you're looking for. The Xfce theme has an attractive background and the vertical panel is intuitive.
You can change the appearance at any time with the click of a button.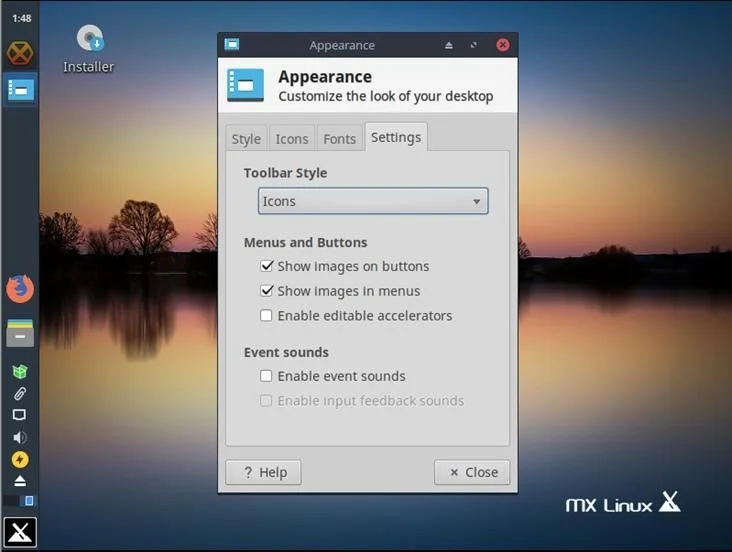 As you can see, the visuals are excellent.
A hefty collection of advanced Xfce packages
AntiX distribution is an innovative tool for maintaining the integrity of aging computers. In the case of MX Linux 17, that antiX technology is merged with the best components of MEPIS to form a superior product.
Built on the Debian Stable base, MX 17 comes with the Firefox 56.0.2 browser, but Chrome is also available. It comes with LibreOffice v5.4.1-1 and a full bundle of apps, from the email client Thunderbird v52.5 and the Clementine music player to password and key security and the Gufw firewall.
Multimedia apps are also integrated, including PulseAudio and SMTube. Gamers will be happy to find AisleRiot Solitaire, Chromium B.S.U., Lbreakout2, Mahjongg, Peg-E, Swell Foop, and the Hearts card game.
Other advanced apps include the following:
Xfburn v0.5.4
GNOME-PPP
HexChat
Transmission
ALSAmixer Audio
VLC
Bluetooth manager
MX boot repair
Catfish File Search
FBReader e-book reader
Scanning, CUPS printing, cron, and sudo are other services that can be enabled by checking boxes during installation.
For those of us who value our online privacy, the Network Manager will help you to connect via a reputable VPN client. Their troubleshooting page walks us through the steps.
Command prompt
One of the first things users notice about MX Linux 17's terminal is the bright, vivid colors of the command prompt. It really stands out.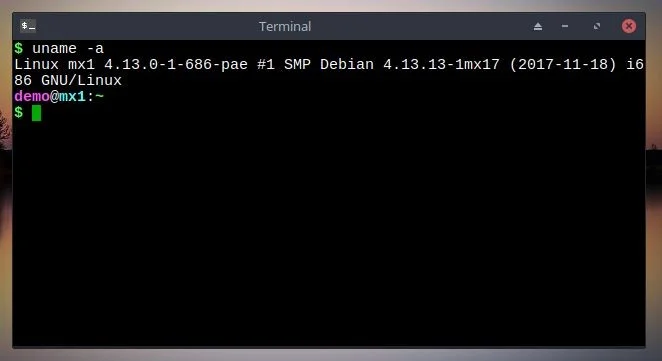 As we can see here, the command line can be used to accelerate system administration tasks, troubleshoot hardware devices, configure or install advanced software apps, or launch a GUI app to evaluate its error output.
This terminal is called Xfce Terminal, and it can be used for other distros, like Fedora and Ubuntu.
Reliability
Not all operating systems are known for their dependability, but MX Linux's reputation is well-established online. Users swear by its stability and compatibility, with forum members raving about how well it runs on legacy hardware.
It's very close to the ideal distro because it's dependable. It works equally well on older and newer computers. It boots in the blink of an eye and runs efficiently. MX-17 works right out of the box—a box, I might add, that contains Firefox 57.0.2.
Hardware
Performance is a plus with MX 17. You get optimal resolution and speed, and the distro uses only about 280MB of memory and 4.5GB of hard drive space.
Software control
Synaptic, MX's package manager, makes software management a breeze. You can install, upgrade, or uninstall programs with a simple checkbox. MX Package Installer enables you to browse through different software categories or choose popular apps.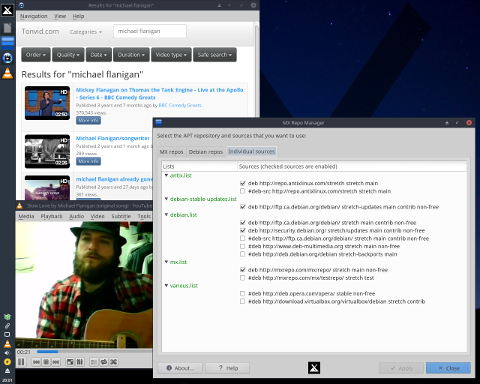 Closing thoughts
After testing this baby out for three weeks, I can honestly say that I've never been more satisfied with an operating system. If MX Linux 17 has a weakness, the only one I've encountered is the relative lack of help or support, though this is not uncommon for new Linux distros.
Although I would strongly recommend it to novice users because of the coherent battery of prompts that come up during installation, it's hard to determine just how user-friendly its media codecs and configuration tools would be to someone who hasn't dealt with Linux before.
The bottom line: MX Linux 17 is a powerful, simple, and lightweight platform that doesn't gobble up system resources like RAM or burden the user with arbitrary software. Its exceptional bundle of MX utilities should appeal to both the seasoned Linux user and the new kid on the block alike.
Sam Bocetta is a retired defense contractor for the U.S. Navy, a defense analyst, and a freelance journalist. He specializes in finding radical solutions to "impossible"​ ballistics problems. He covers trends in IoT Security, encryption, cryptography, cyberwarfare, and cyberdefense.

This work is licensed under a Creative Commons Attribution-Share Alike 4.0 International License.