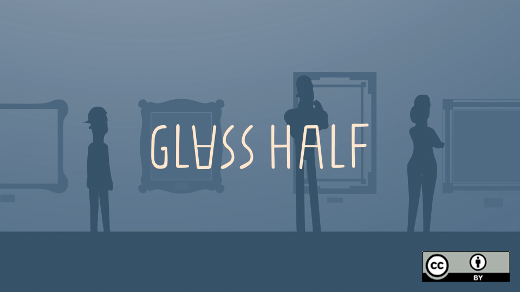 At this year's Blender Conference, the Blender Institute released its latest open movie project, Glass Half. You can watch the full three minutes of this short animation in all its glory right here.
Like all of the other open movie projects released by the Blender Institute, Glass Half has been released under a Creative Commons Attribution license, along with all of the assets (3D models, textures, animations, etc.) used to create the short. However, there are some key differences between this animated short and the Blender Institute's larger projects like Cosmos Laundromat. For one, the production time for this piece was much shorter. Although there were some concepts and storyboards being put together by the team as Cosmos Laundromat's year-long production was wrapping up, the actual production time for Glass Half was just around seven weeks.
Despite the shorter timeframe for producing the movie, there were still a number of technical achievements that Blender benefited from. The bulk of these achievements were workflow refinements, but there were a few larger milestones. For one, this was the first animated short from the Blender Institute that was rendered directly in Blender's 3D viewport using OpenGL. All of the shaders and materials in the scene work in real time. This was also the first open movie with a focus on non-photorealistic rendering (NPR), fully embracing the cartoon aesthetic typically seen in traditionally drawn animation.
Another key benefit that's come from the production of Glass Half is a new flexi-rig. A flexi-rig is a fully-rigged generic 3D character that can be easily tweaked and modified to make custom characters. Although all of the assets from previous open movies are available under a Creative Commons license, the characters and their rigs have been very specific to those shorts. Sure, you can make your own animation with the Buck from Big Buck Bunny or Sintel from her movie (and people have), but it isn't easy to change either of them into your own character to animate. With a flexi-rig, a 3D animator doesn't need to be concerned with the technical intricacies of rigging. You can customize a character to your liking and focus your main energy on animating and telling a great story. All of the background characters in Glass Half were made using this new flexi-rig and it's included among the CC-licensed assets available on the Blender Cloud.
And the Blender Institute is not resting on its laurels. Production has already started on the next open movie short, Caminandes 3. This film follows in the spirit of Glass Half and the previous Caminandes shorts with short production times and a focus on story and workflow refinement (rather than the big features of larger projects like Cosmos Laundromat and Tears of Steel). Look for Caminandes 3 to come out mid-January. In fact, there's already a trailer out to tease you. And after watching that, watch Glass Half again and share it around with your friends. Maybe it will give you an idea for your own animated short film! Why not? The assets and the tools are here, and they're open.
---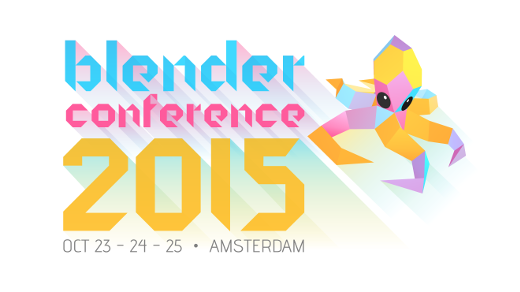 Blender is a free and open source 3D creation suite. The Blender Conference is an annual event held in Amsterdam for developers, designers, and enthusiasts to learn more about Blender techniques, features, and tools.
Jason van Gumster mostly makes stuff up. He writes, animates, and occasionally teaches, all using open source tools. He's run a small, independent animation studio, wrote Blender For Dummies and GIMP Bible, and continues to blurt out his experiences during a [sometimes] weekly podcast, the Open Source Creative Podcast. Adventures (and lies) at @monsterjavaguns.

This work is licensed under a Creative Commons Attribution-Share Alike 4.0 International License.