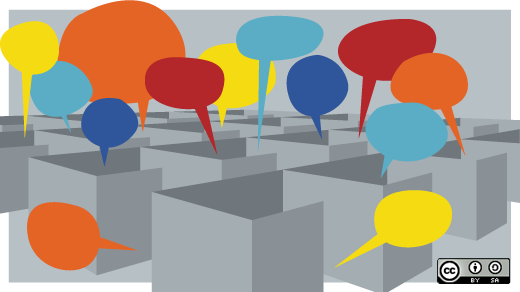 The great hope nurtured by many of us who spend our days in the open source software communities is that the fundamental principles upon which open source software is built -- The Open Source Way -- will permeate other industries and walks of life over time, allowing all sorts of new and exciting problems to be solved using methods that value transparency, collaboration, and a meritocracy of ideas.
Now the National Academy of Engineering is looking to open source communities for guidance on how to do exactly that for the Grand Challenges for Engineering. "The challenges are problems for us all," said Lynn Andrea Stein, Chair of the Boston Grand Challenge Summit and a member of the National Steering Committee of the Grand Challenge Scholars Program. "None of this can be done in isolation or within existing disciplines and community: it all requires the kinds of bridging and sharing and community collaboration that Open Source is about."
In other words, open source communities know how to effectively collaborate to solve large-scale problems. For instance...
Every single one of these challenges can be solved with engineering efforts. Some of those engineering efforts will specifically be software engineering, and open source is already an undeniable force in the software engineering world. But there's no reason why we can't apply The Open Source Way to the civil and sanitation engineering needed in the water challenges, the business plans needed to make solar energy economical, or the design work needed to make enhanced virtual reality usable. In fact, note that only one of the three examples in the list above involved writing a single line of code.
The Grand Challenges crew is looking for student stories like the ones above to highlight at an April 21, 2010 summit at Wellesley College on the Educational Imperatives of the Grand Challenges, and would like to extend a specific invitation to projects and people from open source. "This award is about the idea that recognizing and celebrating what's out there will help us as a community to shape and grow what needs to be there," Lynn explained. The work presented at the summit will serve as models for the colleges and universities that are beginning to ask how their students can prepare to tackle problems of this magnitude.
Personally, I would like the answer to that question to be "teach them the open source way." We know firsthand the power of community, transparency, and freely available, reshapable, and shareable tools and infrastructure for collaboration; this is our chance to show these schools that the things they're looking for are things we've lived and breathed for years.
If you know of a student or recent graduate whose contributions - of any sort - to an open source or content project fit in any of the NAE Grand Challenge problem areas (Sustainability, Health, Vulnerability, and Joy of Living), please nominate them. Self-nominations are accepted, and the application process is as simple as pointing to the work you've already done.
The deadline is March 1st, 2010. Award winners will be selected in mid-March, interviewed to produce professional videos to be featured at the summit meeting, and invited to Boston to participate in the summit. I will be there, and would love to see all the Extraordinary Stories Award winners this year come from the world of open source. (Hey, why not aim high?)
We become what we celebrate. Let's make sure that when these schools get together to figure out what they ought to become, they hear our voices celebrating loud and clear.
Thanks to Max Spevack and Lynn Stein for their assistance in writing this article.
Mel Chua is a contagiously enthusiastic hacker, writer, and educator with over a decade of teaching and curriculum development experience and a solid track record in leadership positions at Red Hat, One Laptop Per Child, Sugar Labs, Fedora, and other Free, Libre, and Open Source Software (FLOSS) communities.

This work is licensed under a Creative Commons Attribution-Share Alike 3.0 Unported License.