Two years ago, I blundered into open source because I wanted my students to build educational games for the One Laptop Per Child community. Much of that history has already been told by opensource.com. I didn't expect this effort to be so sticky--for myself or my students--when we started.
Surveys from the class offered this past fall showed that 75% had no FOSS experience before starting the course. What's more, 50% of the students (split evenly between experienced kids and newbies) said they would be interested in additional courses and a career in FOSS. I've been lucky enough to attend several conferences to talk about our efforts and my students' work. FOSS may be only one course out of a year, but it has become a key aspect of our shared academic careers throughout the year.
This past year, Remy Decausemaker and the students have created what they've dubbed The FOSSBox. Much like the little lemonade stand below, The FOSSBox is a fledgling effort: a wedge-shaped lab space filled with cast-off hardware generously provided us at no cost by RIT's Center for Student Innovation. (It's not entirely philanthropic, the Center cherry-picks some of our best talent to take care of their technical staffing needs.)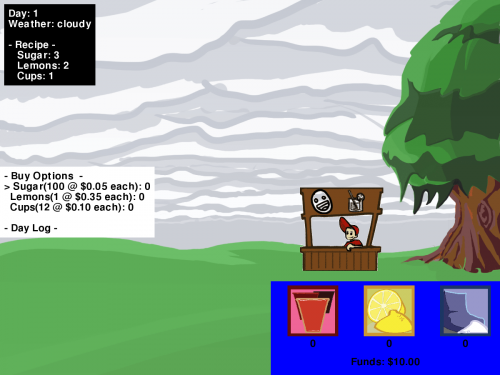 Even now, after class is over for the year, many of the students keep coming back. Some pursue independent studies or co-op credit to continue work on class projects. Others join existing FOSS efforts. Some volunteer their time on FOSSBox projects or simply hang out.
Both the larger open source world and the smaller community they've built for themselves on campus provide a metaphorical and physical home. FOSSBoxers have brought in students from programs across the University, technical and not, to participate in our hackfests for open government, OLPC projects, and others.
The POSSE we held last year brought us together with new colleagues--not only from Computing and Engineering, but the Colleges of Liberal Arts and Imaging Arts and Sciences as well. We've scheduled a second POSSE for this coming summer and hope that it will connect the FOSSBox with more departments and programs across campus.
Now that the faculty know we're here, when they bring a company rep or a colleague with an interest in open source to campus, we're often on their visit list. A case in point was Texas Instruments, which showed interest in ways we might be able to work with them and our colleagues to extend their open source hardware efforts on and off campus.
Making a change in academia is evolutionary, not revolutionary. A single professor can plant a seed, but the water to grow it has to come from all directions: bubbled up from the groundwater (students) and rained down from above (academic administrators of all flavors) before it can really take root and thrive. The seed I planted, almost by accident, has been watered well from below and received one or two quick drizzles from above.
Colleagues from near and far, in and out of academia, are invaluable in keeping an eye on our sapling. Our little lemon tree is now bearing fruit and our stand is open. Given the success of the past 12 months, we're looking forward to record sales of FOSS on campus for another year. 
Stephen Jacobs is the Director of Open@RIT, the university's Open Programs Office. http://www.rit.edu/research/open. He is also a Professor in the Department of Interactive Games and Media at the Rochester Institute of Technology and a Scholar-in-Residence at the The Strong National Museum of Play.

This work is licensed under a Creative Commons Attribution-Share Alike 3.0 Unported License.