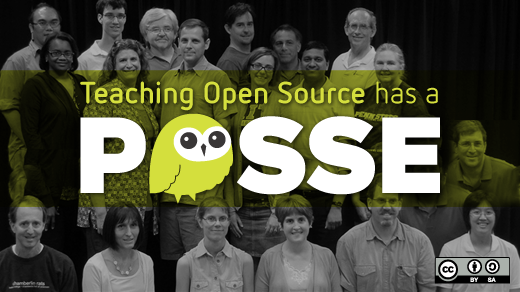 (This is the fourth and final post in the "Voices of POSSE" series, a collection of interviews conducted at this year's Professors' Open Source Summer Experience, held in Raleigh, NC, July 23-24.)
At Bacone College in Muskogee, OK, students use open source tools every day. They manage coursework with Moodle. They browse a school website built with Joomla. And they write papers with OpenOffice.
On campus, open source may have no bigger advocate than Prof. Allen White, who visited Raleigh, NC, to attend the Professors' Open Source Summer Experience, a two-day immersive workshop for educators who champion open source tools and principles at colleges across the country. White said using open source software has convinced his students and colleagues of their immense value to contemporary education. But, he said, they're not recogizing a critical responsibility that comes with using open tools.
"This isn't a 'take-only' thing," he said. "We see a lot of benefit from these things. It's time to start giving back."
At POSSE this year, White and 15 other professors brainstormed ways they could help students realize just how important their contributions to open source projects can be--not just for the projects themselves, but for their futures as citizens and professionals in any number of fields.
Dr. Elinor Madigan of Penn State University at Schuylkill Haven, PA, said learning to contribute to the open source projects that power her programming courses was one of her chief motivations for joining this year's POSSE cohort.
"Knowing there's a community of people out there that have the same interests we have, that really appeals to my students," she said.
Madigan began teaching the Python programming language to relatively inexperienced programmers last year. Motivated by its openness and versatility, she said, her students completed their required coursework in a mere six weeks. Inspired, Madigan helped them write additional programs for use in other classes on campus.
Programming with open source, she said, helped her students understand a very important lesson: Tools promote institutionalized ways of thinking, acting, and accomplishing tasks. By embracing tools that can be altered and modified, students can break with traditional habits and expand their capabilities to do things they never imagined possible.
"Having a variety of choices is a good thing," Madigan said. "Students come in predisposed to the idea that the world is a Mac or a PC. And that's not the case."
Sharing with open source communities also holds students accountable to parties other than their instructors, said Dr. Rajeev Agrawal of North Carolina A&T University in Greensboro, NC. Agrawal wants students in his IT project management classes to get involved with open source projects so their work becomes more valuable.
"That is the reason teaching open source [is] appealing," he said. "Students are more engaged in the class and feel that their contribution is appreciated and available to the world."
Agrawal said professors benefit when students work with open source projects because their classes suddenly become more relevant, and because they receive the aid of community members around the world who can help students work through real-world problems.
"It's a win-win for both instructor and students," he said.
But it's also a win for the open source projects themselves, said Dr. Matt Jadud of Allegheny College in Meadville, PA. Relationships between students and communities are synergistic; open source projects often receive fresh ideas and extra attention, while students can walk away from classes with their names already attached to professional projects--"something they can point to later," Jadud said.
In the past, Jadud's students have worked closely with the Fedora Project, designing logos, interviewing developers, and writing press releases.
Such collaborations give students "authentic experiences," Jadud said. And because communities like the one surrounding Fedora are open by default, Jadud and his students don't need strategic industry contacts to help them gain access to the materials required to foster these experiences.
"The conditions are that anyone can have it," Jadud said.
If anyone can have it, then anyone can share it. And by giving back to open source communities, students are making contributions to communities both in and out of the classroom.
For Jadud and this year's POSSE group, teaching the open source way means teaching students the significance of reciprocity.
"The most important thing is that I can bring students into open communities and contribute," Jadud said.
Bryan formerly managed the Open Organization section of Opensource.com, which features stories about the ways open values and principles are changing how we think about organizational culture and design. He's worked on Opensource.com since 2011. Find him online as semioticrobotic.

This work is licensed under a Creative Commons Attribution-Share Alike 3.0 Unported License.