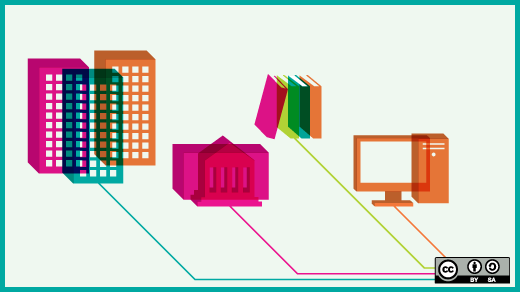 Understandably, software developers might wonder how a bunch of historians ended up shepherding an open source content management system into the world, but in the case of Omeka the trajectory is a logical one that stems from years of work in open access public history and cultural heritage projects.
Omeka is a leading open source collections-based web publishing platform for cultural heritage institutions, researchers, scholars, and students, developed by the Roy Rosenzweig Center for History and New Media (RRCHNM) and the growing open source developer community it supports. It is released under the GPLv 3.0 license.
Publicly launched in February 2008, Omeka has been downloaded tens of thousands of times. Unlike many similar platforms, Omeka takes a user-centered, access-focused approach to collections, emphasizing approachable, accessible web design and community features. As a result, a wide range of institutions adopting Omeka include the State Archives of Florida, the Newberry Library, the Smithsonian Institution, the Rockefeller Foundation, the University of California, Berkeley, and many college and university libraries.
See the Omeka showcase for examples.
Since that initial public launch six years ago, the software and the team that develops it have grown and changed considerably, but one thing has remained the same: our commitment to open source technologies and open access to knowledge and cultural heritage resources. This commitment derives from RRCHNM's core values and governing principles. Founding in 1994, the Center was created "to democratize history—to incorporate multiple voices, reach diverse audiences, and encourage popular participation in presenting and preserving the past." Thus, a predisposition toward openness was built in from the beginning. 
As we embarked on the venture of creating a web publishing platform that would serve the needs of small museums and historical societies, we knew that our core commitment to open source would have important implications for our users. The software would be free, and it would take a community to support and sustain it. That gave us the opportunity to capitalize on resources that the cultural heritage organizations have an abundance of: generosity and goodwill (if not tremendous financial resources or excess human resources). Today, over 350 developers participate in the "Omeka Dev" Google email group and approximately 1800 users post and answer less technical questions and suggestions on the Omeka forums.
We regularly integrate suggestions and fix bugs based on community feedback. To encourage the community to dive in and fork the software, we moved Omeka to GitHub, a popular place for sharing open source code. Developers can follow the most recent code updates, comment on them, and submit bug reports. GitHub's social environment also encourages the community to share their unique branches of the core, plugins, or themes with others to use themselves.
Omeka is grounded in the flexible Dublin Core Metadata Initiative schema, which has been attractive to the library and digital heritage community, and the development team took steps to ensure that no data becomes siloed in any Omeka site. RRCHNM designed the platform from its earliest stages to be interoperable with other content management systems, and item data is shareable through a variety of output formats, including RSS, Atom, J-SON, and other XML feeds. With a few key plugins installed, users may make their data recognized by Zotero or import a Zotero library into an Omeka website. Using the Open Archive Initiative Protocol for Metadata Harvesting (OAI-PMH) the Center developed plugins that allow users to share and harvest data sets. Moreover, the current version of Omeka (2.0) provides a built-in API that opens up a world of possibilities for collection use and reuse for cultural heritage institutions with more skilled technical staff.
In 2010, the Library of Congress recognized the centrality of Omeka as an open source software for the library community by funding two years in support of ongoing work on the core software and in strengthening the developer community. The partnership between RRCHNM and the University of Virginia Libraries' Scholar Lab supported the building and testing of the Neatline suite of plugins for creating geospatial scholarship, was held up as a shining example of cross-institutional developer collaboration. Through that partnership, the Omeka dev team improved developer and designer documentation and built easier ways for community members to share plugins and themes they developed for their own projects with the entire Omeka user base.
Beginning in 2012, we made the Omeka core and its plugins translatable and invited users to contribute their translations on Transifex, and we made those available for any Omeka administrator to select as their base language. Omeka is available in over a dozen languages, with more started each day. Our community of dedicated users is wide and expanding. This commitment from an international open source community will sustain Omeka's development for the coming years.
---
View the complete collection of articles for Open Library Week.
Sharon M. Leon is the Director of Public Projects at the Roy Rosenzweig Center for History and New Media and Associate Professor of History at George Mason University. Leon received her doctorate in American Studies from the University of Minnesota in 2004. Her first book, An Image of God: the Catholic Struggle with Eugenics, was published by University of Chicago Press (May 2013).

This work is licensed under a Creative Commons Attribution-Share Alike 4.0 International License.