Open Education Week (OEW) is an annual, global event and will take place this year from March 9-13, 2015. The event aims to raise awareness and celebrate achievements of the global Open Education Movement.
Open education encompasses resources, tools, and practices that employ a framework of open sharing to improve educational access and effectiveness worldwide. Participation in all events during OEW, and use of all resources, is free and open to everyone.
Initiated in 2012, OEW has since evolved into a truly global event attracting hundreds of contributors representing nearly 50 different countries, and participants from more than 130 countries. Sharing and building upon others' ideas is what the Week is all about. All events, resources, and discussions are not planned by a centralized planning team; participatory culture allows anyone who is interested in open education to lead and participate. There are many ways to contribute to OEW:
upload an informational or inspirational video

host an event in your community

send in links to resources about open education

hold a webinar

promote Open Education Week in your social media networks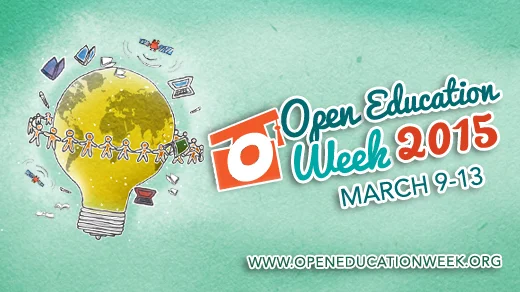 More information on how to contribute to OEW is available in the call for participation. To date, submissions for the 4th annual OEW this year have been received from institutions, organizations and individuals representing nearly 30 different countries around the world.   
The upcoming OEW will feature events taking place online and in locally hosted events around the world:
Nearly 70 webinars open to participation from anyone  
Virtual tours, pre-recorded presentations, documents and inspirational talks describing open education projects and ideas
Links to useful resources related to open education
Numerous events and workshops around the world
Please check OEW website throughout the week for latest information on events. Join in the celebration of open education with hundreds of thousands around the world and help make the 4th annual Open Education Week a huge success.
Open Education Week is organized by the Open Education Consortium. For more information on how to participate, email info@openeducationweek.org.
Igor has worked on numerous education projects as a researcher, evaluator and a coordinator. Included among the projects is a FreeCourseware project at the University of Western Cape.

This work is licensed under a Creative Commons Attribution-Share Alike 4.0 International License.