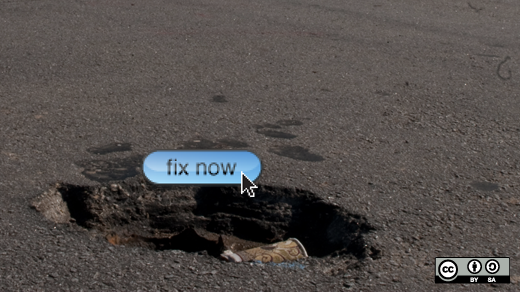 No matter where you live or how big your community is, you probably see a few things that could be improved. Maybe you don't know who to call or email. Perhaps you think someone else will report it (or already has). Those unknowns go away with a simple technology that eliminates anxiety and empowers everyday citizens to improve their community.
The concept is simple. You see a problem, then check the mobile application or website to report it or see if someone else has reported it. Your local government reviews the report to see if it can be fixed or if it's already on their to-do list. SeeClickFix removes the barriers for local governments, making it easy to set up a problem-reporting platform for today's resource-constrained municipalities.
I've been a SeeClickFix user since January 2011. I'm a 'digital superhero,' reporting more than 25 issues over the last several months. One of the best ways that I've seen SeeClickFix described is in an article by Bonner Gaylord called They should fix that. It highlights the essence of SeeClickFix: citizen empowerment.
SeeClickFix believes in the power of technology and community. They focus on four principles (that just happen to coincide with pillars of the open source way): transparency, collaboration, scale, and efficiency. The transparency of reporting issues leads to participation, which ultimately makes your community better.
I got a chance to catch up with Ben Berkowitz, SeeClickFix CEO and co-founder. I asked  Berkowitz about the role that SeeClickFix plays in the open government movement and how they help strengthen communities.
Tell us how SeeClickFix works.
A concerned citizen sees an issue in their community and reports it to SeeClickFix through our main site, through our mobile applications, or through a SeeClickFix widget on a local government, media, or community group website.  When a report is submitted, SeeClickFix displays the report publicly and alerts people in the area such as neighbors and people who can fix the problem. This is done through our watch area feature that is available to everyone. Governments receive notifications when they sign up for our services, or when a citizen creates a watch area on their behalf using a public email address. Media outlets receive notifications about issues in their area when they partner with SeeClickFix to help broadcast citizen concerns to a larger audience. Community groups and other citizens are notified to help stay connected to the community, and to each other. The fixing of issues submitted to SeeClickFix is done by any one of these groups, or by collaboration between some or all.
How does SeeClickFix fit into the open government and gov 2.0 movement?
SeeClickFix is the first and largest open government community ever, with 70 government clients, 800 media partners, and thousands of communities across six continents participating.  Each day, we help bring the open government to more citizens, and more local governments through our platform.
What's more important, transparency or participation?
Both are equally important to SeeClickFix. The transparency of our platform allows more people to participate in the process because information is made available to everyone. Governments and other organizations work best when their actions and decisions are carried out in public. Citizens who take the time to report even minor issues and see them fixed are likely to get more engaged in their local communities. Transparency and participation go hand-in-hand with SeeClickFix.
What's your role in being a community builder?
SeeClickFix provides the technology, but it's the hard work of engaged communities that makes our platform a powerful tool for community building and organizing. We recently brought on two community managers [to] provide support to neighborhood associations and community groups around the world using SeeClickFix. Citizens have used SeeClickFix to do everything from cleaning up blight to getting more places to park their bikes. SeeClickFix has even helped bring a full-service supermarket to a community considered a 'food desert.'
How can someone bring SeeClickFix to their city?
Citizens can start by reporting issues and encouraging their neighbors and friends to do the same. If their local government does not receive alerts about issues reported to SeeClickFix, they can sign up their mayor, city manager, or public works department by creating watch areas using public email addresses for each official or department. Citizens can share their issues with each other and advocate for the resolution of issues within their community. SeeClickFix users have attended city meetings to discuss or even demonstrate the benefits of using our platform in their community.  People can get their local media outlets involved by asking them to implement our text and map widgets and report on issues being reported within the community, giving citizens a greater voice.


Jason Hibbets is a Community Director at Red Hat with the Digital Communities team. He works with the Enable Architect, Enable Sysadmin, Enterprisers Project, and Opensource.com community publications.

This work is licensed under a Creative Commons Attribution-Share Alike 3.0 Unported License.