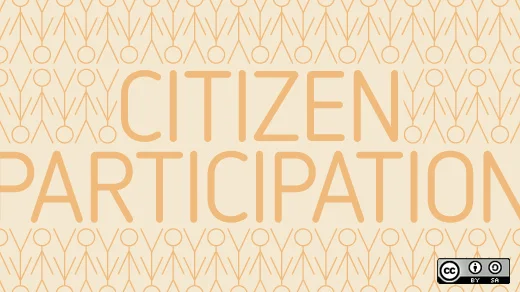 As stressful as elections can be, they always bring a welcome surge of patriotism. United States citizens have a lot of opinions about their government, and election time is a good reminder that actually vollunteering time and resources is the best way to facilitate real change. Luckily we live in the 21st century, and collaborating to make change has never been easier. Apps like Shareabouts make it simple to get involved and do your part to make our cities great.
Last week, I interviewed Aaron Ogle and Mjumbe Poe, two developers at Shareabouts. According to their website, "Shareabouts is a mapping tool to gather crowd sourced public input. It is used to collect suggested locations and comments, in a social, engaging process." For example, Shareabouts has been used to crowdsource prospective bike share locations in Portland, and it has been used to map dangerous intersections in Brooklyn. Shareabouts was created by OpenPlans, an organization that builds technology to allow greater citizen input in their governments and cities. Aaron and Mjumbe explained why they keep Shareabouts open, some of their struggles and success stories, and how to get involved with Shareabouts.

Tell us about how Shareabouts uses the principles of open source (transparency, collaboration, meritocracy, rapid prototyping, etc.), and explain why open source is vital to the success of your project.

At OpenPlans, our mission is to make cities better. We love it when city agencies use the software we create, but we realize that we can't achieve the ambitious goals we have for cities by just changing the way that governments operate. So, we love it even more when community groups take a tool that we've created and set it up for their own use. Having the source out there and available allows groups to do this. To further support them, we try to make sure that our documentation is complete and that we as the maintainers are reachable by email and on IRC to answer questions.

Open source is the way we do our software, but really, for us, it's more than that. It's how we'd like to see cities run. Shareabouts is part of our vision of cities where the tools to use and affect the urban environment are readily available for all community members to get involved with.

What are your favorite ways Shareabouts has been used? Tell us about some interesting success stories.
We most recently launched a new bike share map in partnership with the City of Chicago, and it's collecting many useful suggestions about where new stations could be located with rich detail from local comments. The University of Louisville and the City Collaborative are using Shareabouts to identify architectural treasures to preserve and are asking people to add their personal memories of those places.
It looks like government projects, corporations, and other organizations have all used Shareabouts. Explain the range of uses you've seen and how this sort of crowdsourcing information can be useful.

Shareabouts has been used by a mix of municipalities, planning agencies, and community groups. With these groups, Shareabouts has been used to map locations for Sandy recovery volunteers, collect info for historic buildings that should be preserved, determine future bike share locations, identify dangerous spots for cyclists, brainstorm ideas for neighborhood improvement, map availability of bike parking at transit stations, and more.
Crowdsourcing information can help data collectors get more information from a wider audience than they might otherwise be able to. It should certainly be used as a tactic in addition to other types of outreach, as no one method will reach everyone.

When Shareabouts was first created, what were your main goals and what problems were you trying to solve? What is your future vision for Shareabouts?

Shareabouts was born out of our work with the Department of Transportation in New York City. They wanted to crowdsource ideas about where the stations for a huge new bikeshare system should be located. Our goals in creating Shareabouts were to take the simple but powerful idea of scaling data collection about places to more than just bike sharing. Planners need information to create a good city plan. Neighborhood groups need information to advocate for resources for local improvements. Bicycle coalitions need information to prioritize access and safety improvements. Our goal is to continue to lower the barrier of entry to the Shareabouts platform for any group wanting to bring positive, local change to their neighborhood or city.

What are some of the challenges you have faced with Shareabouts and how did you overcome them?

The challenge of collecting data about a city is that no project wants to know the same thing. One group wants to locate all of the pedestrian barriers in a neighborhood (new, unknown places) while another group wants to survey available bike parking at rail stations (existing, known places). One group wants people to comment on a place while another has a five question survey. Making a platform capable of this level of flexibility that is also simple to setup and use has been a huge challenge. We've addressed many of these technical issues by quickly developing a "good" solution rather than letting the project get bogged down in a "perfect" solution. For example, it would be ideal to let users configure their site through the admin interface, but we started with a simple config file until we have a firm understanding of what our users really need.
How can people get involved with Shareabouts? How can citizens start using Shareabouts in their own cities?

Developers can start by reviewing the docs, joining our Google Group, hanging out in the #shareabouts IRC channel on freenode, and, as always, forking the code on GitHub. The Google Group is especially useful. We've been very deliberate in sending Sprint Review summaries to keep everyone up to date on progress and answer any questions.

Citizen hackers are encouraged to deploy Shareabouts for their own cities (DotCloud and Heroku deploy docs are available). Since Shareabouts has two pieces, the web app and the API, we're allowing people to request private beta access to simplify the setup process.

Also, Shareabouts is a featured app in Code for America's Race to Reuse! CfA will offer prizes and resources to help get apps like Shareabouts up (and helping) in more cities across the country.
Casey is a recent graduate of the University of North Carolina at Chapel Hill with a degree in journalism. She spends too much time perusing social media sites, and she's especially fascinated by open source startups. twitter: @caseybrown_

This work is licensed under a Creative Commons Attribution-Share Alike 3.0 Unported License.