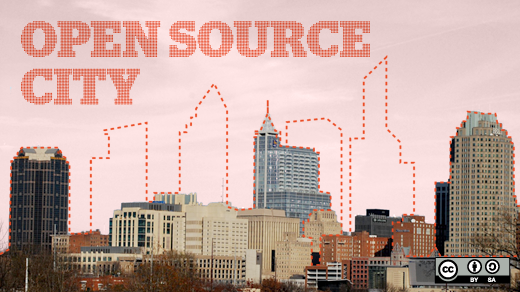 In part one of this series, we talked about open government scoring another victory with the City of Raleigh's Open Raleigh initiative. We reviewed the technological components of the open data portal, including ESRI, Granicus, GovDelivery, and SeeClickFix. It's pretty clear that these tools and ways of thinking are having an impact on Raleigh governance.  But what about the other way around?  Is the open government initiative taking place contagious?  We hope so.
The Open Raleigh solution highlights several principles of the open source way. First, as many open source projects do, Raleigh is building a platform based on open standards and interchangeable components. The city is choosing standards-based solutions that address the problems they're trying to solve without reinventing the wheel. Raleigh is enhancing the citizen experience, using open ideas, and providing those ideas even greater support.
At heart, it's about collaboration. The city is following a roadmap that includes citizen input. For example, citizen civic geeks help define the city's open data policy. This means the work gets done, citizen needs are met, government needs are met, and the cost of doing the work is reasonable.
Fostering communities of passion, like CityCamp Raleigh, is also part of the strategy. City staff understands the open source way is a partnership with citizens that must be on-going.
The city is also innovating using a release-early and release-often process. This means that projects iterate quickly, and it doesn't take long to go from ideas to results. This encourages action, and keeps participants from losing interest. It didn't take long to get the first pieces of the open data portal deployed after the open source resolution was passed. In fact, the city implemented SeeClickFix and the ESRI geoportal before a formal open source policy was in place. GovDelivery and Granicus CivicIdeas were up and running within three months of the resolution being passed.
The open source mentality was already part of Raleigh's culture—even before a government directive was passed. Now that there is a policy, a roadmap, and an open data portal, Raleigh is on the fast-track to being the world's first open source city.
Read part one of this series: An open source city takes shape: Open, online tools and data.
Jason Hibbets is a Community Director at Red Hat with the Digital Communities team. He works with the Enable Architect, Enable Sysadmin, Enterprisers Project, and Opensource.com community publications.

This work is licensed under a Creative Commons Attribution-Share Alike 3.0 Unported License.