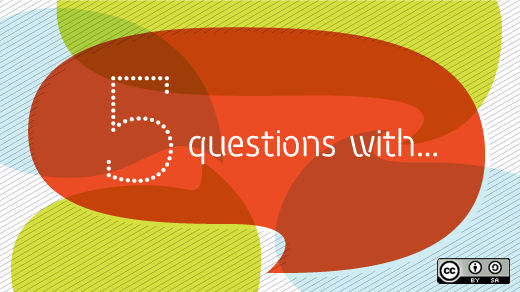 According to the 2012 Web Index Report, modern technologies are critically under utilized in Ireland—making the work of citizens like Denis Parfenov significantly challenging. If he wants to open up the Irish government, he's got to find a way to open up the data.
Currently, meaningful data is not available for public use, so Parfenov's plans to develop and redeploy data-driven open source civic apps—enabling citizens to engage with their elected representatives—are on hold. 
To reach his goal, Parfnov and his collegaues started a data liberation tech advocacy group, called Active Citizen. This online platform encourages citizens to discuss ideas, collaborate on solutions, and organize around issues.
The basics
Name: Denis Parfenov
Opensource.com username: parfenov
Location: Dublin, Ireland
Occupation / Employer / Position: Social Entrepreneur / Active Citizen / Director 
Open source connection: passion
Favorite open source tool or application: WordPress
Favorite opensource.com channel: Government
Community spotlight
Open up to us.
I live in Dublin, Ireland and work on development of the project Active Citizen, a politically-neutral citizen-centered non-profit initiative.
We believe that the combination of active citizens, new technologies, and much more transparent legislation can restore trust in politics and make it possible to fundamentally reframe the function of government. We advocate the use of open source technology for civil engagement and government transparency.
Also, we actively encourage the Irish government to liberate meaningful data in useful non-proprietary machine-readable formats. We inspire them to join the Open Government Partnership and work with the civil society on development and implementation of an action plans for embracing modern technology in making Ireland more transparent, collaborative, and a participatory society.
What open tools and data help you get things done, and how do they help you?
If an "open mind" counts, I use it whenever possible. Also: WordPress, XMind, GPS, and OpenMaps, to name a few.

What do you wish were more open?
Minds. But also data collected on behalf and at expense of the fellow citizens (government and corporate data), legislation processes, and the governance itself. An informed citizenry is the basis for a healthy democratic society. Data-driven decisions tend to be better decisions compare to decisions shaped by ideologies.
What are the biggest challenges to openness that you encounter, either at work or in your life?
The biggest obstacle so far is the lack of enthusiasm and capacity amongst both members of the government and the representatives of the Irish civil society to work together towards making Ireland a more open society.
Why choose the open source way?
"You never change things by fighting the existing reality. To change something, build a new model that makes the existing model obsolete", said by Buckminster Fuller.
Jen leads a team of community managers for the Digital Communities team at Red Hat. She lives in Raleigh with her husband and daughters, June and Jewel.

This work is licensed under a Creative Commons Attribution-Share Alike 3.0 Unported License.