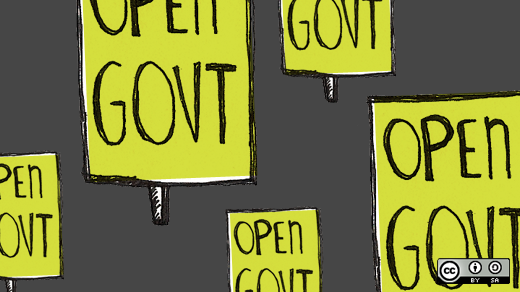 Download our free eBook: Open Voices: Applying open source principles to government
This is the soft launch in PDF form of this eBook that collects our best articles about open government initiatives from around the world. In them, our authors discuss the 
intersection of open source and government, with a special focus on the way municipalities adopt and release new technologies and cultivate open source communities.
Citizen-led movements for open voting, the Freedom of Information Act (FOIA) request tracking, and even crowdsourced legislation, represent this growing trend. And our own Jason Hibbets has written a new book, The Foundation for an Open Source City, about how every city can adopt the basic principles of open government. He provides examples from his experiences in Raleigh, North Carolina, but the book also acts as a guide for other cities interested in open source.

So, as open source principles—participation, transparency, collaboration, sharing, meritocracy, community, and rapid prototyping—continue to have an enormous influence on government decision-making, we at opensource.com will cover and share those stories. We encourage you to contact us with yours.
Jen leads a team of community managers for the Digital Communities team at Red Hat. She lives in Raleigh with her husband and daughters, June and Jewel.

This work is licensed under a Creative Commons Attribution-Share Alike 3.0 Unported License.