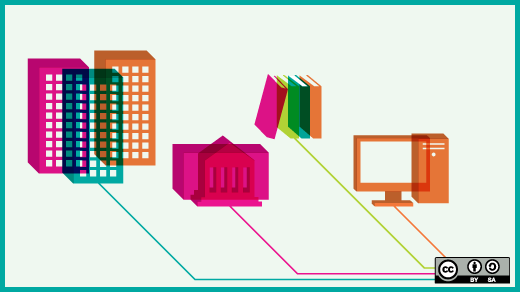 In recent years, open source software projects, and, separately, cloud-based software-as-a-service (SaaS) products have begun to significantly disrupt traditional technology vendor business models in government, making it easier and cheaper for governments to procure and implement the software solutions they need.
Now, OpenSaaS—SaaS based on open source code—is poised to accelerate this trend.
For government agencies in particular, OpenSaaS presents a profound opportunity to both save tax dollars and increase agility, all while affording government buyers more freedom and control over key technologies that are driving government innovation today.
For decades, governments purchased and implemented enterprise software in a traditional manner, buying seat licenses to software, and hosting it locally on internal servers, mainframe and desktop computers.
The maturation of the open source software industry, including flourishing open source support companies such as Red Hat, subsequently disrupted a few software verticals, such as web servers (Apache), server operating systems (Linux), and more recently content management systems (Drupal, WordPress, et al) and databases (MySQL, PostGreSQL).
However, even in these verticals, competition with proprietary incumbents remains fierce (Windows, Adobe Experience Manager, Oracle, etc.). In government procurement circles, it is still common to hear people express red herrings such as "open source isn't secure" or "open source isn't supported."
Concurrenty, cloud-based SaaS products have emerged to provide alternatives to major government enterprise software verticals, most notably perhaps in customer relationship management (Salesforce.com) and email (Gmail), as well as cloud-based hosting infrastructure itself (OpenShift, Heroku, Amazon Web Services, Microsoft Azure).
Just as open source still has its skeptics, there are still holdouts bucking the SaaS trend and expressing the fear that "commercial cloud computing isn't secure." But those of us who have worked hard to foster innovation inside government technology enterprises have been grateful for both disruptive forces — open source and cloud computing.
These trains continue to move forward. Some governments are adopting "open source first" policies that address both consumption of and contribution to open source projects (UK, Brazil, New Hampshire). They are retraining their IT staffs accordingly. Enterprise open source companies with public sector practices such as Acquia are getting institutional funding and flourishing. The U.S. federal government is investing significantly in creating terms of service, standards, and certifications to add much-needed governance to the consumption of software-as-a-service, including email (Gmail) and social media (Twitter, Facebook, YouTube), as well as cloud computing infrastructure more generally (FEDRAMP).
OpenSaaS
We believe we are now approaching an important third wave of government enterprise IT disruption, one that will combine open source projects with software-as-a-service to provide a vast array of new, superior cake-and-eat-it-too enterprise software alternatives for public sector organizations worldwide.
We call this "OpenSaaS."
Quite simply, OpenSaaS is open source software that is also available as software-as-a-service.
Examples have been around for some time, such as WordPress. While there is a company behind WordPress (Automattic), the WordPress software is truly open source, not just in license, but in practice, in that:
The owners of a large proportion of WordPress-based websites in the world have never paid Automattic a dollar.
The WordPress code base and plug-in universe are continuously improved upon by thousands of engineers around the world, many of whom have never taken a dollar from Automattic to make these improvements.
WordPress is also a highly successful SaaS product, available as a turnkey hosted and supported service at WordPress.com. This SaaS offering earns Automattic tens of millions of dollars of revenue annually. Because WordPress is both open source and SaaS, customers have the best of both worlds, and more options. The fact that it is open source means that they can start building their websites by self-hosting WordPress and customizing their website to their heart's content. Concurrently, the fact that WordPress is SaaS means that they don't have to manage the website at all– they can simply pay WordPress.com to host it. Open source gives them complete control over their code and data. SaaS makes it easy to adopt and maintain. And customers can change their mind at any time and switch freely between the hosted SaaS version of WordPress and the self-hosted, self-managed option.
In years past, some other "hybrid source" products such as SugarCRM have tried to offer a limited open source version of their software while offering a more fully-featured version of the software that people have to pay for. The hybrid source approach typically leads to effective lock-in that can be as limiting as proprietary software. With WordPress, however, there are no lock-in license terms. If you want to move your WordPress.com-hosted website onto your own server and stop paying Automattic, you can do so without losing key functionality. Customers have all options available, all the time. WordPress.com is OpenSaaS, and this has helped make it the most popular software in the world today for building and running websites.
Unsuprisingly, the largest Drupal company in the world, Acquia, replicates the WordPress.com model with its DrupalGardens.com service. Other exciting OpenSaaS examples in the works include CartoDB.com, which provides hosted mapping solutions using a software stack that is entirely open source.
Currently only a handful of examples of true OpenSaaS products exist in the market today, let alone marketed by companies focused on serving the public sector. It is, admittedly, early days for OpenSaaS.
Still, I believe that OpenSaaS will be a huge deal for public sector customers in particular. While public sector adoption of open source and cloud has lagged the private sector, public sector customers may lead on adopting OpenSaaS, because there is a growing fiscal and political imperative for government technology solutions that quickly adapt and be agile, driven by:
government software timeline and functionality requirements that change frequently for policy, functional, technical, or even political reasons with little warning, making switching costs particularly unattractive
political pressure to, when investing tax dollars, produce assets owned by the public
growing aversion in the wake of high-profile project failures to being "locked in" to any single external vendor, especially those with large cohorts of lobbyists and enterprise sales teams on staff
budgetary pressure to find ways to downscale large capital intensive projects to get up and running more quickly and affordably
growing cultural affinity (driven by open source culture) in the government technology workforce for intelligent risk taking and rapid iteration, "failing cheaply," and "releasing early and often."
In this uncertain environment, governments will continue to have a shifting basket of hosting options for their software, along a continuum ranging from internally supported software hosted internally to internally supported software hosted externally by a vendor to vendor-supported but hosted on-premise to vendor-supported and hosted off-premise. Conventional wisdom dictates that greater efficiencies accrue the further you move along this continuum, but at greater perceived risk and with less perceived control.
OpenSaaS mitigates this perceived risk by enabling the government customer to retain control, including reserving the right to change ones mind and revert towards the beginning of the continuum at any time. It maximizes agility for public sector IT, reducing up-front capital expenditures as well as future switching costs, and making rapid discovery, adoption and propagation of new software innovations more practical and actionable. OpenSaaS can thus result in lower costs and higher efficacy for government IT.
In the near future, with OpenSaaS, I could conceivably try two competing products at a minimal "pilot" project cost, and be up and running with them quickly and with no internal staff technology burden. Imagine a "bake-off" of WordPress and Drupal on WordPress.com and DrupalGardens.com, whereupon the winner of the bake-off immediately becomes the production hosted version of your new intranet. Then imagine that a new data jurisdiction security policy requires you to host your intranet data internally and, within a week, you replicate your production intranet hosted on-premise, and cancel your payments to your OpenSaaS vendor.
Now imagine that you could do this not just with your CMS, but also with CRM, Document Management, ERP, GIS and eCommerce systems.
I believe we will start to see the OpenSaaS model take hold in 2014 in select public sector product verticals. I expect the concept to then propagate surprisingly quickly, because the apps underlying OpenSaaS, and the companies that will build, market and support them, are effectively the content that will make the cloud divisions of leading infrastructure vendors like Amazon, Google, Microsoft and IBM flourish. They will help make it happen, even in some cases at the expense of their legacy proprietary and/or SaaS based products.
Want to participate or benefit? Here are some key tests for OpenSaaS:
Is the code base you consume in the hosted SaaS version of the product licensed under a standard open source software license such as MIT, GPL or BSD?
Is the code base fully available in a public code repository such as GitHub?
Is the code base collaboratively built? In other words, can and do engineers that do not work for the SaaS company contribute to improving and extending the software over time?
Are there examples of enterprise customers successfully running the software in production in their own hosting environment, without paying for the SaaS service?
Does the SaaS service make it clear in documentation, terms of service, or even user interface how you could "export your app" and put it into production in your own hosting facility if you wanted to?
Does the SaaS service enable you to get the software into production successfully without having to administer anything below the software application layer of the stack? In other words, do you never need to interact with underlying server software such as Apache, Linux, MySQL or PHP, and do you never need to directly interact with the server administration dashboards of a cloud computing service?
Does the SaaS service provide you with support, such that if there is a problem with your software, the SaaS company will troubleshoot it for you as part of the fees you are already paying for your SaaS service?
We at Nuams are focused on turning the first proven OpenSaaS platform category — content management systems (CMS) — into a suite of focused niche products, NuCivic, that addresses specific important public sector use cases.
Our first product, NuData, is the turnkey hosted and enterprise supported version of DKAN, an open source configuration (or "distribution") of Drupal that provides a robust government open data publishing platform. DKAN is open source, collaboratively built and hosted on Drupal.org (as well as mirrored on GitHub).
Our second product is NuApps, a turnkey SaaS version of OpenCivic, a Drupal distribution for managing hackathons, app stores and app contests.
Each of our future products will also follow this same OpenSaaS model.
We are staking our own future on the success of public sector OpenSaaS because it is the perfect double bottom-line business for us as a mission-driven civic software startup: as a business, we get to ride the early stage of a disruptive new wave of enterprise technology innovation; as constituents and taxpayers, we expect it to contribute to fostering governments that work better for us, while spending less of our tax dollars.
OpenSaaS is the perfect vessel for us to pour our civic entrepreneurial passion into, and it's the right thing to do.
Originally published on Nucivic.com. Reposted using Creative Commons.
Andrew Hoppin is co-founder and CEO of Nuams, developers of the, NuCivic suite of open source civic platforms, including NuData and NuApps. As a government geek, he was voted New York State CIO of the Year and named to the "Information Week 50" list of top public sector CIOs. He has been an avid contributor to the open source Drupal project since 2005.

This work is licensed under a Creative Commons Attribution-Share Alike 3.0 Unported License.