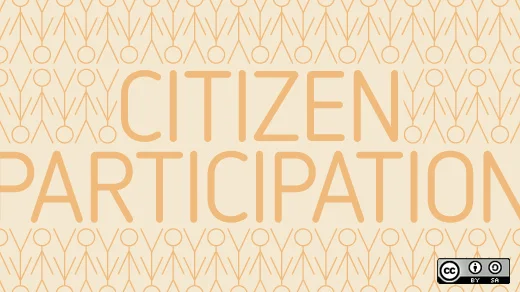 By guest author Kelsey Foster
Scandals, mismanagement, and back-room deals; the City of New Orleans has long endured a legacy of opaque policies and decision-making processes closed to its citizens. A historic disconnect caused by the city's lack of available information has led to generations of disenfranchised residents.
In the wake of Hurricane Katrina, however, the city has seized many opportunities to open its data, balance its budget, and encourage resident participation. While the New Orleans of today works to improve its image, there are many areas of local government still in need of increased transparency and engagement. At the Committee for a Better New Orleans (CBNO), we feel both the city and its residents could benefit from a city budget process that allows for better resident understanding and input.
Look at Cook: A screenshot of the Look at Cook website, which New Orleans's site will be based upon. Image credit: lookatcook.com.
CBNO, an independent nonprofit organization, with support from a Sunlight Foundation OpenGov Grant, plans to launch an interactive website based on existing sites like lookatcook.com and macoupinbudget.com. To create the site, we've partnered with Derek Eder of DataMade and the cofounder of Open City. By providing a basic overview of the budget—showing residents the budgeted versus actual spending for each year and the dollars spent by department—we will educate taxpayers about how and where their dollars go.
The new interactive site will work as a teaching tool for a campaign for inclusive budgeting practices currently overseen by CBNO. Participatory Budgeting New Orleans (PB NOLA) has worked for over a year to educate New Orleanians on the current lack of transparency and resident input allowed by our current budget process. Under Mayor Mitchell Landrieu's Budgeting for Outcomes policy, residents are given a chance to voice their priorities for the budget in mid-August—after budget priorities have been set by the city in July.
In addition to improved input processes, PB NOLA also advocates for the implementation of participatory budgeting, recently heralded as a national best practice by President Obama's Open Government National Action Plan. Through participatory budgeting, residents are given direct control of a small portion of a city's budget—usually between one and 15 percent. Residents then work with the city to identify problems in their communities and design thorough plans to address them. Once the ideas are finalized, they're put on a ballot to be voted upon, giving residents a direct say in how their tax dollars are spent in their community.
To learn more about participatory budgeting and how we hope it will help New Orleans, check out an interactive video produced in partnership with filmmakers at Land of Opportunity. Because all best civic engagement comes from the bottom up, CBNO has worked to make PB NOLA a true grassroots campaign, recruiting residents and leaders from across New Orleans to join the PB NOLA Community Council, a steering group responsible for decision making and outreach. We look forward to utilizing the council to help with the website as well, asking our members to provide feedback on the final name, value and usability of the site.
With the tenth anniversary of Hurricane Katrina just over a year away, we feel this time is crucial to raise awareness and provide education about our city's budget process so that residents can more effectively advocate for the changes they're still hoping to see in their communities. As new streetcars run downtown, streets in the French Quarter are paved, and the riverfront development begins, we feel it is important for residents to see the same investment and opportunity present in downtown and tourist areas brought to their residential neighborhoods.
Undoubtedly, the past nine years have seen vast improvements in New Orleans' attitude towards civic engagement and transparency. We applaud those improvements and look forward to creating a site that will take us one more step towards becoming the truly open and participatory city that New Orleans can be.
Disclaimer: The opinions expressed by the guest blogger and those providing comments are theirs alone and do not reflect the opinions of the Sunlight Foundation or any employee thereof. Sunlight Foundation is not responsible for the accuracy of any of the information within the guest blog.
Kelsey Foster is the Participatory Budgeting for New Orleans project coordinator at the Committee for a Better New Orleans, an independent non-profit organization dedicated to systemic change through citizen engagement in New Orleans, Louisiana. The Participatory Budgeting campaign focuses specifically on creating a more transparent, resident input based city budget process. Committee for a Better New Orleans is also a Sunlight Foundation OpenGov Grantee. She can be reached at participatorybudgetingnola@gmail.com.
Originally posted on the Sunlight Foundation Blog. Reposted under Creative Commons.
---
View the complete collection of stories for Open Government Week.
The Sunlight Foundation is a nonpartisan nonprofit that advocates for open government globally and uses technology to make government more accountable to all. Learn more about our work here: http://sunlightfoundation.com/ and follow us on twitter @sunfoundation.

This work is licensed under a Creative Commons Attribution-Share Alike 4.0 International License.